Analysis: Did Senate 'Nuclear Option' Help DeVos Rise Over Rhee for Education Secretary Nod?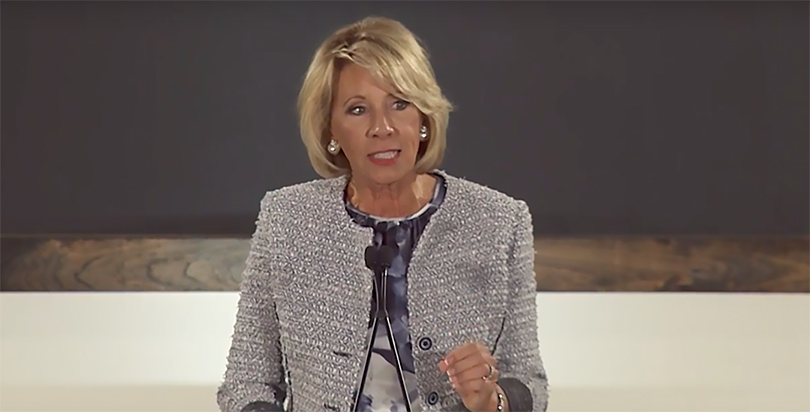 One simple if unexpected answer: Senate Democratic Leader Harry Reid.
Republicans had stopped confirmation of many of President Obama's executive and judicial appointments in late 2013. Reid, then the majority leader in charge of the Senate calendar and procedure, pushed through a change to Senate rules so that all nominees except those to the Supreme Court would need a simple majority of those voting, rather than 60 votes, to be confirmed. (Education Secretary John King, for example, was confirmed this spring in a 49–40 vote.)
That change eliminated the need for nominees with bipartisan appeal, but with the GOP holding just 51 or 52 seats in the Senate next year (pending a runoff in Louisiana), it is essential that Trump's nominees maintain near-universal support among Republicans.
And that's perhaps one of the reasons Rhee's nomination was doomed — her staunch support of the Common Core would be a deal-breaker for many Senate Republicans.
Rhee is a Democrat, but that wasn't enough to win her wide support among Senate Democrats. The reforms she advocated as chancellor of DC Public Schools and in years since through Students First — specifically the push to remove ineffective teachers from the classroom — won her few friends among teachers unions, an influential group for Democrats, already disinclined to help the president-elect.
Rhee might have received a few votes from reform-minded Democrats, but likely not enough to offset defections by Republicans opposed to the Common Core. In short, the votes for Rhee just weren't there.
Rhee removed herself from the running the day before DeVos was named, releasing a statement on Twitter last Tuesday that said she was "not pursuing a position with the administration." She effectively cleared the decks for DeVos while also providing a sharp contrast that made DeVos seem more appealing to some Republicans.
Unlike Rhee, there is little in DeVos's background likely to scare off fellow Republicans.
She's been a GOP stalwart, party leader and major donor for many years, and her work through the American Federation for Children has long focused on school choice, through charters and various private-school-choice programs, such as vouchers.
On her website Wednesday, she criticized the Common Core, saying she supports high standards but that the Common Core has turned into a "federalized boondoggle."
(More at The 74: Common Core, Trumped: Ed Secretary Hopeful DeVos Aligns With Pence in Pushing Local Standards)
Sen. Lamar Alexander, chair of the Senate Health, Education, Labor and Pensions Committee, on Wednesday called her "an excellent choice" and vowed to move swiftly on her nomination in January.
"Betsy has worked for years to improve educational opportunities for all children. As secretary, she will be able to implement the new law fixing No Child Left Behind just as Congress wrote it, reversing the trend to a national school board and restoring to states, governors, school boards, teachers and parents greater responsibility for improving education in their local communities," Alexander added.
That doesn't mean Democrats will make DeVos's confirmation easy.
Sen. Patty Murray, who will retain the top Democratic spot on the HELP Committee, put out a statement late Wednesday promising to "scrutinize her record closely."
"President-elect Trump has made a number of troubling statements over the course of his campaign on a range of issues that a future Secretary of Education will be charged with implementing and enforcing — from education policy, to civil rights and equality of opportunity, to his personal views on sexual assault and harassment, and more," Murray said. "Right now students, parents, teachers and school leaders across the country are demanding to know how his Secretary of Education will ensure the safety and respect of all students, of all backgrounds, all across this country—and I will be focused throughout this process on how his nominee intends to do just that."
---
More Betsy DeVos Analysis:
Keierleber: New to Team Trump, DeVos Has Long Been on Team Pence
Stringer: The First 6 Things to Know About Betsy DeVos
Petrilli: 20 Big Questions for Betsy DeVos
---
The Dick & Betsy DeVos Family Foundation provides funding to The 74, and the site's Editor-in-Chief, Campbell Brown, sits on the American Federation for Children's board of directors, which was formerly chaired by Betsy DeVos. Brown played no part in the reporting or editing of this article. The American Federation for Children also sponsored The 74's 2015 New Hampshire education summit.
The 74 is supported by donations from foundations, corporate sponsors and individuals. Our reporters play no role in cultivating financial relationships with any of our contributors. Donors do not dictate editorial content and understand that The 74 may publish content that does not reflect their views or preferences.
Get stories like these delivered straight to your inbox. Sign up for The 74 Newsletter