Analysis: Chicago's Teachers Union Agreed to Give Spending Control to Principals. Now, the Union Is Striking to Take It Away. That's a Bad Move for Students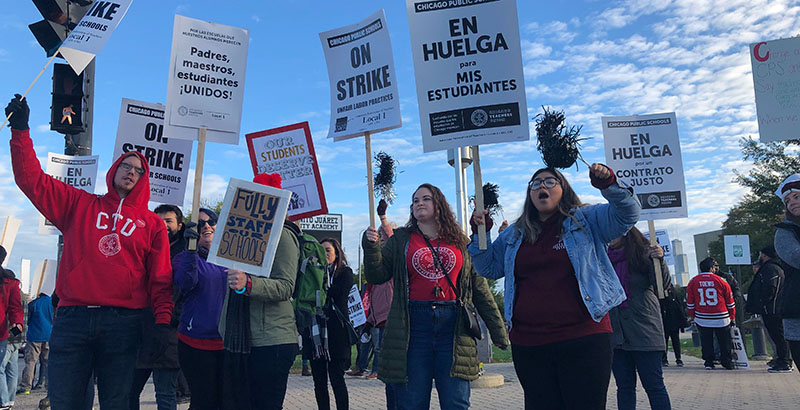 Updated
Six years ago, the Chicago school district decentralized its finances to give principals control over school funds. Now, the Chicago Teachers Union wants to take that control away.
Chicago teachers walked out today over contract negotiations that have stalled over who controls staffing decisions in schools. Since 2013-14, the district and union have negotiated the salary schedule, but principals are the ones to make other trade-offs with their money to best serve their students. Now, the union is asking that principals no longer make these choices and that staffing prescriptions instead be cemented into contract language. Rather than letting principals choose the right mix of counselors, tutoring or other reading supports, every school would be required to have a full-time restorative justice coordinator and a full-time librarian.
No one disputes that such student supports are important. Many schools likely would heartily welcome more supports. But Chicago's decentralized system permits principals — alongside their community-based local school councils — to decide how many and what kind of staffers are most critical to meet the needs of their specific mix of students. The CTU proposal wipes away that local control.
Why does that school-level control matter? In a system with limited dollars to spend, principals are the ones with the best insight on what their schools and their students need. They are the best equipped to make decisions about what investments will have the greatest impact on their students.
We've seen schools choose not to replace a retiring vice principal, or reduce staffing in the library, and instead add funding for counselors or a chess team coach, as those positions were more important to the school community. When principals weigh the trade-offs, instead of having their school's spending decided by fiat, they are more likely to engage the community, factor in what matters most for their students and staff, and communicate the rationale for the compromise alongside a plan to mitigate any downsides.
The union's position is ironic, coming on the heels of a new Pew Research Center survey underscoring just how much the public trusts principals. The survey finds that Americans have more confidence in the nation's K-12 principals than any other groups studied, and that confidence extends to handling resources responsibly, among other areas. This echoes earlier focus group research that found that parents and teachers trust their principals more than district or state leaders on issues related to money because these leaders are more sensitive to their school's needs.
It's also ironic because this arrangement of principal- and school-based control seems to be working for Chicago students, as evidenced by a Stanford study finding that academic growth among the district's students has outpaced that of their peers around the country for several years running.
It also seems to be working for principals. A 2019 Chicago Principal Partnership survey reports a 75 percent satisfaction rate among principals. In a 2018 survey, some 18 percent of Chicago principals cited budget and staffing flexibility as relevant to their decisions to stay or go.
Take away school-based control, and the district will likely lose principals. A national Learning Policy Institute report on principal turnover flags five key reasons principals leave their jobs. Lack of decision-making authority is on that list: Principals indicating an ability to make decisions in areas such as spending are less likely to leave their positions.
So, let's assess. The public trusts principals with spending responsibly. The Chicago school district trusts principals to render spending decisions that make the most sense for the students in their building. Principals want this financial flexibility or will increasingly leave their jobs — creating a revolving door that hurts the most vulnerable students the most.
Given the evidence, why should principals be stripped of their ability to make the best spending bets on behalf of their students? What's at stake in the Chicago strike is more than a single contract. It's about the balance of power in a system responsible for educating some 300,000 students in the nation's third-largest city.
Teachers who want to get the right mix of adults in their schools to meet their students' needs can — and should — talk to their principals about what they want to see in their building. The union's push to wrest budget control from principals with a union-dictated staffing prescription is a bad move for students.
Marguerite Roza, Ph.D., is director of the Edunomics Lab and a research associate professor at Georgetown University.
Support The 74's year-end campaign. Make a tax-exempt donation now.