Analysis: Are 90 Percent of Teachers Really Vaccinated Against COVID-19? The Numbers Say Otherwise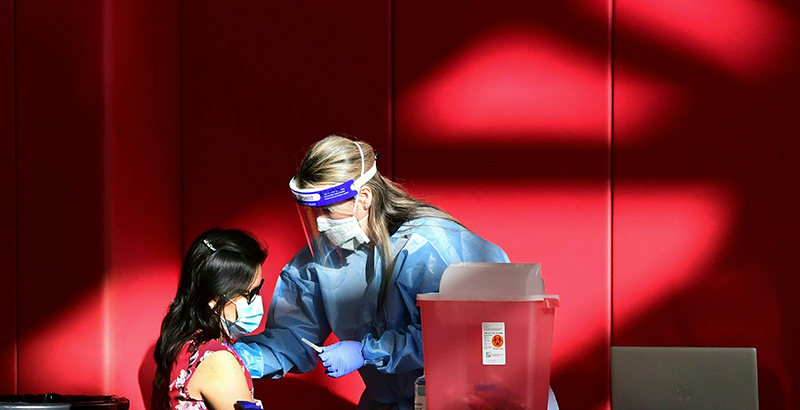 Support The 74's year-end campaign. Make a tax-exempt donation now.
Mike Antonucci's Union Report appears most Wednesdays; see the full archive.
Mandatory teacher vaccinations against COVID-19 became the hot topic in education circles again last week, with Randi Weingarten, president of the American Federation of Teachers, making the media rounds on the issue.
Over the last year, Weingarten has been in favor of vaccine mandates, then opposed, then considering it. Last week, she returned to supporting it, along with claiming that "more than 90 percent of the AFT's educators and school staff" are already vaccinated — suggesting it's just a small minority of public education employees who are resisting. But some very large caveats come with that number.
There are almost 8 million public education employees in the United States, of whom only about 1.1 million are AFT members. A large plurality of them work in one state — New York. They are not a broad cross-section of the teacher workforce.
AFT confirmed that the 90 percent number is based on a telephone survey of 1,702 AFT members the union commissioned in late March. AFT touted the results in a press release headlined, "America's Educators Are Vaccinated and Back in Person."
The survey included respondents from health care fields, civil service, higher education and retirees. There were only 893 respondents from the crucial demographic — K-12 teachers and support employees.
Of those respondents, 73 percent said they had gotten the vaccine, 6 percent said they had it scheduled and another 7 percent said they intended to do so. A full 13 percent of K-12 members said they would not get vaccinated. If we accept the word of those who say they've been vaccinated, should we not also accept the word of those who say they will not do so? Taking the survey at face value, the number of vaccinated K-12 AFT members did not, and will not, exceed 90 percent.
The National Education Association conducted its own survey in June and reported that 86 percent of its members had received at least one vaccine dose, with 3 percent more having it scheduled. Nine percent said they would not get vaccinated and 2 percent weren't sure.
The NEA survey is more geographically and demographically representative of the K-12 teacher workforce than AFT's, since NEA has affiliates in all 50 states and retirees were not included. Even so, NEA has about 2.5 million working K-12 members. Coupled with AFT members, it comes to fewer than 4 million employees. What about the vaccination status of the other 4 million who don't belong to NEA or AFT? We have no information on them.
The fact is that we don't have reliable information on how many school employees are vaccinated, and what we do have is almost entirely self-reported. We will know for sure only when — and if — employees are required to provide proof.
Even if all the claims are true, we still have a problem. A refusal rate of 10 percent still represents about 800,000 unvaccinated school employees nationwide. We can assume these won't be evenly distributed: In some places, half or more of school workers could be unvaccinated. What happens then?
Mandating vaccines is a drastic measure, but I seem to recall teachers unions insisting that school employees be prioritized to receive vaccines, calling it a "key ingredient" to reopening schools … unless they don't feel like it?
Are unvaccinated employees a danger to themselves and others, or not? If we're not going to require vaccinations, why are we treating them as a prerequisite?
These are tough questions with no easy answers. If we are going to require masks, upgraded ventilation systems, daily deep cleaning and quarantines, we can't just blow past the quandary of unvaccinated employees. Any nonzero number of them has to be addressed.
Support The 74's year-end campaign. Make a tax-exempt donation now.