Analysis: Amid the Chaos of Coronavirus, Parent Power (and Parent Organizing) Have Never Been More Important. It's Time for Education Funders to Show Them the Money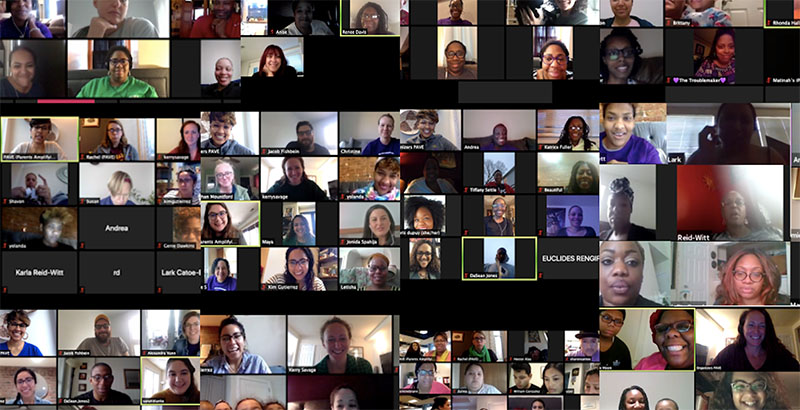 In times like these, it is easy to feel powerless. Yet now is exactly the time when we must speak explicitly about power — who has it and who is wielding it to respond to the needs of our communities during this uncertain time.
Amid the global coronavirus crisis, we must continue to focus on and support organizations that inform and organize parents so they can exercise their innate power — individually and collectively — to create and sustain change for their children, schools and school systems.
While philanthropic portfolios and endowments have shrunk in tandem with the economic fallout from the pandemic, the needs of under-resourced communities have only grown in scale and scope. In response, organizing nonprofits serving these communities have seen their responsibilities expand across three critical roles:
1. Triage to meet immediate needs
2. Education providers and translators
3. Strategists to influence changes coming to the system
Funders who work for education equity must support these organizations in their work across all three of these roles, guided by the needs that parents, as agents of and experts about their communities, identify.
Funding Priority 1: Triage to meet immediate needs
School closures, lost jobs and social distancing guidelines have left gaps in key services that parent organizing groups are now filling in.
They are providing food and basic essentials. They are helping parents navigate unemployment benefits, how to maintain utility services and how to access relief efforts. Some of these organizations are buying Chromebooks and hotspots to help families that are not being served by schools. They are becoming trusted sources that provide accurate, timely information and dispel misinformation.
But this is only the beginning of families' urgent needs that parent organizing nonprofits are identifying and responding to.
"What our families and communities are experiencing right now is trauma," said Maya Martin Cadogan, founder and CEO of Washington, D.C.-based Parents Amplifying Voices in Education. "The magnitude of the mental health needs is monumental for both students and parents, especially those furthest from opportunity. Parents need Chromebooks, but then they — and their children — need access to mental health professionals to help them navigate the uncertainty and anxiety they are experiencing."
Organizing nonprofits have firsthand insight into what is happening on the ground. Funders seeking to meet community needs should work with them to hear what those needs are.
Funding Priority 2: Education providers and translators
Funders who want to help parents in under-resourced communities access strong education content should fund parent organizing groups to (a) provide content to fill immediate gaps and then (b) recruit parents — who would be paid — to provide their wisdom and insights to quickly evolve the next generation of content coming onto the market.
We're living in a land of education chaos. As children are forced to stay home through the pandemic, we're asking tens of millions of parents to become formal educators while dealing with traumatic disruptions in their lives and social safety nets. We are seeing parents assume one of four major new educator roles:
1. Education Monitors: Some schools have responded heroically, deploying their first versions of distance learning content with parents as monitors of their children's virtual education.
2. Education Partners: Other schools have created solutions where parents are partners co-educating with teachers.
3. Lead Educators: Yet others have deployed solutions that mostly transfer responsibilities to parents as the primary educator.
4. Independent Educators: Some parents have had to take educating their children entirely into their own hands and curate content while waiting for their schools to launch any distance learning.
Organizing groups are supporting parents in all of these roles, especially the huge numbers of parents in under-resourced communities who are largely on their own. A number of parent organizing groups have curated quality content so parents can keep their children learning and are providing hands-on help getting connected.
"When schools started to close across California, parents were asking, 'What's happening?' as everything was moving so quickly," said Jonathan Klein, co-founder and CEO of GO Public Schools. "We got right to work. We directed parents to free educational resources online, we created video tutorials on how to use platforms like Zoom, and — most importantly — we got on the phone with decision makers and asked what the plans were for distance learning so we could help families prepare."
Right now, these are v1.0 distance learning solutions, made extemporaneously with the expectation that they will evolve. But for parents who have received little or no curricular supports, organizing groups have become de facto education content providers and community hubs where parents can come for resources and share with and support one another.
In addition, many amazing existing education nonprofits are working to translate their content from teacher-facing to parent-facing. But these v1.0 solutions often do not yet incorporate and adapt to the home contexts that many families are facing in this crisis.
To maximize their impact, these education providers need to be able to quickly learn from and listen to parents in under-resourced communities who can share their assets and expertise about their needs as parents who are assuming the role of educators.
"Parents know their children and know their community better than anyone," said Matt Hammer, founder and CEO of Innovate Public Schools. "Parents are the very people education content providers should turn to in order to understand how their content can best serve parents living, working, parenting and educating in incredibly complex circumstances. Parents should be hired to be focus groups, beta testers, translators and even help-desk providers to ensure good content in theory is effectively deployed content in practice." 
Funding Priority 3: Strategists to influence changes coming to the system
Decisions are being made at the school, district, state and federal levels about fundamental transformations in our education systems — shaping policies, practices and resource flows. Unfortunately, parents in under-resourced communities are seldom at the table to shape the agenda. They often aren't even invited into the building.
And now, those buildings are literally closed. Yet people in positions of authority will continue to make decisions. Drawing from the philosophy that "nothing about us, without us, is for us," parents and parent organizers must develop and deploy an infrastructure of power to shape the agendas impacting their lives. 
Except, given the world in which we currently live, this requires an infrastructure of both power and e-power.
Organizations are at different levels of sophistication on e-organizing, and there has sometimes been hesitancy to invest heavily in online work, as it can feel like a poor replacement for building in-person, deep relationships. However, as Jeremy Bird, former president Barack Obama's field director, once advised, "There's no online and offline organizing. There's organizing."
Organizing online might not be the ideal, but it is our pragmatic present, and with funding support, parent organizing groups will be able to make the most of the opportunity. This means providing organizing groups the funding to succeed at four things:
1. Building their base of e-relationships. Organizing groups are expanding the breadth and depth of their connections by providing resources, information and counsel, and by building online communities for parents who need mutual support.
"For years we have built bridges that connect families, especially those most underserved by our schools, to accurate information, high-quality resources and, ultimately, opportunity," GO Public Schools' Klein said. "If anything, COVID-19 has heightened the need for more bridge-building in our communities." 
This is also an opportunity to capture contact information for parents across email, phone and social apps, and to have parents begin virtual relationships with organizing groups through these various platforms — especially mobile platforms. While old-school canvassing is no longer an option in the short term, parent organizing groups can still reach out through phone-banking.
2. Building parent e-power via e-programming. Classically, parent organizing groups helped parents organize and develop their leadership skills to build an infrastructure of power. This was done through a deep series of in-person workshops and trainings, one-on-one meetings and house meetings. These efforts include building the communication skills of parents in drafting and delivering written, audio and video content. These are now being done virtually out of necessity, and they are increasingly effective.
"When we moved our parent leader meetings to virtual, we weren't sure what turnout would look like. But they all showed up!" PAVE's Cadogan said. "Every parent has talked about how they are hungry for this engagement — for thinking about the promise of finding solutions together for the complex problems that COVID-19 was further exacerbating. And for some 'adult' interaction with other people who know their struggle as parents, teachers and 24/7 caregivers. To date, in just the first three weeks of closure, we've hosted nine meetings on Zoom — including a blogging training so that parents can share their stories."
3. Pivoting to the agendas addressing the needs of COVID-19. Parents, with the support of their organizing groups, must shape and decide on their agenda for change. 
While some communities' agendas may stay the same, others will need to change (or be reprioritized) to adapt to current circumstances.
"During this crisis, parents want a structured full day of technology-based learning instead of more limited tech approaches or no tech approaches at all," said Carlos Rodriguez, a Los Angeles-based organizer with Innovate Public Schools. "Even amidst a crisis, parents are resolute in making sure their desires for quality distance learning education are heard. Working-class communities deserve nothing less than the full technological integration that is being seen more readily in schools that serve middle-class and upper-class communities."
4. Projecting e-power to influence authority. This is perhaps the biggest area of reinvention — how do parents and organizers project an infrastructure of e-power in e-campaigns to influence decisions being made right now through virtual governance?
Parent organizing groups are working with parents to leverage Twitter, Facebook and other virtual channels to reach out to their community, the broader public and the people in positions of formal authority — both pulling people in to their content and pages and pushing their voices out to be heard by others.
Before COVID-19 and social distancing, PAVE parents planned a day of action in Washington, D.C., to promote increasing mental health supports and trauma-informed training in schools. "When schools and offices shut down, parents said that they didn't want to let up on making this a priority for our city — it was even more important now," Cadogan said.
Instead, parent organizers hosted a day of digital action, motivating parents across the city to reach out to elected officials via email and social media. Their campaign's hashtag, #MentalWellnessWins, trended to No. 7 in D.C.
The more parents are involved with organizing groups through any of these media, the more those parents and organizations can reach out to people in positions of authority and get a response — because they represent a base of parent power. 
Further, even in this time of physical distancing, parents can still make their voices heard through letter-writing, phone-calling, emailing and texting. 
Organizing nonprofits in the months to come will continue to expand their ability to support parents in virtually engaging directly with the people in authority representing them, potentially via:
Virtual research meetings;
Virtual public actions with hundreds, even thousands, joining virtual events — and now having the benefit of also experiencing that content asynchronously because it is recorded and immediately available;
Ensuring that parents are able to participate in virtual governance meetings, which could involve organizing their messaging before these meetings through a written, audio or video testimony, a virtual live presence at these meetings and/or via a "parent response" afterward; and
Virtual candidate forums and efforts to support voter registration and get out the vote as we get closer to November 2020.
And when government becomes less virtual, this infrastructure of e-power will complement and build on the ability of parents to influence authority in person.
"Low-income families of color have always had to fight for their children to get the high-quality education they deserve," Innovate Public Schools' Hammer said. "Our context has changed, but the work continues. The best schools partner with parents as co-educators and leaders. That need and opportunity have never been greater. This crisis has painfully revealed the huge gaps in opportunity that already existed. COVID-19 is challenging organizations and systems that serve parents to change quickly and creatively. Organizing is how people come together to not only demand urgent change but also hold systems accountable for delivering over the long term."
Last, in building their infrastructure of e-power, parents and their supporting organizing nonprofits can also provide a crucial public service to people in positions of formal authority who are now cut off from their constituency and should be hungry to engage with them. While organizing is sometimes about pressure and persuasion, it is also sometimes about partnership. 
With funding, these organizing groups can help parents show up with shovels and pitchforks — even if these tools have to be represented by emojis. But parent groups don't need messages with yellow money bag icons; they need real money to activate resources and initiatives to ensure that parents can exercise their innate power to drive change.
Alex Cortez is a managing partner with New Profit.
Support The 74's year-end campaign. Make a tax-exempt donation now.