An EDlection Showdown in Maryland: Could a 'Blue Wave' Unseat America's Second-Most Popular Governor — and Reshape the State's Education Priorities?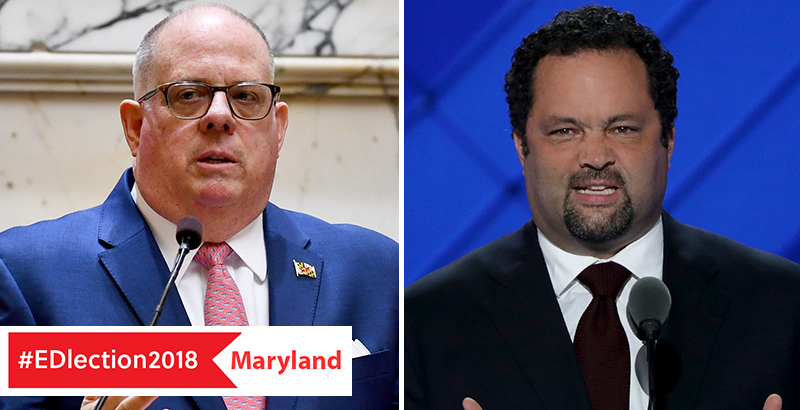 EDlection 2018: From coast to coast, The 74 is profiling a new education-oriented campaign each week. See all our recent profiles, previews, and reactions at The74Million.org/Election (and watch for our Election Night live blog Nov. 6)
Republican Maryland Gov. Larry Hogan has sometimes found himself at odds with his blue state on education. He refused to endorse the state's ESSA plan. His vetoes on school construction and teacher discipline bills were overridden by the legislature. He changed the start date of the school year, sparking an uproar from many constituents.
But the people are far from at odds with him.
Heading into the general election, Hogan is the second-most popular governor in the United States, with a 68 percent approval rating. That's in a blue state where 60 percent of voters supported Hillary Clinton over Donald Trump for president and Democrats have controlled the legislature since 1992.
The question this November is whether Democratic challenger Ben Jealous — former head of the NAACP and a progressive with the backing of big Democratic names — can sway voters away from their popular governor.
When it comes to education, the moderate Republican and the progressive Democrat align their platforms mostly along traditional party lines, with Hogan supporting voucher programs and tough academic accountability measures, and Jealous supporting universal pre-K, free access to community college, and increased education funding.
"In many ways, this debate in Maryland matches that in other parts of the country," said David Steiner, executive director of the Institute for Education Policy at Johns Hopkins University and a Hogan appointee to the Maryland State Board of Education. "You have a fairly traditional Democratic party in terms of their educational views that focuses on funding, and you have a fairly traditional Republican view that focuses on choice and keeping funding within some constraints."
The governor's influence on education will be felt even more strongly in this next term, said Ethan Hutt, assistant professor at the University of Maryland's College of Education. That's because whoever wins this election will have the job of garnering support for a new education report commissioned by the legislature, which will suggest big changes to the way schools are funded and lay out blueprints to improve education in the state.
"In some ways, the governor is a little bit more influential in the next administration, depending on whether and to what extent they take up those recommendations and try to create a new funding formula for the state going forward," Hutt said.
Referred to as the Kirwan report for the commission's chair, William Kirwan, chancellor emeritus of the University System of Maryland, the document is expected to be finished later this year and will offer a centrist approach to reform, said Steiner, who is also a member of the commission working on the report. The group is drawing on global best education practices ranging from teacher preparation to testing to college- and career-readiness. The more optimistic members of the group, Steiner said, see this as a chance to launch Maryland as the national leader in education.
Ben Jealous: A Progressive Path Forward
The question of Maryland's place in the national education landscape is a focus of Jealous's campaign. He argues that under Hogan, the state dropped from first to sixth place in national rankings.
These rankings are from Education Week, which weighs factors like school finance, academic performance, and educational access. But some, such as Steiner, argue that Maryland was never really at the forefront, as seen by its inconsistent and meandering performance on the National Assessment of Educational Progress. Most recently, students in Baltimore scored near the bottom nationally in math and reading.
And while Jealous has also criticized Hogan for not distancing himself enough from the National Rifle Association, especially after recent school shootings, Jealous told The Atlantic that it's not necessarily his strategy to change Hogan supporters' minds in this upcoming election. Instead, he said, he'll be focusing on Democrats and independents, and those who didn't turn out in the last election.
Big-name Democrats like Bernie Sanders, Elizabeth Warren, Joe Biden, and Kamala Harris have all put their support behind Jealous. New Jersey Sen. Cory Booker called him "one of the most compelling voices of the X Generation," according to the Washington Post. He also has the backing of Maryland's teachers union, the Maryland State Education Association.
Although he's never held political office, Jealous has been involved in politics from a young age, from registering voters for Jesse Jackson's presidential campaign as a 14-year-old in 1988 to supporting Sanders's 2016 presidential run. In 2008, he became the youngest president of the NAACP at age 35 and is credited with turning around the organization when it was in financial trouble.
As president of the NAACP, Jealous joined the New York City teachers union in a 2011 lawsuit against school closures and co-locating charter and public schools. He stepped down from the post in 2013, three years before the NAACP released a resolution calling for a moratorium on charters. He has also voiced some support for charters, though they are not in his education platform, according to Politico. He firmly opposes school vouchers.
Jealous's platform instead revolves around increasing teacher pay by 29 percent, implementing universal pre-K, free community college and work study programs to pay for bachelor's degrees, and creating community schools that incorporate services like mentorship, health clinics, and counseling. He proposes increasing education funding by taxing marijuana and using savings from a reduction in the prison population. If elected, he would make history by becoming Maryland's first black governor.
Larry Hogan: Moderate Republican
Hogan has had his differences with the citizens of his traditionally blue-leaning state. "There are these places where Hogan is seen as a little bit out of step with education," Hutt said.
In preparation for complying with the Every Student Succeeds Act, the legislature passed the Protect Our Schools Act in 2017, which limits how much academic performance can count toward accountability measures and excludes choice options as solutions for turning around failing schools.
Hogan opposed these limitations on choice and accountability and vetoed the bill, but he was overridden by the legislature. Because of this, he refused to endorse the state's ESSA plan (his endorsement was not required, and the federal Department of Education eventually approved the plan). But it wasn't the first or last time Hogan has had a veto overturned; his veto of a bill that lessened his power in approving school construction was overridden, as was another that relaxed teacher disciplinary policies.
One of the more controversial uses of his power was changing the start date of the school year to after Labor Day, which some viewed as putting the interests of the tourism industry and businesses over those of students and families.
However, Hogan's record has shown he can tread a moderate line more than many Republicans.
He supported a new program that allows Maryland's low-income students to attend community college for free. He recently said he wants to expand it by allowing those students to receive a four-year degree.
Hogan also signed off on a bill that directs $30 million toward heating and cooling in schools, after many students in Baltimore went without heat last winter. And he boasts that on his watch, more money has been spent on education during this past year than ever before (thought Hutt pointed out that most of that is determined by a decades-old funding formula).
Jealous did not respond to requests for comment. Hogan declined to be interviewed for this story.
Get stories like these delivered straight to your inbox. Sign up for The 74 Newsletter