Aldeman & Schmitz: D.C.'s High Teacher Turnover Rate Hurts Educators as Well as Students. Blame the District's Pension Plan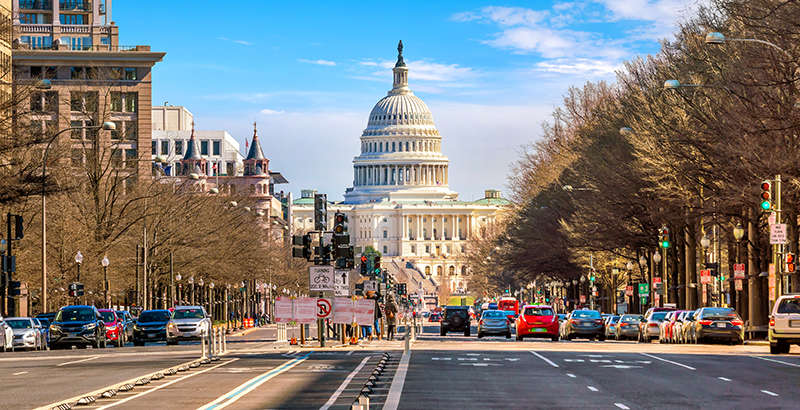 You might expect a transitory city like Washington, D.C., to have high teacher turnover rates, but the actual numbers are alarming. That's bad news for students who miss out on the service of veteran educators, but it can also lead to problems for those departing employees.
A recent report from the State Board of Education of the District of Columbia found that D.C. schools of all types lose about one-quarter of their educators every year. These rates are much higher than in peer cities around the country, and they are exceptionally high for certain roles and schools.
What's worse, schools with the highest percentage of at-risk students face the highest levels of turnover. Aiton Elementary School, for example, lost an average of 44 percent of its education staff every year for the past six years. Over the same period, one-third of the District of Columbia Public Schools suffered at least one year when they lost more than half of their staff.
The causes of and solutions to these high turnover rates are lively topics of debate in D.C. education circles, mainly as they pertain to students. What's discussed far less is how these attrition patterns affect the significant number of adults who leave the schools.
Specifically, there's a significant mismatch between the retirement plan D.C. Public Schools offers its classroom teachers and the rate at which they turn over. Unlike most of the city's charter school teachers, all DCPS teachers are enrolled in a defined benefit pension plan. Benefits are calculated using a formula that includes the worker's years of service, a multiplier (2 percent), and the worker's final average salary.
Critically, those pension benefits are based on the salary in the year in which it was earned, so someone who leaves teaching at age 40 may qualify for a pension, but she won't be eligible to draw it until she's in her 60s — and in the interim, inflation will wear away her benefit significantly. The result is a heavily backloaded system that offers minimal benefits to short- and medium-term workers, which most teachers are.
This structure is common in traditional pension plans, and employees take a chance that they'll love the work enough to keep doing it for their entire career. But that risk is worse in high-turnover places like Washington. By the city's own assumptions, only 29 percent of new teachers will stay the minimum five years to qualify for any retirement benefit at all, and only 5 percent will stay long enough to break even, or receive a pension worth more than their own contributions plus interest.
All this is further compounded by a lack of Social Security. DCPS, like schools in 14 states, does not extend Social Security coverage to teachers. Social Security offers a floor of retirement benefits, a safety net that's meant to be supplemented. Pension plans like DCPS's are allowed to opt out of paying into Social Security as long as they provide a benefit to full-career employees that is at least as generous. Again, this works fine for teachers who stay in the classroom for their full career, but it does not protect those, like the majority of DCPS educators, who do not.
Alternative, portable retirement plans with earlier or graduated vesting options would better serve the mobile DCPS worker profile captured in the report. The district already operates such a plan for central office employees, who are offered a 401(a) retirement plan with a 5 percent employer contribution and graduated vesting beginning at two years. These employees are also covered by Social Security, a combination that does a better job of providing secure retirement benefits than the teacher pension plan does.
To be sure, retirement plans are just one piece of the larger education policy puzzle. But the current plan is the worst-case scenario — it does not promote teacher retention, and it leaves the vast majority of participants without adequate benefits. As it stands, DCPS is operating a retirement plan that is severely out of step with those who actually teach in its schools.
Chad Aldeman is a principal at Bellwether Education Partners and the editor of TeacherPensions.org. Kirsten Schmitz is a policy analyst with Bellwether, which was co-founded by Andrew Rotherham, who sits on The 74's board of directors.
Get stories like these delivered straight to your inbox. Sign up for The 74 Newsletter