After Thousands Rally for Charter Schools in Downtown Los Angeles, School Board Asks State for Temporary Moratorium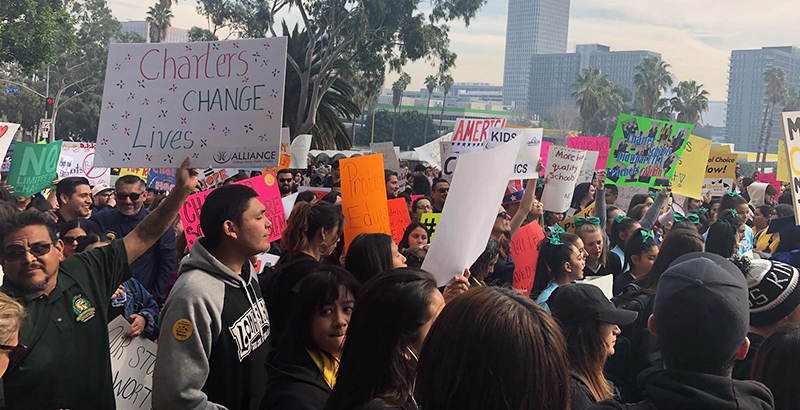 Updated Jan. 30
Hours after about 3,500 charter school supporters rallied at Los Angeles Unified's headquarters, the school board approved a resolution Tuesday calling for a moratorium on new charters.
Only the state can change charter law, so the 5-1 vote directs the district to ask state leaders to study potential changes to the law and to impose a temporary moratorium on new charter schools in the district while the eight-to-10-month study is conducted.
The resolution's passage was secured when board president Mónica García said late in the discussion that she would vote for it, to gasps from the packed boardroom. She had appeared at the rally before the meeting, thanking charter supporters for showing up and for offering needed options for students when the district's schools had been overcrowded. She told them, "I hear you, I'm with you. No matter what happens here today, don't give up your power as parents to choose the best education for your children."
District 4's Nick Melvoin, who cast the sole "no" vote, said at the rally that he supports charters because all families, regardless of income or where they live, deserve the same opportunity to have a good education like he did. At the board meeting, he expressed "consistent frustration" with the heated political battle over charters. "We're blaming others for our financial problems without getting our house in order." To loud applause, he added, "I'd like to see a moratorium on low-performing schools."
A board vote on a moratorium was a key element in last week's agreement that ended the six-day teacher strike, though it's not mentioned in the actual contract and there was no guarantee it would pass. The teachers union listed the deal first in its summary of what the agreement had accomplished.
That contract won unanimous board approval Tuesday, even though board members had just received a stern warning from their county overseers. Shortly before the meeting, the Los Angeles County Office of Education approved the contract but released a letter stating that it "continues to move the District toward fiscal insolvency" and that its costs — including more than $400 million in new hires and to lower class sizes — are "not sustainable." It gave the district until March 18 to show how it will make cuts or find new funding, or the county could take over all fiscal decision making.
Speaking to the charter resolution, Superintendent Austin Beutner emphasized that it would not impact the district's existing charter schools.
"I do support strongly school choice for families and recognize charter schools are one of the options for a high-quality education," he said. "There is nothing in this resolution to close any existing charter schools or reduce the many choices available to families in Los Angeles Unified."
Beutner said at the board meeting and in a statement that he had agreed to the resolution in order to end the strike, that it came up late in the teacher contract negotiations, and that it had been introduced by a board member.
A day after the contract deal was reached, District 7 board member Richard Vladovic announced he was the resolution's sponsor. On Tuesday, he stridently defended it, rejecting a suggested amendment by board member Kelly Gonez that offered multiple changes, such as including local representatives and parents in the study on charters.
"This is not acceptable," Vladovic said of Gonez's amendment, because "this doesn't keep our promise to our labor partners."
Charters were "never meant to supplant a district, but supplement a district," Vladovic said. "So I want to step back … and look at the financial impact, the educational impact. Has it made a difference?" Vladovic said he helped write the contract language of the district's first two charter schools 27 years ago, following state passage of the Charter Schools Act of 1992.
Vladovic did offer his own amendment to his resolution, which he said he didn't want to do but did in order to get it passed. He added the eight-to-10-month time frame. And he deleted a provision that would have required Beutner to present a plan within 90 days "to pursue laws intended to authorize a moratorium on new charter schools within the boundaries of the District" and to "report if the authority for such a moratorium requires a voter approved ballot initiative at the local or state level."
Charters are public, nonprofit schools that are privately run. There are currently 225 independent charter schools within L.A. Unified serving more than 112,000 students, according to the district. L.A. Unified has the most charters of any school district in the nation. Ten new charters were approved last year, the district reported.
The resolution will now be sent to Gov. Gavin Newsom, the State Board of Education, and the California Department of Education. While the resolution doesn't force the state's hand, it likely will provide political cover for state leadership, namely Newsom, to pursue restrictions on new charters. The new Democratic governor is union-backed and has said he supports greater transparency measures for charters.
The board's approval of the resolution stood in stark contrast with the throngs of protesters who rallied outside district headquarters hours earlier — some as early as 6 a.m. L.A. Unified School Police said they estimated that about 3,500 people attended the rally.
Hugo Hernandez, a charter parent and a business owner, said at the rally that "competition is good for our kids' education." He said charter schools compete for students "to serve them better, what's wrong with that?"
About two dozen parents and community members stayed to speak at the board meeting. Emotions were tense, with some charter parent speakers breaking into tears.
One charter school parent was particularly overcome with emotion as she addressed the board.
"I'm not going anywhere. I'm going to be here," Roxann Nazario said through tears. She pointed to Vladovic, her board member. "You were the one who [told me that] charter school parents should not feel like they have a Scarlet A on their chest. Well, do you think this helps? What are you doing to bring us together now?"
An L.A. Unified graduate, who now has a bachelor's degree from UCLA, also spoke against the resolution, fondly remembering her charter school in Huntington Park that gave her access to seven AP classes and four SAT practice tests her senior year.
"I don't know if I would have made it to UCLA without my charter school, without my mother's choice to send me there," she said. She added for Vladovic, "I am the educational impact of charter schools. Although I am one person, if you want to see the educational impact, you can go outside."
Others, however, viewed the resolution as necessary. Julie Regalado, from East Los Angeles, said already existing charters don't need to leave. But she doesn't think there needs to be more.
"There's a charter school in each corner; we don't need any more," she told the board. "The ones that are there, they can stay, but [these schools] are taking a lot of money from my child's education."
Scott Mandell, a teacher at Pacoima Middle School, said, "Dr. Vladovic's resolution was a central part of the agreement" to end the teachers strike and the board needed to uphold that promise.
The resolution was the latest fallout in the battle against charters that engulfed the district during the six-day teacher strike. Charter schools have become a political lightning rod, with United Teachers Los Angeles portraying them as a threat to traditional public schools.
The union has labeled charters as "privatization" schemes, purporting that they siphon away money from district public schools and into corporations.
While charters are privately run and have more discretion around decisions involving curriculum, the length of the school day and year and hiring and firing, they are public schools and nonprofit. They "are open to all children, do not require entrance exams … may not discriminate, may not charge tuition [and] must achieve a racial and ethnic balance reflective of the District population," according to the district website. They are typically not unionized.
After the vote, charter school students, parents, teachers, leaders, and advocates announced they will fight back. In a news release, they said that "the voice of LAUSD charter public school students and families was completely disregarded during recent contract negotiations," and they denounced the "backroom deal that threatens to compromise high-quality public school options throughout the Los Angeles area."
Myrna Castrejón, president and CEO of the California Charter Schools Association, stated, "For parents, the issue isn't about politics, it is about what their child needs and what learning environment will help them thrive. Without a doubt, this charter school ban will unfairly target the most vulnerable students in Los Angeles."
She added, "This resolution to ban charter schools is a solution in search of a problem. The real problem facing Los Angeles public schools is the persistent achievement gap."
Get stories like these delivered straight to your inbox. Sign up for The 74 Newsletter