After Losing High-Profile Book Battle, Conservative Moms for Liberty Turns to Critical Tennessee School Board Race
By Jo Napolitano | March 23, 2022
The Feb. 21 Williamson County, Tennessee, school board meeting opened with far less commotion than the raucous gatherings that came before it: Gone were the hecklers, sign wavers, screamers and air pokers who made headlines around the world for threatening doctors and nurses who spoke out in favor last summer of reinstating a mask mandate for young children.
Placards were banned and attendees were warned at the start not to use vulgar language, single out board members or otherwise disrupt the proceedings lest they be hauled off by deputies.
At issue this dank February night was another target of the right: "Wit & Wisdom", the school district's K-5 English Language Arts curriculum.
Conservative parent group Moms for Liberty, which spent 1,200 hours dissecting its contents last year, called for the removal of 31 books, including those about Ruby Bridges and Dr. Martin Luther King, Jr., arguing the texts about the civil rights icons were too "dark" and "disturbing" for young readers.
In response, the 41,500-student district, located some 30 minutes south of Nashville, formed a committee of parents, educators and community members to evaluate the material. Its findings, released in January, were a major blow to the blustery parent group and its vocal supporters.
Just one book, Walk Two Moons, a Newbery Medal-winner about a 13-year-old Native American girl who lost her mother, was recommended for removal: Committee members said it was too emotionally fraught for young students. Six other texts would be slightly modified or taught differently.
More than 70 people attended the Monday night meeting: Roughly two-thirds of those who addressed the board came out in favor of keeping Wit & Wisdom, including 17-year-old Franklin High School junior Mira Scannapieco.
"From an early age, I was introduced to real world concepts including those surrounding diversity, mental health, human rights, science and politics," she said, barely taking a breath to stay within her allotted time. "Learning about these topics in school gave me a broader perspective, as well as the ability to formulate my own views and opinions. Sheltering today's youth from these important issues doesn't make them disappear."
In the end, after a lengthy discussion, the board voted 8 to 2, with two members absent, in favor of keeping the curriculum.
Saying their concerns were not being taken seriously, many Moms for Liberty members boycotted the meeting. Most notably absent from the critical moment of reckoning was their chapter president, Robin Steenman.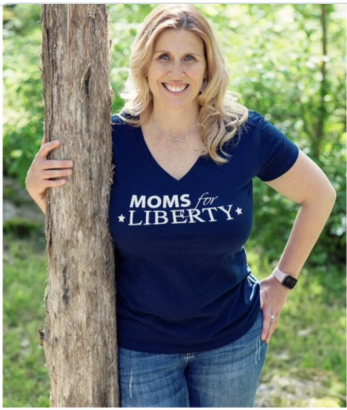 "A lot of people have written it off as not particularly worth their time because we go and we speak before a board and we let them know our concerns — some parents really have poured their hearts out, some parents have just spoken in a common sense way — and it's just a brick wall," she told The 74 hours earlier.
Steenman has three young children, none of whom are enrolled in district schools: She kept her eldest from attending kindergarten in the Williamson County system because of the mask mandate. The little girl attends private school. Her younger brother is in preschool. Steenman's youngest is just 17 months old.
Whether the Wit & Wisdom defeat was a temporary setback or a sign that Moms for Liberty's agenda has failed to gain real traction in Williamson County will soon be tried on a larger stage: the upcoming school board election.
Some 20 candidates are vying for six seats on the 12-member board. Parent groups of all stripes are busy vetting the contenders and deciding who among the 10 Republicans, two Democrats and eight independents to support.
The crowded field faces a May primary and August general election, but the battle for control of the school board is bigger than the race itself.
In a county that is solidly Republican with a strong Evangelical Christian base, it will be a test of whether the region's conservatism aligns with Moms for Liberty's values — or veers away from it. In that sense, it's emblematic of similar showdowns being waged across the country where schools have become the flashpoint for larger ideological and political power struggles.
Jennifer Cortez, co-founder of One WillCo, a nonpartisan charity formed in 2019 to push for racial and ethnic equity in the Williamson County Schools, believes Steenman has made a miscalculation. The county is conservative, but not radically so, she said.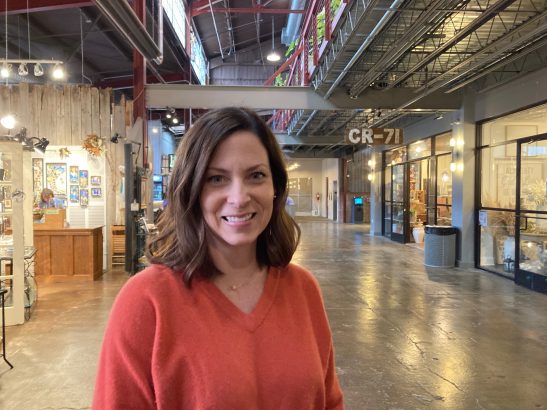 "We've been here before Moms for Liberty and will be here after Moms for Liberty," she said. "One of the things Williamson County has going for it is that we are smart. That works in favor of my cause."
Next option: elect someone else
Moms for Liberty Williamson County, a tax-exempt nonprofit that can engage in a certain level of political activity, grew at an astounding pace, with 3,200 members to date.
It's a local chapter of a national organization that boasts nearly 80,000 members across 34 states: Based out of Florida, it recently announced that one of its own was appointed by Gov. Ron DeSantis to the state Board of Education, pending Senate confirmation. She'll likely be seated.
The national group has strong far right ties: Members have regularly appeared on Steve Bannon's podcast discussing the nation's current culture wars and what they see as the unchecked power of teachers unions. Bannon, chief strategist in the Trump White House until August 2017, is a leader among the alt-right.
He said last year school boards were ripe for takeover by conservative mothers, calling the battle "trench warfare" in an early March "War Room" podcast with Moms for Liberty co-founders Tina Descovich and Tiffany Justice.
The national organization has had some success in this arena: 56 candidates it endorsed joined school boards nationwide in fall 2021, Descovich told The 74, adding she's thrilled to support leadership that understands parents' "inherent right to direct the upbringing, education and medical care of their children."
Steenman is perhaps the national group's most high-profile chapter leader. She too is a darling of right-wing media while often being lambasted by the left on Twitter.
Dear Robin Steenman and M4L,
Feel free to homeschool or leave WCS. We are tired of your antics. Yours truly, The Majority pic.twitter.com/yZdNlpXWX1

— Teacher mom using her voice (@CandiceColson) January 26, 2022
She chose to become involved with the local school system after she heard the district was hiring a diversity and inclusion consultant, which she said "rots an organization from the inside out" and leads to quotas.
And her chapter boasts big-name connections: Former U.S. Secretary of Housing and Urban Development Ben Carson headlined a two-day "American Dream Conference," hosted by another, conservative organization, Be the People, in conjunction with Moms for Liberty.
The event, sponsored in part by the local and national Moms for Liberty, drew ire from King's family for the alleged misuse of his name and image, was otherwise a success, with some 400 attendees.
While Steenman's group has managed to attract and keep the nation's attention, it hadn't been tested at home until the February curriculum vote. The Williamson County chapter, which prided itself on its size, reach and influence, had spent more than a year targeting the English Language Arts curriculum only to be largely rebuked.
"I was not surprised by the vote because of my past dealings with them," Steenman said. "It was completely as expected."
Earlier, on the day of the vote, sitting on her back porch, wrapped in a cream-colored sweater, arms folded in an attempt to stave off the cold, the 43-year-old Air Force veteran looked unsettled about what was to come.
Steenman considered the board's decision a missed opportunity to do better for children, but she was already setting her sights on the election, a different, perhaps longer-lasting victory.
"We exhausted every civil avenue for change and when we came up dry… the next option was to elect someone else," she said.
Steenman launched a PAC called Williamson Families late last year to promote candidates who support its traditional, conservative, Judeo-Christian values. A March event for that group drew hundreds.
She's been interviewing candidates for months, ferreting out those entrants she sees as Republican in name only. Steenman's ideal contender should support individual rights, including "medical freedom," which she said would allow parents to decide whether their children wear masks in school or receive vaccinations.
They should also work to curb "the sexualization agenda in schools," which she said refers to the introduction of sexual concepts at an early age, combined, soon after, with LGBTQ clubs — alongside books that address, explain or support these notions.
Parents, she said, believe a book about seahorses, which notes that males carry and release the offspring, is "a soft intro to gender fluidity." The book and the teacher's manual focus too much on this fact, she said, noting that a 2019 documentary about a man giving birth to a baby called Seahorses, is more than a coincidence.
The seahorse thing? Yeah it's thing for the Queer theory crowd. They want to force their ideas about gender onto your kids. They know what they're doing. Make no mistake. pic.twitter.com/uplKFr3R1g

— Moms For Liberty Williamson County TN (@Moms4LibertyWC) February 8, 2022
"It's just planting the seed…of possibly transgenderism," she said. "The parents want the choice and the right to introduce these things to their child when they are ready. Having those talks, parents feel that's their territory."
She also disapproves of how certain words are taught, including "injustice," "unequal," "inequality," "protest," "marching" and "segregation." It's not that the words themselves are bad, she told The 74, but that their use in a second grade grammar lesson forces students to "marinate in racism."
In the end, Williamson Families endorsed six school board candidates, including Jamie Lima, who also does not have children in the district. Like Steenman, he pulled his eldest because he didn't want her to start kindergarten wearing a mask.
Asked his main concern about the district one rainy February night, he read off a list of prepared remarks about the Wit & Wisdom curriculum. The first-time candidate and motorcycle shop owner said he wanted it removed, but did not offer a replacement.
He said, too, he's not seeking long-term involvement in running the district.
"I'm not looking to make a career out of this," he said.
Another of the men who won Steenman's endorsement, incumbent board member Dan Cash, refused to accept the accolade. Cash, a conservative who has shown support for Moms for Liberty's causes in the past, did not reply to multiple interview requests. It's not clear if he believes he'll fare better at the polls without Moms for Liberty's backing. Steenman declined to comment.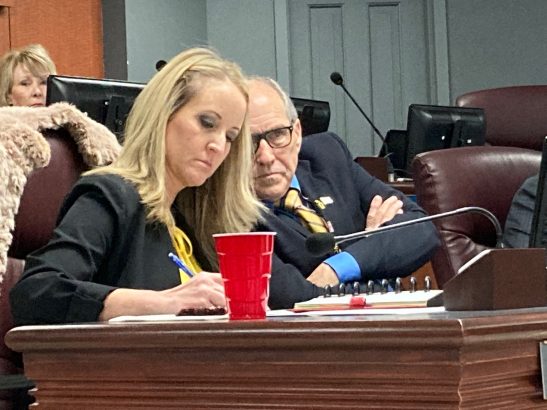 Nevertheless, she hopes by keeping Cash on the board and adding other like-minded members, the district will be more amenable to her supporters' wishes. Educators might have the training, she said, but parents know best.
"Nobody loves that child like we do," she said.
The future of Williamson County Schools
Williamson County is slowly diversifying with a small but growing Black and Hispanic community. And, like the rest of the nation, it's beginning to acknowledge its racialized past: It recently erected a statue of a Black soldier in the Franklin town square meant to honor the 180,000 Black people who joined the Union Army.
The popular new addition — a response to the August 2017 white supremecist rally in Charlottesville, Virginia — was placed directly across the street from a monument to Confederate soldiers that has stood in front of the county courthouse since 1899.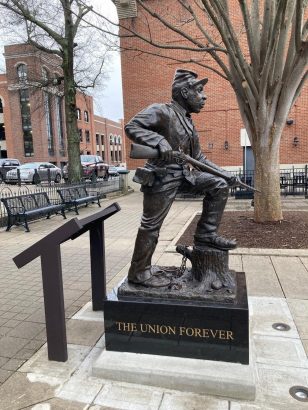 The fact that residents decided to erect a statue honoring Black Union Army soldiers but leave their Confederate monument intact may indicate a certain tricky balance: embracing a more inclusive historical narrative while refusing to tear down the traditionally dominant one.
Sitting less than a mile away at The Factory at Franklin, an upscale shopping, dining and performance venue built inside a former stove factory, Cortez wondered if the move went far enough.
"I think the statue is significant," she said. "But in my mind, as long as the Confederate soldier stands in that square lifted to the sky and we still have the Confederate flag on our county seal, we are glorifying the South's attempt to preserve slavery and to break the U.S. apart. It grieves me."
So, she said, does Steenman's attack on the school district's curriculum. Cortez, 48 and a freelance writer, moved to Williamson County in 2004. She has four children, ranging in age from 7 to 21. Two already graduated from Williamson County Schools. Her third has autism and was put in a small, private school and her youngest is in the second grade.
Though the Moms for Liberty members are vocal, Cortez and others say they are small in number and that few parents share their convictions: Of the 37 people who filed complaints about the Wit & Wisdom curriculum with the reviewing committee, 14 lived within the school system's boundaries but did not have students in the district.
Centrist parents in Williamson County see Moms for Liberty as an outside entity — not only because some members have no children in the district — but because the organization itself originated in another state.
Some worry about the group's next target and see the upcoming election as a place to stop the much-publicized local chapter in its tracks.
"We already bent over backward for them," said Jeff Bourque, a data analyst with three children in the district. "We don't need to do this anymore."
The district, he said, is solid, educationally, which is why so many people are attracted to the area. Kenneth Chilton, who is running for school board, has a 7th grader in the district. An associate professor of public administration at Tennessee State University, he said he asked his son about one of the books Moms for Liberty flagged. The boy barely remembered it and certainly wasn't upset by its contents.
"It's not broken," Chilton said of the district and curriculum. "It doesn't need to be fixed."
Revida Rahman, co-founder of One WillCo, says its members trust teachers to guide their children through complex topics, including race, without outside interference.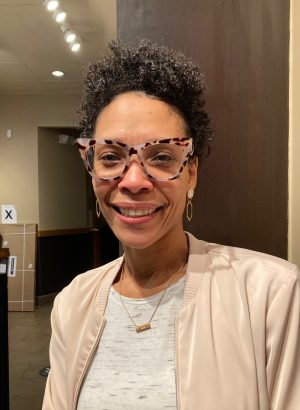 "You have to have a different perspective," Rahman said. "You can't go to school and learn everything you and your family agree with. The world is bigger than you and your family."
To that end, other groups, including a PAC called Williamson Strong, are searching for their own candidates, preparing them for what could be a nasty, partisan brawl in a race that only recently required entrants to declare a political party.
Led by former Williamson County school board member Anne McGraw, Williamson Strong will soon announce its own endorsements. McGraw said it is searching for public school advocates who have a direct, vested interest in the school system and who care about the success of all students and their teachers.
"The August 4th election is going to determine the future of Williamson County public schools," McGraw said. "It's that dramatic. Either our community shows up to use their voice and their vote to elect public school advocates who aren't interested in partisan politics, or disruptive extremists win the seats. We'll only have ourselves — as a community who supposedly greatly values our school system and our teachers — to blame if the former happens."
---
Lead art: A newly erected statue of a soldier in Franklin, Tennessee's town square, honoring the 180,000 Black people who joined the Union Army. (Jo Napolitano)

Support The 74's year-end campaign. Make a tax-exempt donation now.