AdmitHub: How Conversations With a Chatbot Are Helping Students Get Into College — and Then Stay Enrolled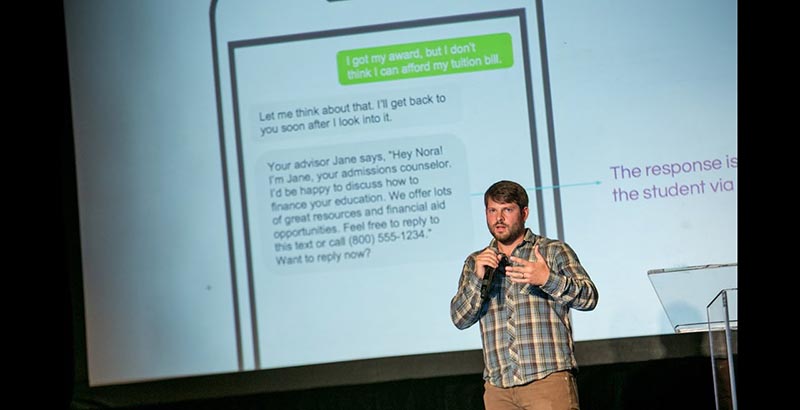 College-age students respond to text messages, so Drew Magliozzi created a chatbot service to help colleges engage students conversationally with the goal of keeping them on track to enroll and attend classes. Now, three years and 44 university partners later, AdmitHub is expanding with programs to engage students stretching across the entire university experience.
At its core, AdmitHub uses chatbot technology, powered by artificial intelligence, to help a school design and execute automated dialogues with students. For example, does an incoming freshman still need to turn in a housing form? Does a transfer student need to file a transcript? Or does a prospective student have to finish a financial aid form? The AdmitHub service sends a text message to that student with a reminder — and offers an opportunity to start a conversation about getting the task checked off.
AdmitHub proved successful during a 2016 trial run at Georgia State University at reducing summer melt — students who commit to attending school but don't show up in the fall, largely because of unfinished paperwork and disconnection from the campus. But, Magliozzi says, AdmitHub also moved the needle on 18 other checklist items the school had provided, from immunization forms to parking passes.
"We didn't invent behavioral economics, but we do understand the theories behind it deeply and that a well-placed text message can nudge or drive behavior change," Magliozzi says. "We didn't invent AI, but we know how to harness it to support students so they get answers to their questions 24/7. It is a behavior-change platform. Tell us what you want and we will get results."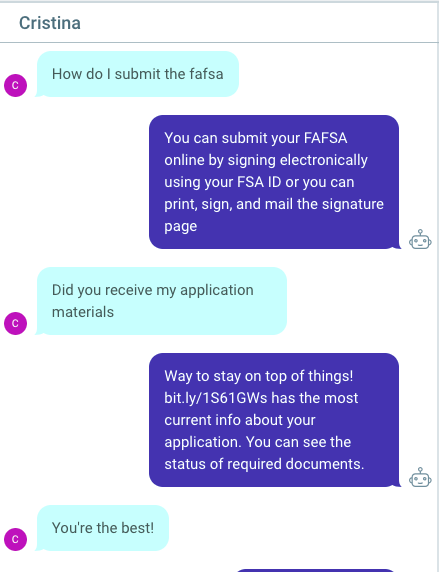 The chatbot doesn't replace a school's communication system but rather supplements it when emails or other forms of communication aren't getting results. AdmitHub walks students through a guided conversation and can ask random questions to solicit feedback and create dialogue. It also ties into the school's tracking system, so, for example, the moment a student flips from incomplete to complete, it can send a celebration gif.
"It is not only about transactional but also about moments of joy," Magliozzi says. "An animated gif is both encouraging and motivating, and the next time we reach out, they are likely to reply. You can give them info, guide them to resources, get info from them."
Arizona State University launched AdmitHub in February 2018 with a chatbot named Sunny to help with transfer enrollment and found a tremendous reaction right away. "The responsiveness was not only at higher rates versus email, but closer to instantaneous," says Matt Lopez, assistant vice president of enrollment services and executive director of admission services at Arizona State. "We were very pleased in the first six months of what we saw.
"Not only does it make it easier for the student, but it makes it way easier for the university when we were not having to chase down records that can cause an advising nightmare downstream," Lopez says. "Were we hoping that it decreased melt? Absolutely. Were we hoping it would help students get through verifications and FAFSA? Absolutely. We knew it would, and it already proved it. Would it help them get through registration and application? Students really liked it, and this is going to be a recruitment bump, too. They like being engaged and having the opportunity to communicate."
Whether at community colleges or Ivy League campuses, AdmitHub technology works no matter the student demographic. Now, though, Magliozzi wants to expand further into student success and retention. "It is not just getting them to college, but ultimately getting them through it," he says. "That is much harder than merely enrolling."
As the AI improves through continued use, the chatbot needs less human supervision, allowing it to respond with a higher degree of confidence. A 95 percent sureness rate of an answer allows the system to respond without human approval. In late 2018, AdmitHub hit 51 percent of its answers reaching that goal, allowing the system to more easily scale while freeing up time for the development team to focus on new areas of engagement. "I think the combination of the technology and the focus on higher education is really the difference maker," Magliozzi says.
Arizona State's experience led the school to expand AdmitHub to a larger population of incoming students as well as to students already on campus. All incoming students who used Sunny leading into their enrollment continued receiving messages as first-year students in the fall. "We are only in the first semester, but the hope is that we will see some lift in retention rates," Lopez says. "Maybe advising goes a bit smoother, maybe advising attendance increases. I could see us expanding beyond that, too."
AdmitHub agrees. "Our platform is more a tool for listening at scale than broadcasting messages at scale," Magliozzi says. A recent chat at a West Coast university asked students what concerns they had and found that 15 percent were experiencing homelessness. Other issues, such as finances and making friends, also came to the surface. Magliozzi says AdmitHub continued the conversation with students and pointed them toward assistance.
"It is so fundamentally different than getting people enrolled in college," Magliozzi says. "When enrolling in college, there is one goal: Get to college. When in college, there is a heck of a lot more than a single goal, and that makes it a much more challenging problem. And more interesting, too."
Get stories like these delivered straight to your inbox. Sign up for The 74 Newsletter