Adams: With Schools Open During Early Voting, NYC Families Ask — Why Are Voters Allowed In While Parents Are Kept Out?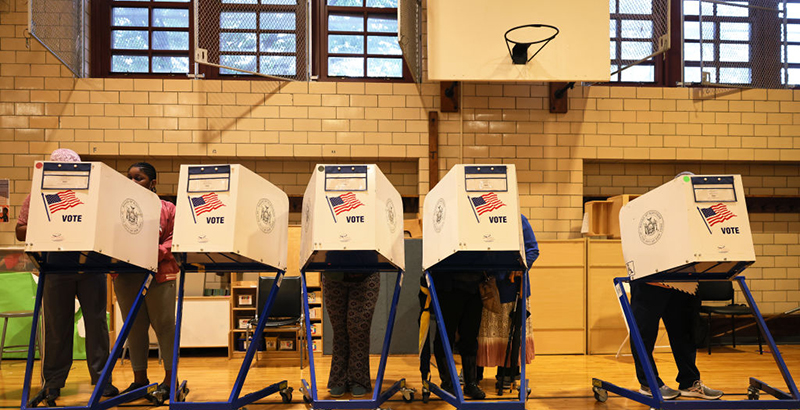 Support The 74's year-end campaign. Make a tax-exempt donation now.
Early voting in New York City began Oct. 23 and runs through Oct. 31, with Election Day set for Nov. 2. Among the 106 voting sites across five boroughs, 24 are at public schools, which, unlike other locations designated by the Board of Elections, are not legally allowed to opt out of participating. While the schools will be closed for Election Day, they are open while early voting is going on — with classes in session.
To cast a ballot in person, voters must wear a mask or face covering and keep a 6-foot distance from others. However, vaccination cards are not called for, even as the city requires them for all public school employees and, more broadly, for all municipal workers.
Many NYC parents are unhappy with this turn of events.
Elena Khasanova rages, "Vaccinated parents can't even walk their child into the classroom under the excuse of COVID theater. We have to submit meaningless morning screening every day; do the voters have to do it?"
"Many high schools claim they can't hold in-person open house sessions to fully vaccinated parents and their children because it's 'unsafe,' but people with varying vax status can come into school buildings and vote?" puzzles Majiya Chai.
Katie N. concurs. "I'm incredibly angry about the hypocrisy. Parents are not allowed inside school buildings. Kids are being denied access to take sips of water in class. They must eat lunch in silence and 6 feet apart. If not, they can eat lunch outside on the concrete, quietly and in 15 minutes or less. They have to wear masks outside. Families cannot go inside school gyms to watch their kids play sports. BUT STRANGERS CAN GO INSIDE SCHOOLS TO VOTE? Which is it? Are adults all superspreaders and no parent can be allowed inside for fear of spreading COVID? But then we'll let strangers inside and risk infecting our kids?"
A parent who wanted to be identified only by the initials JS adds, "I think it's ridiculous. My daughter was unwell at school and I couldn't even go inside to collect her from the nurse's office. She threw up in the hallway on her way to the front door, and they put her mask back on her face immediately after and brought her outside. The poor girl had to smell her own vomit in case she gave anyone COVID (which she didn't have) in the 10 steps to the front door, yet any Tom, Dick or Harry is going to be allowed into their building to vote. Absolutely nonsensical!"
Some parents, such as this one, going by the initials SS, suggested a compromise: "Polling locations within schools should be limited to high school buildings this year. With young children unable to even receive the vaccine at this point, this brings a level of unnecessary risk. I'm all for making it easy to vote and have enough places to go to, but I worry about random adults in our children's schools where we are not allowed. It seems a bit tone deaf for the current situation in our city."
Other parents had questions, such as MK, who asked, "Who will be responsible for sanitizing after polling? School custodians are already working tirelessly to clean daily. This creates more work in a smaller time frame for sanitizing, especially considering the time polls close and the arrival of students. This also means that voters will simultaneously be in the building with afterschool students."
Still others were less concerned about potential infection and more about the online learning that is planned for Election Day. Prior to the pandemic, Election Day was simply a full day off from school and instruction.
"The thing that is super annoying is the remote school," said a mother of elementary school students. "It's inconvenient enough that there is no school and many parents have to scramble for child care or figure out how to do all their work plus watch their kids. Just give us all a break. Let the teachers, school administrators, kids and parents not have to mentally swing from one dimension to another and make it a day off, same for snow days."
A dad shares her concerns: "I have issues with days that were traditionally days off now being remote. It was hard doing that during lockdown but necessary. I do not feel it is rational to expect parents who work to pay for help because small children will need assistance with online remote learning. Even worse, the new snow days will be remote days. Since those are not days we can schedule, it will be difficult if not impossible for many parents to both work and to also monitor children to ensure they are participating."
Diana Brogan spoke for many when she summarized, "This is all performative bull%&*$ they are putting our kids through."
Alina Adams is a New York Times best-selling romance and mystery writer, the author of Getting Into NYC Kindergarten and Getting Into NYC High School, a blogger at New York School Talk and mother of three. She believes you can't have true school choice until all parents know all their school choices — and how to get them. Visit her website, www.NYCSchoolSecrets.com.
Support The 74's year-end campaign. Make a tax-exempt donation now.