Adams: NYC Gifted and Talented Schools Say They Want Diversity. But They Don't Do Much to Help Students Get There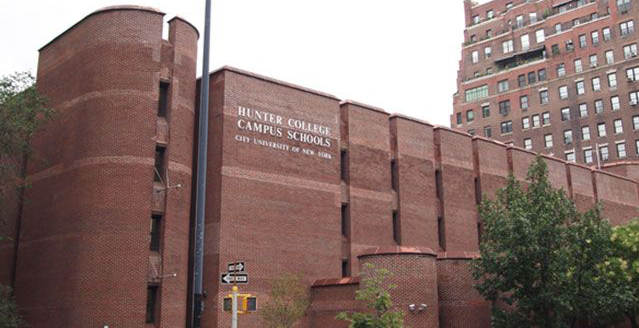 Get stories like these delivered straight to your inbox. Sign up for The 74 Newsletter
New York City Mayor Bill de Blasio has long touted diversifying public schools as a key goal of his administration. One frequently brought up issue is public elementary school gifted and talented programs, which are filled primarily with white and Asian students and are seen as a path to the city's top specialized and screened high schools. De Blasio has said he would like to see more Black and Hispanic children accepted and offered the same accelerated educational opportunities as their more privileged peers.
You would think that a district wanting to attract students from far-flung neighborhoods (geography serving as a proxy for identifying "underserved" applicants) in the name of diversity would make it easy and economical for families to travel long distances to get their children to school. But that is far from the case.
For instance, Hunter College Elementary, a publicly funded school established to serve the needs of New York City's highly gifted students, has, for decades, accepted applications for entry to its kindergarten only from families residing in Manhattan. Of an average of about 3,000 applicants, the top 300 advance based on their Stanford-Binet IQ scores, and of those, 25 boys and 25 girls fill the incoming kindergarten class.
Like most of NYC's elite schools, Hunter has a diversity problem. The school is majority white, then Asian, with the percentage of Black and Hispanic students in the single digits. In fact, in 2010, Hunter's African-American valedictorian felt obliged to call the school out on it during his graduation speech.
Hunter officials swore they would think very hard about how to fix the problem, and a decade after that speech, the school announced it will open kindergarten admissions to students from all five boroughs beginning in September 2022.
Yet, on the same website where the new policy was announced, they also write: Hunter College Elementary School, through the NYC Office of Pupil Transportation, only provides student busing to/from certain parts of Manhattan (south of 145th Street, north of Canal Street). No busing options are available outside the borough of Manhattan.
This presumes that anyone fortunate enough to have a child accepted into Hunter is also fortunate enough to have access to a car and/or have the time to escort the child to school via public transportation. Considering that over half of New York City residents don't own cars, and that multiple swaths of the city are not easily accessible by subway, it leaves those families reliant on costly private buses, cabs, Ubers … or just plain out of luck.
Hunter isn't the only school with a busing policy that seems to go directly against a stated desire for diversity. The Anderson School is a gifted and talented K-8 program open to children from across the city that, prior to the pandemic, required students to score in the 99th percentile on an IQ test and then get ridiculously lucky in a lottery in order to attend. Starting in September 2020, to diversify the student body, the school began giving priority for 30 percent of kindergarten seats to residents of less affluent neighborhoods.
Yet, a mother tells me: We were just informed that the bus stop that we've used for the last 4 years to get to Anderson has been canceled. The stop at 187th and Fort Washington will no longer be included in the bus route. This is affecting multiple students who used this bus stop for transportation to the citywide G&T school. Closest school bus stop is now somewhere around 150th street. Reason given was that the bus stop was outside of the 5 mile bus union rule — which we had never heard of and couldn't immediately find anything about. 
The same applies to NEST+M, another competitive citywide G&T K-12 school, about which a dad says:
Living outside of Manhattan we have paid out of pocket for our kids to take a private yellow school bus; as sending them with their free MetroCard on the subway was not feasible. (From Queens we have 5 large buses; though there are also buses in Manhattan and coming from Brooklyn run by parents in each borough.) Thankfully we are able to afford the cost (this year around $4,100).
This year, NEST shifted its start/end times from 8:20 to 2:40 to 8:30 to 2:50. This 10 minute bump is resulting in 35-45+ minute delays on arrival times in the outer boroughs. There is more traffic on the roads compared to pre-COVID due to people fleeing from the use of public transportation but who knew it was this bad. We are hoping that the school can make some changes with the start time as we can't have kids riding the bus for 90-120 minutes one way to get home on a regular basis.
Why [the city] doesn't provide families with a voucher to help offset the costs of private busing is beyond me. I am sure that [the city] pays the bus companies a pretty penny that is on par or beyond what we pay for routes that stay in the same borough. Another element of the broken system.
Ironically, while thousands of families compete for a handful of spots at Hunter, Anderson, NEST+M and other citywide gifted schools, many locally based G&T programs are frequently undersubscribed. These programs are then opened up to applicants from across the city, but the underserved students who live in neighborhoods without their own G&T programs often are unable to access them due to a lack of busing.
How many additional families would be able to take advantage of G&T programs, and diversify them in exactly the manner the Department of Education insists it wants, if transportation were less of a hardship?
Until this critical piece is addressed, how can the city possibly expect to see a change in diversity?
Alina Adams is a New York Times best-selling romance and mystery writer, the author of Getting Into NYC Kindergarten and Getting Into NYC High School, a blogger at New York School Talk and mother of three. She believes you can't have true school choice until all parents know all their school choices — and how to get them. Visit her website, www.NYCSchoolSecrets.com.
Get stories like these delivered straight to your inbox. Sign up for The 74 Newsletter