Adams: Do New York City's Mayoral Candidates Care About Education? Judging From Last Week's Democratic Debate, You'd Never Know It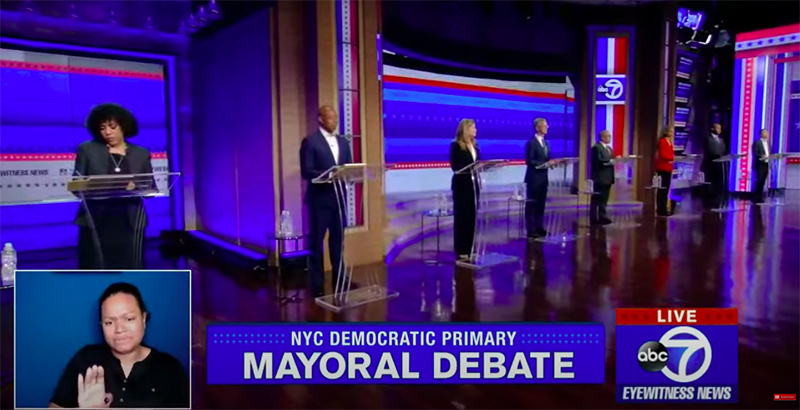 Get essential education news and commentary delivered straight to your inbox. Sign up here for The 74's daily newsletter.
There are over 1 million students in the New York City public school system, which presumably translates to at least 1 million potential voters in the June 22 Democratic mayoral primary. Considering that, in 2017, only 1,097,846 citizens voted for mayor, and an even smaller 76,361 cast their ballots for the ultimate winner, Bill de Blasio, you would think the 2021 candidates would be eagerly courting those who care about education.
But that wasn't the case at the June 2 debate, hosted by WABC-TV. The issue didn't even come up until 50 minutes into the televised portion of the debate — and the bulk of the discussion took place in the second hour, which only streamed on WABC's digital platform. It's likely the majority of prospective voters who tuned in never got to see it.
Even then, the issues most parents whom I speak to care about — the potential end of gifted and talented programs, unscreened middle schools, teacher quality, facilities maintenance and admissions to the specialized high schools — never came up.
The eight candidates on the stage repeatedly promised free child care (which, admittedly, is what many families use schools for, but that's not an education issue, per se.) The most interesting thing about their approach to education was that, when it came to traditional public schools, they were more alike than they were different. Scott Stringer said he would designate more money for afterschool programming. Kathryn Garcia would reappropriate $130 million dollars from the City Hall budget to put two teachers in every classroom and increase arts education. Maya Wiley promised to hire 2,500 new teachers and lower class sizes. Andrew Yang would place 10,000 tutors in schools.
It all came down to: More money will mean better education, whether that's more teachers, more arts and extracurricular activities or more personal tutors.
Of all the candidates on the stage, Eric Adams was the one who hammered education points home the most, invoking his own experience of having dyslexia as a child and thinking he couldn't learn, being bused to Bayside High School, where he saw what a well-resourced school was like compared to the ones in his Queens neighborhood, and reminding that 65 percent of NYC's Black and brown children couldn't do math or read on grade level.
But Stringer jumped on him for accepting money from charter school advocates and accused him of wanting to "privatize education."
In fact, charter schools was pretty much the only place where they showed any differentiation when it came to education.
Adams unequivocally stated his support for lifting the cap on how many charter schools could open in NYC, as a way of "scaling up excellence." Garcia also agreed to lift the cap, in order to put children, not adults first. Morales took the opposite position, saying Black and brown children were disproportionately harmed by charter schools. She wanted to "improve public schools" so that families didn't feel they needed to "resort to charters." Stringer repeated the long debunked argument that charter schools siphon money from public schools, and as the parent of two children in public school, he was against that. (He did not mention that both of his sons attend a gifted program outside their zoned school, which also siphons money from zoned schools and is one of the reasons why advocates want G&T programs shut down.)
Stringer, who beat out Adams, Yang and Wiley, for the United Federation of Teachers endorsement, could well see anti-charter school rhetoric as a key to victory.
American Federation of Teachers President Randi Weingarten likely agrees, as, a few days after the debate, she tweeted out:
I'm incredibly disappointed to see Kathryn Garcia go this route with charters. She's embraced the unacceptable policy of lifting the charter cap in NYC. Now.. Two minutes be4 early voting starts. Wondering why? . https://t.co/QIEhMtuLkM

— Randi Weingarten (@rweingarten) June 3, 2021
Why all the focus on charter schools? Unlike the million-plus kids enrolled in traditional public schools, just 150,000 NYC children attend a charter, with 163,000 students currently on charter school waitlists.
Is it because talking about charter schools is easier than discussing the important but difficult issues actually concern the majority of NYC families? Not to mention the nagging fact that, despite all the shifting around of deck chairs on the Titanic, half of NYC kids still don't read or do math at grade level (with those numbers even more tragic among children of color)?
Those are all complicated issues, with multiple, interlocking causes and a plethora of possible solutions. On the other hand, whether to lift the charter cap sounds like a pretty simple question, a binary yes or no, with no nuance, on an issue that most voters know little about, care little about and are affected by not at all.
And that's how you get (potentially 1 million) votes, while claiming to care about education.
Alina Adams is a New York Times best-selling romance and mystery writer, the author of Getting Into NYC Kindergarten and Getting Into NYC High School, a blogger at New York School Talk and mother of three. She believes you can't have true school choice until all parents know all their school choices — and how to get them. Visit her website, www.NYCSchoolSecrets.com.
Get stories like these delivered straight to your inbox. Sign up for The 74 Newsletter