Across the Country, Students, Parents & Teachers #ChalkYourWalk With Sidewalk Messages of Love and Hope — Even an Outdoor Exercise Routine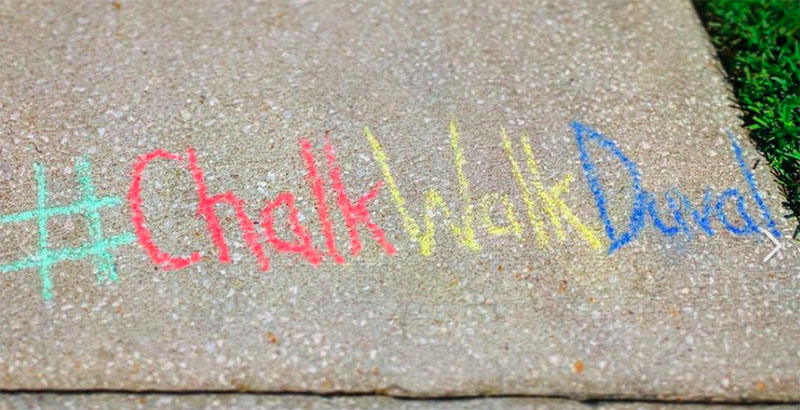 This article is one in a series at The 74 that profiles the heroes, victories, success stories and random acts of kindness found at schools all across America. Read more of our recent inspiring profiles at The74Million.org/series/inspiring.
These days, good news can be hard to find. But a movement that's taken off in school communities nationwide means that signs of hope are now right there, just outside the front door.
In Jacksonville, Florida, Duval County Public School leaders put out a call for sidewalk art that could keep students engaged while spreading words of kindness through the district, Firstcoastnews.com reported.
It's called the Chalk Your Walk initiative, and it has not only beautified streetscapes, it's become a social media sensation. (See our full photo gallery of noteworthy street scenes.)
From the elementary grades to middle school and high school, students and teachers are hitting the pavement to create works of art that are colorful, uplifting and fun — if only until the next rainfall.
At Rosenthal Montessori Elementary in Alexandria, Louisiana, gratitude was chalked on the sidewalk to honor the assistant principal for AP Appreciation Week.
At Lake Highlands Elementary School in Dallas, phys ed coach Jessi Pittman combined Chalk Your Walk with a little gym activity that could have been called Chalk the Hop.
At Kilby Elementary School in Woodbridge, Virginia, art teacher Teresa Woodson tried out her ideas for next year's projects on her own children.
Some Central High School students in San Angelo, Texas, couldn't resist decorating their entire walkway.
James Roscoe, principal at Grayslake North High School in Illinois, gave his art a title.
In Iowa's Norwalk High School, even pets got in on Chalk Your Walk.
But for students at Rucker Elementary School in Houston, Chalk Your Walk was only one of the fun activities school officials dreamed up for Spirit Week. Teachers put out a call for one fun activity after another.
First there was Build a Reading Fort day.
Then there was Silly Dance Day.
And Favorite Snack Day.
But Chalk Your Walk Day got the most posts of all.
Some Rucker Elementary students liked the idea so much, they took it further and created pet rocks.
A quick #ChalkYourWalk highlight reel:
Get stories like these delivered straight to your inbox. Sign up for The 74 Newsletter