A Superintendent Celebrates: All 849 Seniors From My Schools Are Graduating — and 590 Are the First in Their Families to Enroll in College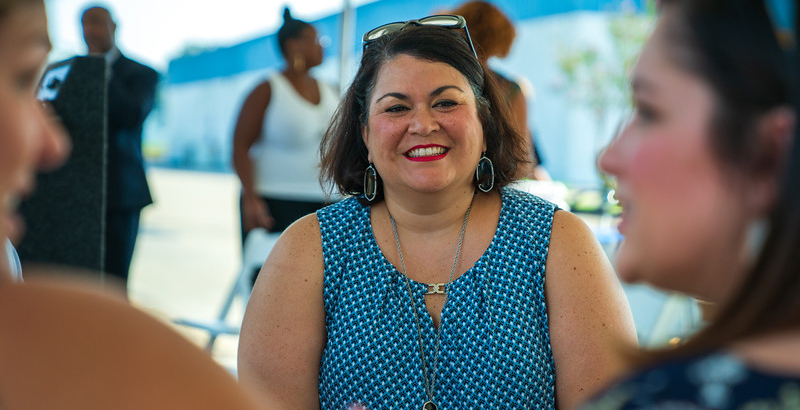 This fall, I am going to watch all 849 teens from the class of 2018 enroll in college — and 590 of them will be the first in their families to achieve this accomplishment. What's more, they all come from backgrounds much like mine, and are now graduates of the network of schools that I co-founded after achieving what children who lived in neighborhoods like mine tend not to achieve.
In 1993, I left my home to attend college at Boston University on a full scholarship. This was a big deal in my low-income community in Houston, Texas. My brothers had both dropped out of middle school. College — let alone a prestigious university nearly 2,000 miles away — was reserved for the kids in the wealthier neighborhoods. Without a full scholarship and savings from my part-time job, getting to college would have been impossible.
I am very grateful for that support, for my life would have been drastically different if I had not gone to Boston. While at BU, I majored in International Relations, and had a wonderful (and cold) four years there. As a college senior, like many, I began to really think about what I wanted to do once I graduated. The foreign services were a possibility. So was working for a government agency. Then I thought of my mother.
My mom worked in a school cafeteria before her principal encouraged her to go back and get her GED. She took the advice to heart, and upon earning that GED, she eventually became a co-teacher. I often visited my mom's classroom during breaks from college, and little by little, I internalized what a career as a schoolteacher would look like. My mom was good at teaching, and I liked watching the passion on her face as she educated her students. Maybe I could do this, I thought.
So, as a senior at BU, I applied to become a Teach for America corps member. I wasn't exactly sure what I wanted to do with my life, but helping low-income students of color through education was something that hit close to home.
I was fortunate to be accepted to the program and was placed in the Rio Grande Valley. Unlike most, I knew exactly where the Rio Grande Valley was. My father and his family grew up in the Harlingen and San Benito area, after they moved across the border from Matamoros, Mexico. So I was thrilled to move to a place where I had so much family history.
In the Rio Grande Valley, I taught fourth- and fifth-grade English as a Second Language in Donna, Texas. It was the most challenging, difficult, and rewarding work I'd ever done in my life. Experiencing the triumphs and the troubles of a first-year teacher made me respect my mom all the more for her commitment to her students' success.
Despite the hard work and long hours, I enjoyed teaching, just like my mom. But I also was troubled by how far behind my students were in their learning. Many of my fourth-graders struggled to read first-grade books. I knew that if nothing changed, most of my students would fall victim to the achievement gap. Even at 9 years old, the idea of college and a career of their choice was slipping out of grasp, and at no fault of their own.
During my time with Teach for America, I met another corps member by the name of Tom Torkelson, who was also concerned by the educational landscape in Donna. We decided to do something about our students' learning gaps. Together, we launched our own school for fourth-graders, called IDEA Academy. Our focus? Student achievement and college readiness.
It wasn't going to be easy. Our students were far behind. But we started school earlier and stayed later; we held Saturday school, and through this extra time and hard work, our students began to catch up.
Today, 18 years later, IDEA serves more than 45,000 pre-K–12th-grade students across the state of Texas and Louisiana.
Yes, we've grown, but we haven't sacrificed academic rigor. Last year, five of our high schools were ranked within the 25 most challenging high schools in the nation by The Washington Post. For the 12th straight year, 100 percent of our seniors in the class of 2018 were accepted to college, and 99.8 percent of our graduating seniors matriculated to college last fall.
I am so proud of our 2018 IDEA graduating class for continuing the legacy of college for all children. Looking back, I am also very proud to work in education, and I'm proud of what we've all accomplished here at IDEA. But perhaps what makes me most proud is that nearly 90 percent of IDEA's students are low-income, and 95 percent are Hispanic.
National statistics point to the disparity in academic achievement, graduation rates, and earning wages based on skin color. When faced with these statistics, some might say the results IDEA is achieving are impossible. How can we defy the odds? What are we doing that's proving the impossible is possible for our students?
I think of my mother, a woman who never went to college but who developed a passion to help young students through education. I can see the determined electricity in her face, and I see that same electricity in so many teachers' and students' faces here at IDEA Public Schools. Sure, sometimes that electricity loses a little charge, because our task is a daunting one. But our entire IDEA team and family comes back to school the next day ready to teach, and ready to learn. That process has gotten us where we are today. We're going to keep doing it, and we're going to get better, day by day.
We also continue to cultivate and develop leaders at IDEA who believe in our mission and, like my mother, have uniquely found their passion in education. From military veterans who are now leading classrooms to IDEA alumni who are teaching in their hometowns, and even seasoned school leaders who are continuing to learn, grow, and have an impact as principals-in-residence, the stories are endless.
This academic success can be replicated across the country. I am committed to the mission to ensure all students are provided the tools they need to be successful in college and in life, so that they can change the world for the better. Together, we can make this mission a reality in every community.
Don't take my word for it. Take the word of this year's 849 IDEA first-generation college-goers.
¡Sí se puede!
JoAnn Gama is the co-founder, president, and superintendent of IDEA Public Schools, a family of 61 tuition-free public charter schools committed to seeing each child to and through college, serving 45,000 students in Texas — Austin, San Antonio, the Rio Grande Valley, and El Paso — and Southern Louisiana.
Get stories like these delivered straight to your inbox. Sign up for The 74 Newsletter