A Summer Rocket Program Launches Boston Girls Into the Next School Year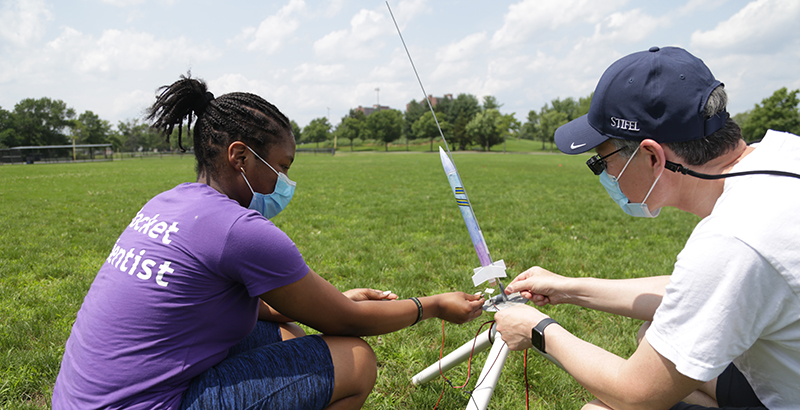 Get essential education news and commentary delivered straight to your inbox. Sign up here for The 74's daily newsletter.
For 60 seconds, 19 middle and early high school students remained relatively silent apart from the crinkling of popsicle wrappers. They awaited the verdict of a peer's model rocket after a failed launch at Danehy Park just outside of Boston.
As the minute ended and it was safe to inspect the engine and try anew, the culprit was revealed — a finicky starter and an igniter, which had likely slipped off in the summer wind.
Cheers and chatter quickly resumed for the participants of a free Summer Rocketry Program hosted by the Science Club for Girls, a Boston-area nonprofit that offers STEM learning opportunities year-round for K-8 girls, nonbinary youth, and those that identify with girlhood. For over 25 years, their focus has been fostering excitement and confidence for communities underrepresented in STEM fields by income, race, or first-generation college-bound status.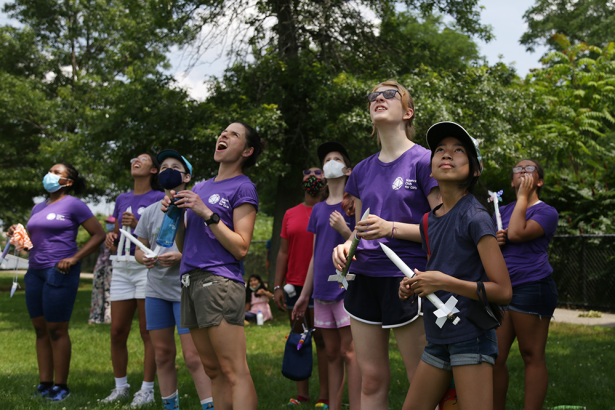 In a hybrid learning model, summer students explored the science behind model rockets, aspects of living in space and astronaut training, and participated in a STEM career panel over Zoom, ultimately coming together on July 16 for the in-person rocket launch. The two-week program is sponsored by the City of Cambridge's STEAM Initiative and Estes Rockets.
Science Club for Girls hosted one in-person launch in 2020, per pandemic safety regulations to limit the group, and this summer expanded it to two longer in-person launching sessions in Somerville, Massachusetts. The Club is hosting two groups in this year's Rocketry Camp, with 19 students in July and 23 in August, and — reflecting an uptick in interest — 17 students on a waitlist.

"It's all inquiry-based learning, hands-on through doing, where everything's an activity. The girls are engaging with materials and actually learning from what they do," said Hannah Weinstock, program manager for the Club and a former middle school STEM teacher in Chelsea, just northeast of Boston.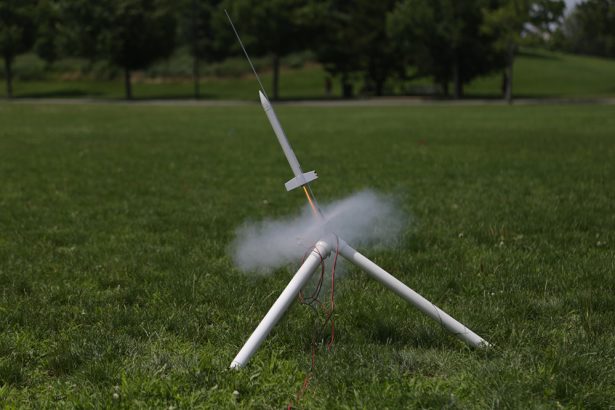 Executive Director Dr. Bonnie Bertolaet says that while the organization focuses on STEM content delivery, they are attune to the "context of the whole child and social-emotional learning, the relationships, the mentors — that kind of support makes children more open to learning and feel like they're in a trusting environment where they can make mistakes and ask questions."
Particularly as students gear up to return to school after a turbulent hybrid or fully remote year, Massachusetts education leaders and Gov. Charlie Baker are stressing the impact that opportunities to be curious and learn from each other in-person may have for young children this summer. In April, the state dedicated over $70 million for enhanced summer learning programs to address the pandemic's negative impact on learning.
While the Club did not receive that funding specifically, Bertolaet said, "Our entire organization, and all of our programs, have been squarely centered around offsetting the loss of learning."
The program's virtual aspect "has allowed students from the broader community to join," Weinstock said, with campers hailing from all over eastern Massachusetts, including Boston, Somerville, Cambridge, Revere, Lexington, Sudbury and Melrose.
Sonali Fiorillo, a rising junior at Wellesley High School and mentor for younger youth in the program, joined the Club's in-person launch this year with her rockets from 2020 and 2021 in-hand. Her interests are aerospace engineering, astronomy, education and sustainability.
"One of my favorite things about rockets in real life right now is that I've been seeing SpaceX has been doing some launches and been re-landing the boosters back on the ground," Fiorillo said. "I know that rocketry has a negative impact on the environment with all of the fuel emissions and also the trash that we usually leave in the ocean, or in space just as space junk, which can be harmful to satellites and other objects orbiting the earth."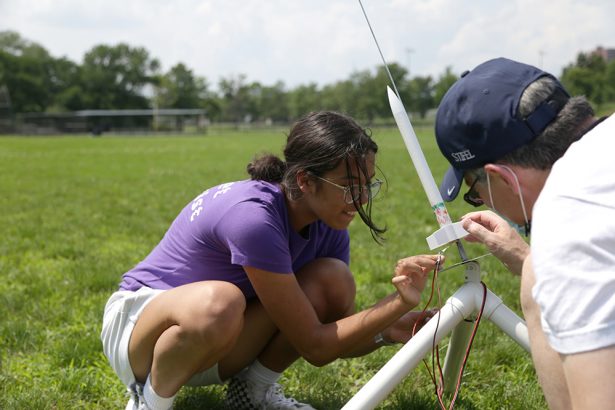 This summer provides plenty of opportunity to witness rockets hurtling toward space, with billionaires Jeff Bezos and Richard Branson's launching commercial space journeys. SpaceX, founded and run by billionaire Elon Musk, is also preparing a civilian crew for a multi-day exploration.
The Club's model rockets, barring any launch-related damage, can and are reused. After July's group successfully launched their rockets and marked landings on the field, students offered up their models to Weinstock and Evelyn Gonzalez, the Club's program recruitment manager, giving them a chance to see the science in action.
Rashida Santos, mother to a rising Boston Public Schools 6th-grader and Club camper, watched as one rocket made its descent above parents' heads, ultimately touching down in a nearby baseball field. The summer program came recommended from her daughter's school in a larger packet of available programs, and one of her daughter's teachers pointed out this group specifically.
"I'm a total science geek and want all my children to be, too," Santos said.
Lucy Stone Roxbury Prep sent an email to Tracie Laroche, another mother, with the Science Club for Girls's information during last school year. Her daughter got involved with after-school and weekend programming in the fall of 2020. "She's kind of my science nerd, she likes it all," Laroche says.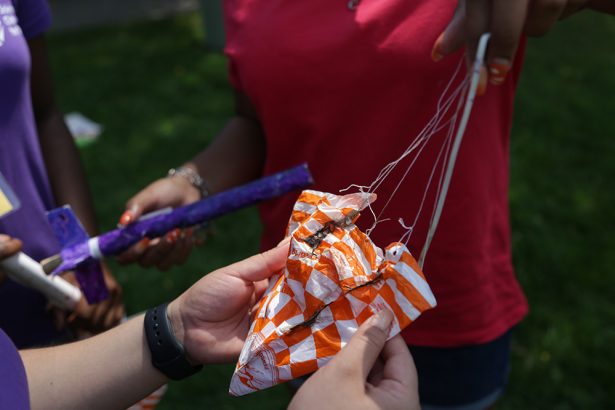 While all of the youth express a growing interest in STEM fields, some participate and come back as mentors for the social-emotional engagement.
"I really like the community — I have so much in common with these girls," said Tamar Etienne, a teacher/mentor for this summer's program and rising 10th-grader at Cambridge's Prospect Hill Academy Charter School. "We all like science obviously, and are super positive, sweet, and kind."
Given that the program is almost completely virtual and students don't attend the same schools, the Science Club for Girls is keen on fostering relationships in remote programming. Gonzalez, the recruitment manager, highlights that the moments where they bonded over favorite TV shows and musical instruments were critical to the July launch's success.
"Being out here in person, it really reflects how in Zoom they were able to connect," Gonzalez said.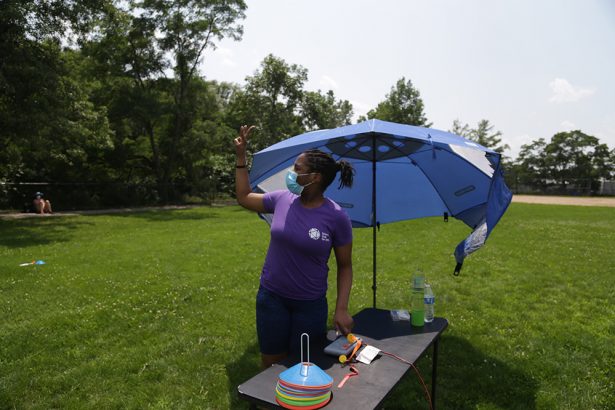 The Club also helped their campers' families, supporting them with digital literacy, computer access and staying connected to their children's schools.
"We're going to the tech help desks at schools for our families, and by helping them register for our programs, that helps get those families back engaged with the public schools for remote learning," said Bertolaet.
In the fall, the Science Club for Girls will continue hybrid instruction for about 100 in-person and 250-plus virtual students, citing parent demand for both opportunities. Youth will turn their focus from space matter to human matter, learning a different bodily system each week. In the final eighth week, they'll diagnose a model patient.
The organization has plans to expand learning opportunities throughout Massachusetts, at a time when common narratives push that middle school girls turn away from STEM early.
On launch day, Bertolaet noticed students "were so excited to meet each other, even girls who had been off camera the whole time," she said. "There was no self consciousness, which is great. I mean this is about being yourself, feeling comfortable, feeling safe and exploring."
Get stories like these delivered straight to your inbox. Sign up for The 74 Newsletter