A 'Plan B': D.C. Sees Strong Interest in Adult Ed Programs During Pandemic as Many Seek Jobs or Help With Kids' Virtual Learning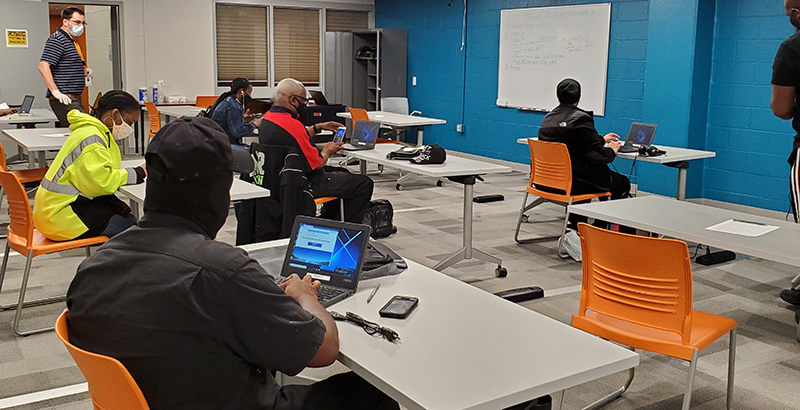 After months of teetering between unemployment and work, Reyes Ramos realized he needed to go back to school.
The 31-year-old restaurant server, who dropped out of high school to help his family make ends meet, was down to 20 hours a week in December as the restaurant industry continued to flounder from COVID restrictions.
"Times are getting harder; I'm very stressed about that right now," said Ramos, who lives in Ward 5. "It was time for me to have a Plan B."
Plan B meant enrolling in a GED diploma program in September at Academy of Hope Adult Public Charter School, a transition he hopes will open doors moving forward — to college, perhaps.
In D.C., where more than 10 percent of the nation's adult charter schools are located, serving the vast majority of the city's adult learners for free, students like Ramos say the pandemic has prompted their return to school, or motivated them to double down on their studies.
They're driven, they told The 74, by a need to become more competitive in the post-COVID workplace, or better mentors for their children learning virtually. Many adult work certification programs, they added, are becoming increasingly attractive as the pandemic has worn on, like those for medical assistants, IT support, computer literacy and early childhood education.
"If I don't make myself competitive with today's society, then I won't be able to ask for [a higher salary] to be able to move my family forward," said Rene Jones, a 55-year-old student at Community College Preparatory Academy who's unemployed but working toward IT and Microsoft Office specialist certifications, and hopes to one day buy a house.
Preliminary data released by the Office of the State Superintendent of Education in early November reported 4,877 students enrolled in adult education across charters and D.C. Public Schools — a 4 percent total increase over what DCPS and charters projected for the 2020-21 school year and a 41 percent increase from the 3,465 recorded in a rare mid-September data release. 
While financial and family motivation has drawn many adult learners to school, the seismic shift adult ed programs have undergone in the past nine months — namely, incorporating more flexibility like repeat classes and asynchronous learning options — has made it possible despite competing priorities such as child care, students said.
Briya Public Charter School, for example, now offers English learner courses three times a day. Academy of Hope has given digital literacy boot camps. CC Prep slowed down the pace of most of its classes to ensure retention.
The pandemic "really pushed us, and pushed a lot of adult schools, to think about: How can we be more innovative or more flexible in the way we're delivering our programs?" said Ashley Simpson Baird, a research and policy consultant with Briya.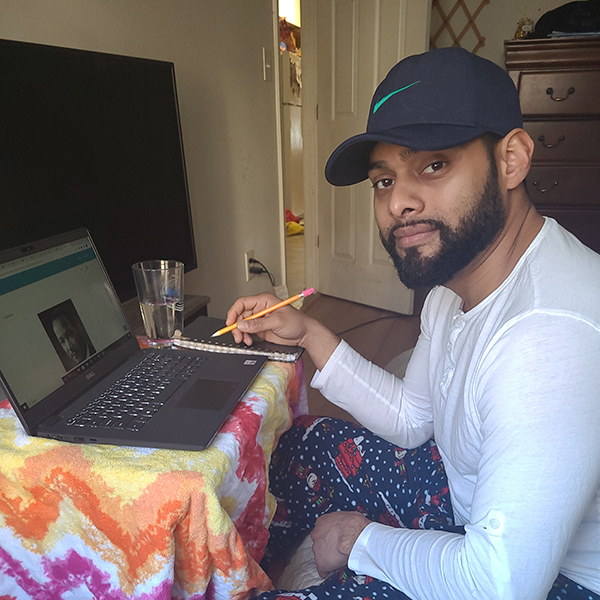 It wouldn't be the first time a crisis helped spark returns to school: The 2008 recession, for example, ushered in a 16 percent hike in college enrollment, a trend largely driven by older adults.
While D.C.'s adult education enrollment is subject to change during the year — students can drop out and new ones can apply, often on a rolling basis — many administrators said students' resilience has them optimistic about where enrollment trends are headed.
Nicole Hanrahan, executive director of LAYC Career Academy, knows a student, Rosa, who "calls in from the janitor's closet on her [work] break because she just wants to be in school so badly. But she has to support her family," she said. "That's what determination looks like."
Adult learners make up some of the hardest hit populations during the pandemic. In a May 2020 survey of nearly 2,000 adult charter school learners, 28.3 percent were employed, a staggering drop from 67.3 percent in February. Sixty-four percent identified as parents. The vast majority —more than 92 percent— were people of color, who have disproportionately contracted and died from COVID.
Jayme Dyer, who manages DCPS' Ballou STAY Opportunity Academy, has seen a broad spectrum of student experiences. Its adult diploma program had about 40 students withdrawn the past two months, but had a 43-student waitlist as of last week.
"I've spoken to students who have really struggled through this pandemic," she said. "But at the same time, I've seen a lot of students dig deep and say, 'Hey, you know what? I can do this.'"
The drives to enroll
Yizel Romero joined Briya 12 years ago, building up her English proficiency and nabbing a high school diploma. Then, in September, the 42-year-old took the next step: Starting an early childhood education program to become a teaching assistant.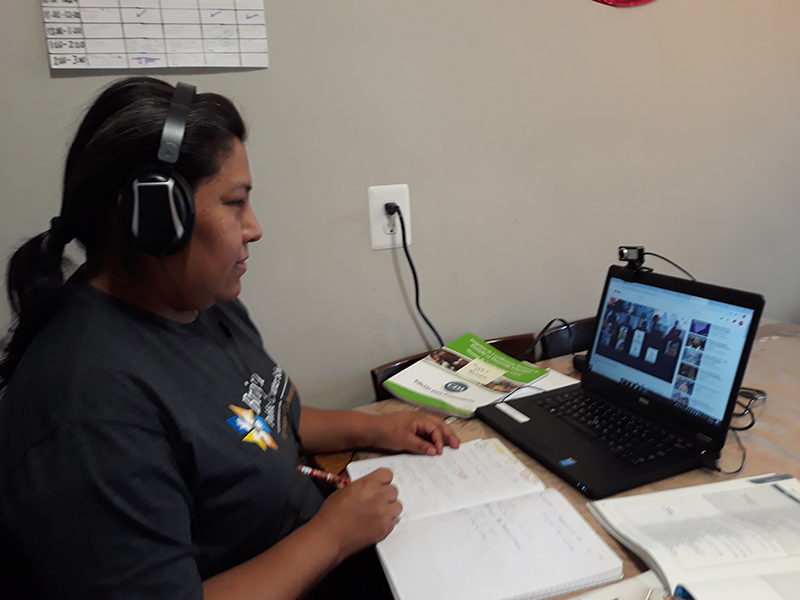 (That program now has a 154-student waitlist, Simpson Baird confirmed).
While Romero had an ongoing interest in teaching, seeing her 4-year-old preschooler struggle to stay engaged and follow remote lessons strengthened her belief that this was "the right time."
Now, she's using teaching tricks and sample lessons that she's learning in her courses to help Daniella grasp concepts like counting. One activity, for example, includes showing her daughter a number and asking her to find that amount of something in their home. (Daniella recently selected two gingerbreads for the number two).
It's a role Romero has embraced enthusiastically. The family's one-bedroom apartment in Ward 7 "looks like a small classroom" now, she said. It's littered with books, cut-out letters to practice sounds — even recycled leaves to explain seasonal changes.
For Garrett Alston, a 48-year-old who joined DCPS' Ballou STAY in October for his high school diploma, his two sons — DCPS students themselves doing virtual work alongside him — have also been a source of motivation.
"When I first started up, I was doing fractions and I was like, 'I haven't done fractions in a long time.' … And my sons came to me and said, 'Let's show him [how],'" said Alston, who lives in Ward 4 and works as a human services consultant. "They say, 'You've been doing everything for us, it's time for you to do it for yourself.'"
Alston had dropped out of high school his junior year; one of his best friends was murdered, and "I just left [the city] and started working," he said.
But he'd since itched to go back to school, with the dream of opening a business to "give back" to the community by better preparing individuals for employment opportunities through "mock-interview skills, hands-on training [and] computer training."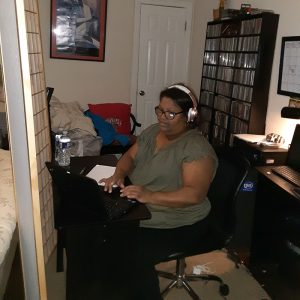 Jones, the 55-year-old at CC Prep, has gotten ample computer training as she works toward her IT and Microsoft Office certifications. While she has more than 20 years experience at the "basic secretary" level, she'd found herself without the skill sets required for promotions, leaving her salary at a fairly stagnant $50,000.
While she joined CC Prep before the pandemic began, with much of the country's workforce now remote and leaning on technology, Jones said she's seeing heightened value in her studies. Learning about computer security systems, running through flashcards with IT acronyms — it all feels more relevant than ever.
Especially if she wants to enter the IT field making at least $70,000.
"The pandemic has said, 'Hey, this is the new world,'" she said. "I come from an era where technology wasn't this important. [Now], technology is everything. …It has to be a top priority."
Schools recalibrate, with eye toward the future
All schools The 74 interviewed relied predominantly, if not solely, on in-person class instruction before the pandemic, making for a drastic pivot to virtual learning.
(A few of the schools are hosting some in-person classes, especially for those requiring hands-on practice, like medical assistants. But the majority of students remain virtual, many using borrowed laptops and hotspots that their schools helped secure).
A central element of that shift has been the emergence of asynchronous learning. In response to widespread school closures, schools were granted outsized flexibility in how their adult learners could meet attendance and participation requirements — including by engaging with lessons posted online outside of normal class hours.
For CC Prep, which enrolled a few more students this fall than expected, embracing asynchronous learning as an option meant reformatting instruction to ensure lessons are as straightforward as possible. Even if that means slowing down classes' pace.
As a student, "You can't ask questions …. if it's 3 a.m. and [the] kids are sleeping and [you're] listening to the lesson from yesterday online," said CEO Jason Lody. "So how do we deliver instruction where it is so explicit that the questions are minimal?"
Briya has also reframed many of its lessons through a COVID "lens," Simpson Baird said. Its early childhood education courses, for example, are teaching about "increased cleaning and safety protocols" now required in classrooms and how to utilize mediums like phone calls, emails, text messages and WhatsApp to reach families remotely.
Thinking creatively has extended beyond instruction, too. Ballou STAY — whose students need to test in-person before starting the diploma program track — set up parking lot testing, buying tents and six-foot-long tables for social distancing (They're currently exploring purchasing heaters). And LAYCCA, which serves a large homeless student population, has been hosting in-person distribution of necessities like groceries, diapers, condoms, shampoos and hand soap every Thursday.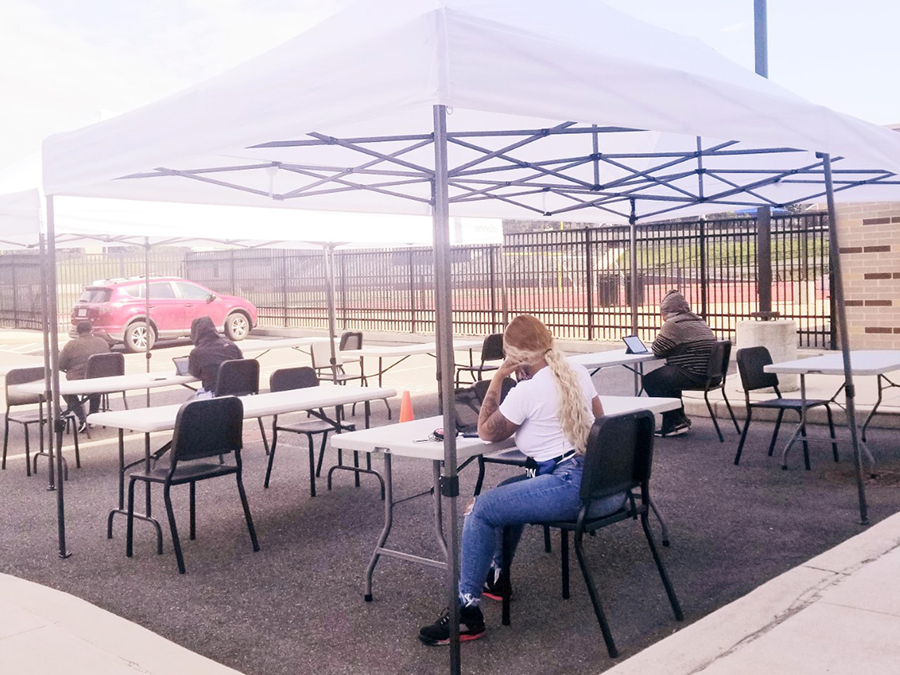 Even so, some students have still had to put learning on hold.
Alamaze King dropped out of her computer specialist program in October after about two months. Her home is crowded with her two school-age kids and three grandchildren — their babbles and shouts often the background soundtrack of her phone calls. And working in security, King typically only had time to study between 2 a.m. and 5 a.m.
"I feel like the structure was there on paper, but it wasn't there physically," she said. King added, though, that she does hope to enroll in another program down the line.
School administrators noted that while many students are eagerly awaiting a return to in-person learning, there's substantial interest in continuing to offer flexible learning models post-COVID. (OSSE said adult schools it funds will be able to count "both synchronous and asynchronous learning" toward attendance post-pandemic.)
While it isn't clear yet whether these flexibilities helped or hindered adult programs' academic outcomes— the D.C. Public Charter School Board last spring stopped collecting academic data for the 2019-20 year — the board is resuming collection for 2020-21, and plans to publish a School Quality Report next year that will "be able to compare adult growth and achievement" to past years, a spokeswoman said.
In the meantime, there's still consensus: These programs won't ever be quite the same.
LAYCCA, for one, is exploring expanding an existing focus in cybersecurity. Academy of Hope plans to grow its digital literacy boot camps for basic keyboarding and troubleshooting, too.
Computer literacy, CEO Lecester Johnson said, is "no longer going to be [an] optional" skill set.
"We are not going back," she said.
This article is one in a series spotlighting the broader consequences of families disenrolling their children, students changing schools and children going missing amid the coronavirus crisis. See all our coverage at 'COVID's Missing Students.' (If you or a student you know changed schools or stopped going to class altogether because of the pandemic, tell us your story. On Twitter: #WhereAreTheKids and #IAmHere)

Support The 74's year-end campaign. Make a tax-exempt donation now.