"A National Disgrace": Explaining the Past, Present, and Future of Detroit Public Schools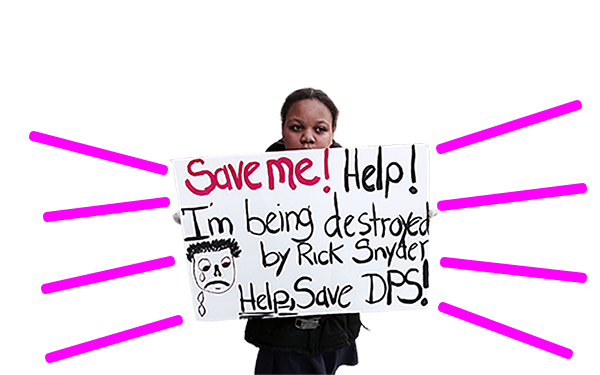 Why are Detroit schools in the news?
Detroit Public Schools (DPS) teachers have organized mass "sick-outs" — in which teachers call in sick — in order to protest and call attention to the
rundown conditions of city school buildings. The sick-outs have caused numerous schools to close for lack of staff. Some days the sick-outs
closed
just a couple schools, but others, such as when President Obama was in town for the Auto Show, the
vast majority
of schools were not open, as
many teachers
turned out to demonstrate near Obama's visit. In January, there have been nine days where at least one school has been closed due to high teacher absences — including three separate days where at least 24 of the 97 district schools were not open — according DPS'
website
.
The
protests
appeared to begin in late 2015, closing a
handful
of schools in December, and have gained significant traction since. At one school, the movement extended to students: dozens
walked out
in protest of facility conditions. Future sick-outs
appear
likely.
Detroit Public Schools — under the charge of Darnell Earley, a state emergency schools manager appointed by
Gov. Rick Snyder
— has sued the teachers, arguing they have violated state law that makes it illegal to strike. A judge recently
denied
the district's request for an injunction against the union and sick-out organizers within it. Another hearing is set for February 16.
Meanwhile, the teachers union and several parents have just
filed
a lawsuit against the district, alleging unsafe school conditions.
---
---
How bad are Detroit school buildings?
Not well, by almost any measure. City students performed worse than any of the other 20 urban districts assessed on a 2013 national test. On the eighth-grade math test, less than 1 percent of Detroit students
scored
at an advanced level and just 3 percent were proficient. In comparison, in the average large city, 6 percent of students were rated advanced, and 21 percent were proficient.
---
---
In 2009, U.S. Secretary of Education Arne Duncan called the Detroit school system a "national disgrace." Except for moderate gains on eighth-grade reading tests, the city has made no significant progress on national assessments since then.
---
---
Why haven't the buildings been fixed?
DPS is in financial crisis and officials
say
there simply isn't money to fix facilities. The district's long-term debt
totals
$3.5 billion, according to one
report
. That
means
about $3,019 of the $7,296 DPS gets from the state in per-pupil funding goes towards paying down debt — and not into schools and classrooms. The district has
said
it will run out of money in April.
Why is the district so far in the red?
DPS has faced massively declining enrollment, largely because of decreased population in the city as a whole, and increased competition from charter schools who are drawing students away from the district. The number of school-age children in Detroit
dropped
from nearly 200,000 to about 120,000 between 2000 and 2013. And in 2013, just 42 percent of Detroit kids attended DPS, compared to 85 percent in 2000.
---
---
Fewer kids, means less money, because schools in Michigan are funded based on the number of students they enroll. The district has responded by shuttering or reconfiguring 230 schools since 2000 and dramatically downsizing staff, but not fast enough as certain fixed costs, such as pension obligations and bond debt, are difficult or impossible to reduce at the same rate DPS is losing students. A variety of short-term loans has been converted into long-term debt. Put simply, "the revenues decline faster than the cost," according to David Arsen, a professor at Michigan State.
Last year, Moody's downgraded the district's credit rating,
explaining
, "Absent enrollment and revenue growth, fixed costs will comprise a growing share of the district's annual financial resources and potentially stress the sufficiency of year-round cash flow."
So are charter schools helping or making things worse?
That's a hotly disputed question.
Charter school supporters say the charters — in which nearly half of Detroit students are enrolled — give parents a choice to move their children out of struggling district schools. And many have as charter enrollment numbers continue to climb and district enrollment spirals downward. There is
evidence
charters in Detroit moderately outperform DPS in both math and reading tests, based on data through 2011.
On the other hand, some argue that charters and DPS aren't on an even playing field, so making these sorts of comparisons isn't fair. Charters don't have the same legacy debt as the district, and thus may be able to put more money into schools. DPS, meanwhile, is stuck in a vicious cycle: declining enrollment leads to funding cuts which leads to a reduction in services and school quality — which leads to more declining enrollment.
Evidence
suggests that Michigan charter schools can negatively affect school district finances. According to an analysis by Rutgers professor Bruce Baker provided to The Seventy Four, charters in the Detroit area receive about the same per-pupil funding as district schools as a whole.
1
A 2014
investigation
by the Detroit Free-Press found that there has been limited oversight of Michigan charters , allowing public money to go to waste and poor-performing schools to stay open. Some charter school supporters have
called
for improving performance standards and accountability in the sector. The majority of Michigan charter schools
operate
for profit.
Who is organizing the sick-outs?
The protests appear to be largely
organized
by a grassroots teacher group called the
Detroit Strike to Win Committee
, headed by Steve Conn, a DPS teacher and the former president of the Detroit Federation of Teachers. Another group called DPS Teachers Fight Back — which refers to itself as a "union within the union" — also is supporting the sick-outs. The teachers also seem to be
backed
by the activist group By Any Means Necessary.
Conn was
ousted
as president by the Detroit Federation of Teachers' executive board in August 2015 based on several misconduct charges, including illegally cancelling meetings and failing to pay his own union dues. Conn, who was elected in January 2015 on a platform of more militant unionism,
said
the charges were "concocted" and the internal trial was "secret [and] McCarthyite."
In September, a majority of voting unions members
supported
reinstating Conn as president, but he fell short of the two-thirds required to overturn the executive board's decision. At the time, Conn said he
planned
to form a new union. As president, Conn organized a protest of state policies, leading to the
closing
of 18 Detroit schools last April, as nearly a fifth of teachers were absent.
Conn — who refers to himself as the "elected president of the DFT" — isn't done fighting for his old job: An appeal before the American Federation of Teachers is still pending.
What's the union's position on the sick-outs?
Interim president of the 4,000-member Detroit Federation of Teachers Ivy Bailey (who replaced Conn)
said
, "We haven't sanctioned the sick-outs, but I want everyone to understand the frustration." A statement on the union's
website
encourages teachers to report to work. Bailey has also emphasized just how bad conditions are,
saying
, "We refuse to stand by while teachers, school support staff and students are exposed to conditions that one might expect in a Third World country, not the United States of America."
American Federation of Teachers (AFT) President, Randi Weingarten, recently
visited
Detroit to highlight conditions in the schools; the AFT also produced a
video
on the state of DPS schools.
And, as noted, the union has just
sued
the district over the schools' conditions.
---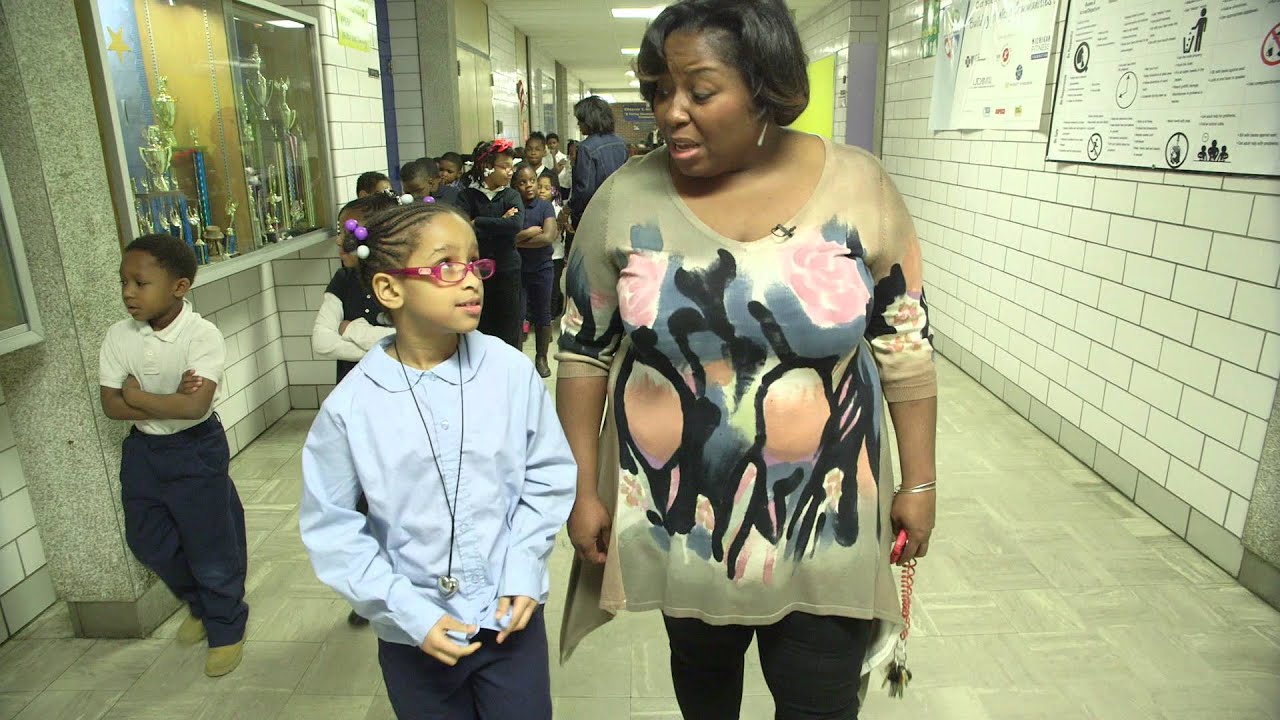 ---
What response have the teachers received?
The sick-outs have received national media attention, including from most major news outlets. Hillary Clinton recently Tweeted support.
---
No one would tolerate these conditions in a wealthy suburb. Detroit students and teachers deserve better. -H https://t.co/z07LVKNSsx

— Hillary Clinton (@HillaryClinton) January 21, 2016
---
Separate DPS into two separate entities, an "old" and "new" district: one designed to pay down the district's existing debt, the other to operate schools.
Provide $715 million in state money to help the district reduce its debt.
Create an interim school board, with five members appointed by the governor, and four appointed by the Detroit mayor.
Transfer partial district control to a locally elected school board by January 2017 following a November 2016 election. The elected board would have only limited power over the schools and would not appoint the superintendent.
Get stories like these delivered straight to your inbox. Sign up for The 74 Newsletter