A D.C. School Meant to Inspire Teachers and Students
By Emily Langhorne | January 16, 2019
Where teachers train and students learn by following their interests, expressing their creativity, and thinking for themselves
---
Washington, D.C.
Artwork and projects decorate the light blue walls of Inspired Teaching Demonstration School, an inquiry-based learning public charter school now in its eighth year.
A colorful "body map," with the organs labeled, covers the door of one prekindergarten classroom. On the wall outside the other pre-K classroom hang drawings of guitars because the class read a picture book about the childhood of Jimi Hendrix when learning about musical instruments. Down the hall, the 3-year-old class has been experimenting with paints, both watercolors and temperas.
Everything displayed on the walls of the three-story building on Douglas Street NE in D.C.'s Ward 5 is student-made.
"Teachers really value our creativity here," says Takhari Millner, a seventh-grader who has been attending ITDS since kindergarten.
Ranked a tier-one public charter school by the D.C. Public Charter School Board, ITDS opened in 2011 and serves 472 students in prekindergarten through eighth grade. There's two classes per grade, except for seventh and eighth grade, which will each expand from one class to two when the school reaches its roughly 525-student capacity in 2020. For the 2018-19 school year, ITDS received 1,745 applications for 125 spots. Its waiting list currently has 913 students.
ITDS students have consistently outperformed their peers in both the public charter school sector and District of Columbia Public Schools on state exams, yet test prep and standardization are the antithesis of the school's model. Born out of a partnership with the Center for Inspired Teaching, ITDS operates a demonstration school for the best practices in inquiry-based teaching and active learning methods.
For teachers by teachers
In 2009, the Center for Inspired Teaching, a national organization based out of D.C. that's dedicated to teacher professionalism and experiential learning, brought together a group of educators to create a school that showcased the center's instructional model.
Deborah Dantzler Williams, the founding head of school, previously worked as the center's director of strategic partnerships.
"The center had partnerships with public schools around the city," she says. "I'd talk with principals, wanting to share CIT's philosophies, but often, they had looked up my background and seen that I came from an independent school environment. They were suspicious, thinking, 'Well, you worked in schools that test and pick kids, so how can what you know be relevant to us? Where can we see this type of instructional model being done in a public school? On a typical budget?' We couldn't avoid those questions anymore."
"Being a charter school was really our only option," says Kate Keplinger, ITDS's chief operating officer and lead author of the school's charter. "Our mission is focused on public education, but we needed a place where we could be innovative and different. Within DCPS, we wouldn't have the same freedom and ability to make the kinds of decisions that we needed to make about how we were going to teach within and staff our school."
The Center for Inspired Teaching wanted to create a school that could be a changemaker in the realm of public education — a place where they could share best practices with educators, policymakers, and community members. Part of that goal meant creating a place that could serve as a training site for teachers. Through the Inspired Teaching Residency Program, teachers can earn both their master's in teaching and their D.C. teaching license through coursework and a residency year spent working in an ITDS classroom, under the supervision of an experienced teacher.
Teacher residents follow a "gradual release" training. First, they observe the experienced teacher; then they begin teaching small portions of the class; and finally, they take over the teaching entirely. During the second year of the program, teacher residents obtain a full-time teaching position in a D.C. public school. After successful completion of the residency, they must work an additional four years in D.C. public schools to receive full tuition reimbursement.
How to think, not what to think
To explain inquiry-based learning, ITDS's leadership compares schooling to a taking a trip. At a traditional school, teachers decide where the journey (the learning) will start and end, but they also decide the vehicle needed for travel as well as all the sites that will be seen. At an inquiry-based school, teachers still pick the starting point and the destination, but the class helps choose the mode of travel and the route. Teachers navigate (keep students on track) without controlling the entirety of the expedition.
ITDS relies on outside curriculum – including Creative Curriculum, a research-based preschool curriculum that features exploration and discovery as pathways for learning, and Readers-Writers Workshop, where teachers act as reading-writing coaches showing students how to read and write rather than telling them — but there are no prescribed lesson plans. The curriculum and standards drive what students need to know; teacher and student interests determine how to get there.
For instance, in Ash Moser's English language arts class, students had to meet a writing standard that required them to research a topic, take notes, and communicate what they'd learned by creating a nonfiction text. Moser didn't assign topics. Instead, he let the students choose. However, their nonfiction text had to be "a product with a purpose." So one student researched allergies and made a brochure about them, which she is now handing out to doctor's offices. Another student researched porcupines and created a placard for a zoo exhibit. She's currently attempting to obtain permission to post it at D.C.'s famed National Zoo.
"When students get to see that there's value in what they're doing — a purpose to their education beyond getting a grade of passing a test — they see why education matters. Here, teachers are encouraged to make learning highly motivated and purposeful," says Moser.
In the inquiry-based learning model, teachers are still considered providers of information, but they are also the instigators of student curiosity and provokers of original student thought.
"Our teachers are really kind," says sixth-grader Tara Roberts. "They actually care about what you're doing and how you do it. Before I came here, I was at a school where you could do the work you were assigned, and when you'd finished, you could play with Legos. I didn't like that at all. The teaching style here is that you can do things in different ways, and that your choices matter."
"A pillar of our school is very much how to think, not what to think," says Monisha Karnani, ITDS's director of demonstration and outreach. "For instance, students don't wear uniforms here. That was an intentional choice. As an adult, most professions don't require uniforms. You have to decide for yourself, 'What is appropriate dress in this context, and why?' For all our rules, we explain the 'why' to students and allow room for conversation about that 'why.'"
This ethos attracted teacher Tamas O'Doughda to the school. He'd gone on several interviews at other D.C. public schools before coming across ITDS. "From many of those, my impression of the culture was: 'You must follow this lesson plan exactly,'" he says. "Here, the first question they asked me was 'What's your educational philosophy?' And Ms. Dantzler Williams even said, 'You have a lack of rigidity. That's great.' My last administrator would have seen that as a weakness, but here, the leadership sees the value in exploration. Everything doesn't have to be mapped out. You don't have to teach students in just one way."
"The freedom to have some more out-of-the-box ideas in how to let students learn has really kept me here," says science teacher Jodi Ash. "We've had a lot of fun teaching and learning science, and that's had an impact on me as an educator and how my kids feel about science. They burst into songs when they hear words from the periodic table. There's a lot of joy in learning here."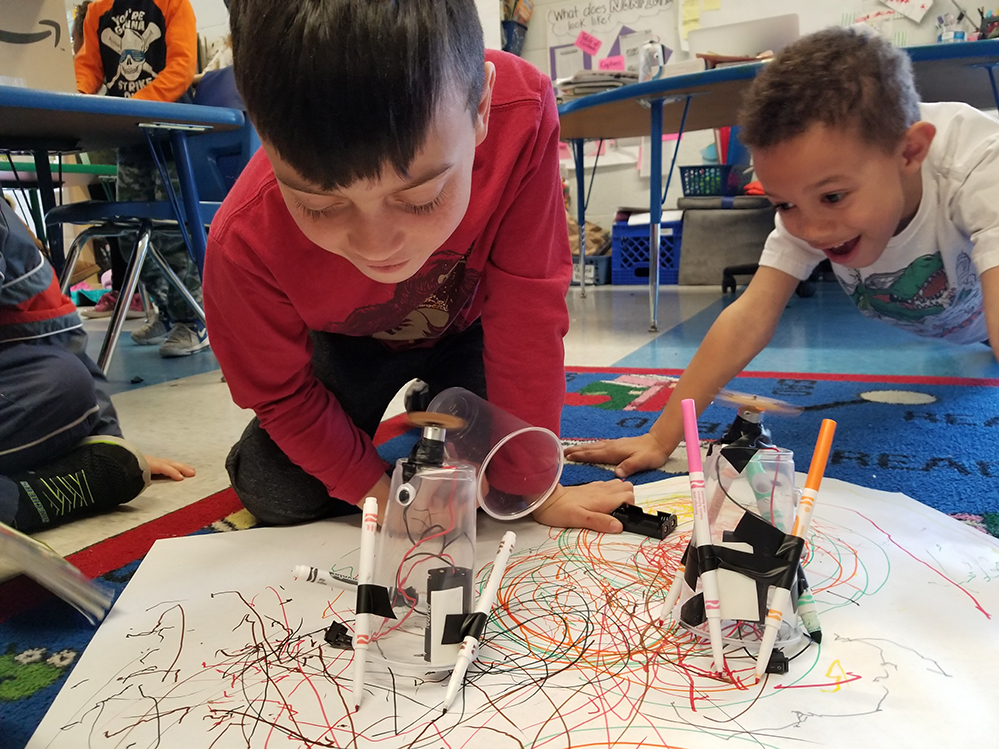 Liane Alves, an ITDS prekindergarten teacher and former teacher resident, agrees. "Teaching here is both very fun and very challenging," she says. "Because of the inquiry-based model, learning here is bottom-up, based on what students are interested in, rather than top-down, based on what I know. So I have to learn a lot because I have to research what they want to learn. I've researched robots, vehicles, and city planning. This year, there's a lot of interest in space."
This school does everything differently
At ITDS, there isn't a heavy reliance on technology. From third grade up, each student has their own tablet, but devices are only used if they can enhance learning, never merely to check a box, and the school has no SMART boards — another intentional choice.
Regardless, the Partnership for 21st Century Learning has identified ITDS as an exemplar school. The designation signals that the school uses 21st century learning initiatives that are successfully preparing students for college, career, and life. At ITDS, that preparation comes from a school-wide emphasis on project-based learning as a method for enhancing students' critical and creative thinking.
Each trimester, students complete culminating projects in their core subjects. At the end of the trimester, students show off their projects at "Learning Showcase," an evening event where families come to see what the classes have been working on. It's a great community builder, and school leaders say family participation is above 90 percent.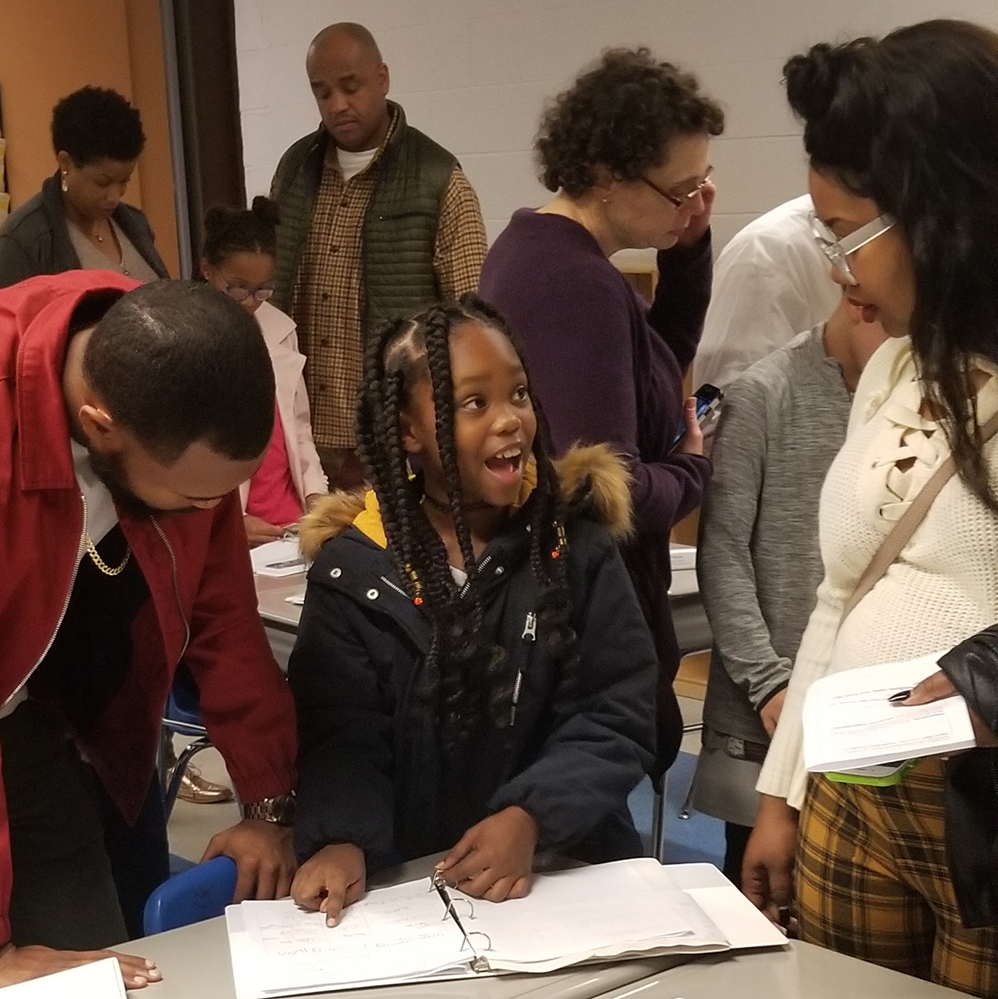 In Courtney McIntosh-Peter's sixth-grade math class, students finished their study of ratios by examining Cubist artist's Piet Mondrian's Composition With Red, Blue, and Yellow (1921). First, they determined the ratios of the colored squares in his art. Then they had to create art using assigned ratios. Finally, they had to create an original work of art and explain the ratios that they chose.
Last year, when Black Panther came out, Jodi Ash's sixth-graders were working on their chemistry unit. As a class, they debated where, given what they knew about its composition, vibranium, the fictional metal from the film, would be located on the periodic table. Then Ash assigned each student a single element from which they had to derive a superpower. Based on the element's properties, students created their own superhero franchise, complete with comic books, costumes, and theme songs. They paraded through the school, singing their theme songs and wearing their costumes.
Ash Moser's class also held a funeral procession for all the "dead words" they would no longer use in their writing. On the wall of his classroom is "Moser Hill Cemetery," where lifeless words are laid to rest, marked by paper cutouts of tombstones that bear names like "Good," "Bad," "Awesome," and "Cool."
In Matthew Wong's second-grade class, students created campaign posters for different characters from Roald Dahl's books. In November, they held an election to determine the school's favorite character. The winner, in a landslide victory, was Matilda. The standard the class was studying? Character development.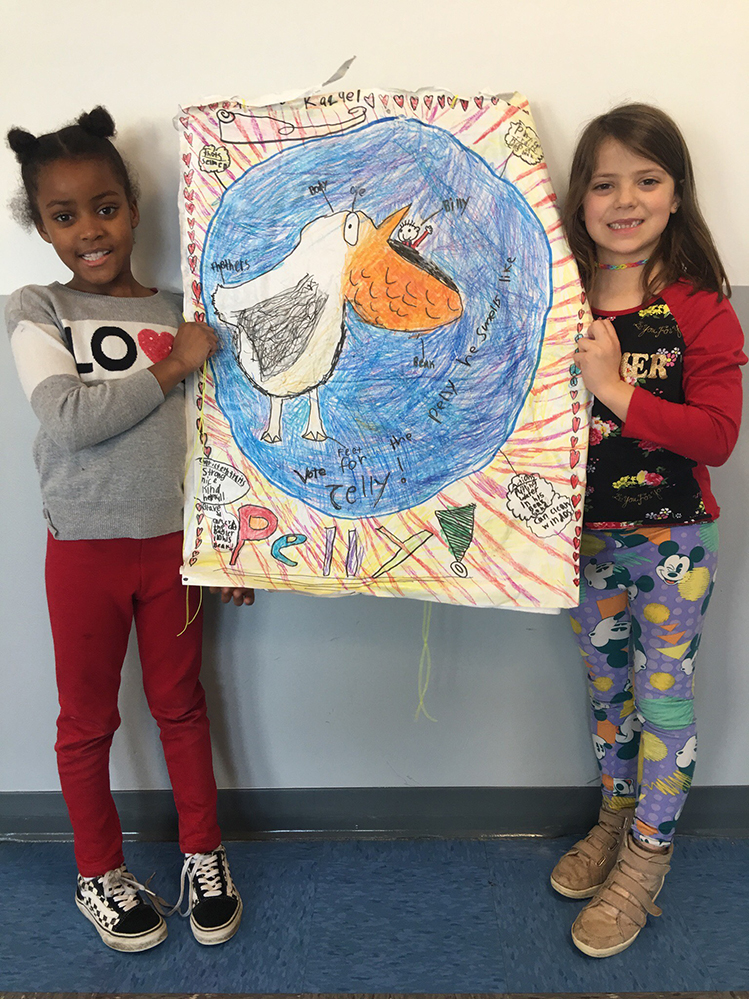 "This school does everything differently than other schools I've been to," says fifth-grader Alexis Brown. "No other school that I know of does intersession."
Intersession is the highlight of the school year for many students. During the week before winter and spring break, every adult in the building picks a topic they'd like to explore in depth with a small, mixed-grade group of students for four school days. Students then sign up for the session that interests them most. Previous options have included: martial arts, photography, creative writing, cooking, T-shirt design, winter engineering, improv, student newspaper, and more.
But can it be replicated?
Many ITDS parents want the school to expand through 12th grade. Numerous community members want it to replicate. However, neither growth nor replication are in ITDS's plans.
"The demonstration model was not meant to be replicated by us, but to be replicated by other schools," says Karnani.
"The idea is to get this model perfected to a place where other schools can replicate it," says Dantzler Williams. "We think we can reach more kids in the District of Columbia that way."
The school welcomes visitors. This year, they've already hosted teachers and principals from DCPS, Montgomery County Public Schools, and the Alpine School District in Utah. However, questions remain about the practicality of widespread replication.
"CIT has always believed that teachers are the key agents for change," says Keplinger. "But the real question is, how do they compare to the human resource person in a big central office? We only let people work here who are philosophically inclined to our beliefs, and we screen our staff heavily for that. You can't replicate our model in a school that lacks the ability to make those decisions."
ITDS is also a member of the Diverse Charter Schools Coalition, an organization dedicated to creating racially and socioeconomically diverse charter schools through advocacy, research, and outreach. Its student population is racially diverse: 45 percent of students are white, 37 percent African-American, 7 percent Hispanic, 3 percent Asian, and 9 percent multiracial. Fifty-nine percent of the faculty are people of color. The leadership works via recruitment efforts to keep it that way. However, only 22 percent of the students are designated as economically disadvantaged, a much lower number than both the 77 percent for all DCPS schools and those of many struggling district schools where teachers face challenges specific to educating children in poverty.
However, Dantzler Williams believes that the essential elements of the school — teacher voice and professionalism, the core beliefs, and project-based learning — are applicable in schools throughout the District. And former teacher residents bring the training, philosophy, and practices that they've learned at ITDS with them when they accept positions at the city's other public schools.
"We still very much believe this model can be replicated," says Dantzler Williams. "But we are still figuring out a lot of the key pieces. Like our students, we are learning on a regular basis."
---
Lead Image: Inspired Teaching Demonstration School student Mark Hopwood glues tiles together to create a mosaic for winter Intersession, a weeklong opportunity for students and adults to dive deep into a topic of learning outside of the normal academic program. (Inspired Teaching Demonstration School)

Get stories like these delivered straight to your inbox. Sign up for The 74 Newsletter