74 Interview: Tennis Great Andre Agassi Serves Up School Buildings to 69 Charters — and Counting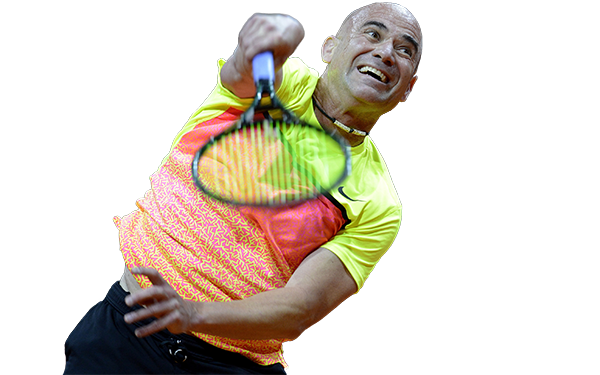 Andre Agassi was not running for president of the United States.
The second-graders at Rocketship Rise Academy in southeast Washington, D.C., knew that Agassi, who visited the school for its October 11 ribbon-cutting ceremony, used to played tennis. But what he has been up to since he ended his storied career in 2006 was a mystery. One child's guess about a presidential run earned more than a few chuckles.
Agassi answered that he helps build schools like Rocketship Rise, so that their students might one day become president themselves — a better choice, he quipped a few weeks before Donald Trump's surprise win, than this year's crop of candidates.
Rocketship Rise, the first East Coast outpost for the California-based Rocketship charter management organization, opened this year in D.C.'s Terrace neighborhood, the poorest part of the city and home to its largest population of school-age children. The school currently enrolls kids from 3-year-old preschool through second grade; at full capacity, it will have 758 students, from preschool through fifth grade.
Agassi's philanthropic efforts have long focused on children. The tennis star dropped out of school after eighth grade to pursue the sport professionally — a decision he has said he resented and one that drove him to push for more educational choices for kids.
He opened a charter school, the Andre Agassi College Preparatory Academy, in his native Las Vegas in 2001, and more than a decade later he teamed with real estate investor Bobby Turner to launch the for-profit Turner-Agassi Charter School Facilities Fund, which pays for facilities for new charter schools. Charter management organizations scale up rent payments as enrollment grows and, after a few years, buy their building from the fund.
Rocketship Rise Academy is the 69th school the fund has supported. Fund leaders expect to open an additional 100 schools around the country, serving 55,000 students by 2020.
Agassi spoke with The 74 ahead of the ribbon-cutting ceremony. The conversation has been lightly edited for clarity.
The 74: Is there one question you get more than others from kids when you visit schools?
Agassi: This age, they don't know me at all. They only know what they've sort of been told as I come here, so their questions are pretty fundamental in nature. A lot of kids that get a little bit older, they still don't know me, but they know I helped build the school, so they kind of treat me as a builder. So it's kind of funny to watch them: "Why are you building schools?" They're always asking me about that more than tennis.
The 74: You had such a storied career in tennis. What drew you to education?
Helping kids a lot of ways, recognizing that I was sticking a Band-Aid on real issues and I wasn't creating systemic change. The only way to do that was to get the tools, which is education. So that led me to take it upon myself to build a K-12 charter school in the most economically challenged area of Las Vegas. And I learned a lot — unfortunately, some hard lessons as well. [We] had more kids on the waiting list than in the school, so we had to figure out an out-of-the-box way to facilitate the expansion of it. And this is what led me here.
The 74: Why go this route, business instead of philanthropy?
I think it's a function of scalability and it's a function of sustainability. I think if you want to treat a problem in society, the government or philanthropy does just fine, and I think it's a very important part, and I still have a huge working foundation that does that. But if you want real scalable change, you've got to figure out how to bring a lot of people to the table to create a win that makes it scalable and sustainable.
This is our 69th school. It took me 15 years to build one philanthropically, and it's taken me four years to build 69, [with] 36,000 school seats. I like the economy of scale.
The 74: What drew you to Rocketship?
In my 15 years' experience of trying to figure out best-in-class practices, I was stealing from everybody, and Rocketship is right up there, with their culture that they set in their schools. The fact that these kids actually have accountability, and their parents have accountability, the teachers have accountability, so that's what draws me. Great operators have a back-of-house that can really help out and facilitate a lot of schools, and they have a culture of can-do. These kids thrive on that.
The 74: As you've helped open these 69 schools, is there one moment in particular that stands out?
It's almost like choosing your favorite child or something. I don't know how to answer that, because each one is really making a difference in their community. There's obviously the first one that you do, and then there's some that have just real scale to them, real size, in real tough neighborhoods. Then you see schools like this, with Rocketship, that is just a beacon in the middle of this community. … So many moments stand out. Graduating classes — that's going to be the next one to look forward to, watching these schools start putting kids not only into college, but through college and back into their community.
The 74: If someone wanted to do what you're doing, what advice would you give?
My advice is crawl before you can walk. Make sure you're not giving what you don't have; make sure you grow in your evolution with it. You can do more, the more you know and the more you get your feet wet. Don't take on too much too soon, because you'll only end up pulling the very thing away from those kids that you wanted to give them.
Get stories like these delivered straight to your inbox. Sign up for The 74 Newsletter