74 Interview: Researcher Ryan Baker on the Changing Face of Ed Tech Amid the Pandemic — and What Should Happen Next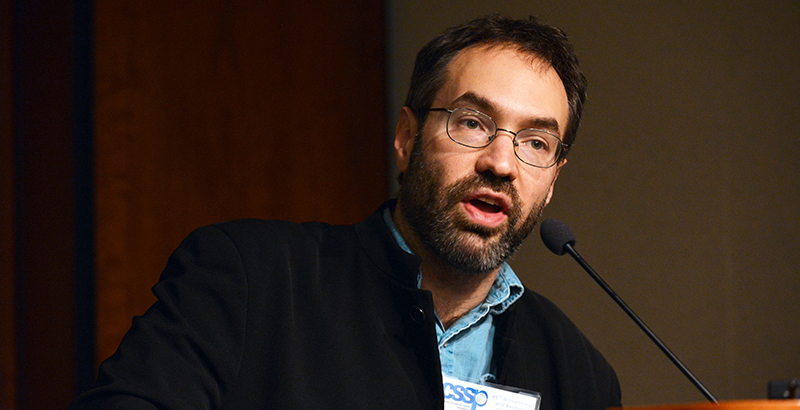 See previous 74 Interviews: Brown University's Jonathan Collins on getting family input into American Rescue Plan spending, Mary Beth Tinker on her landmark student free speech Supreme Court victory and the National Parent Union's Keri Rodrigues on disenrollment amid the COVID crisis. The full archive is here.
With the onset of COVID-19, teachers and students were forced to scramble to adopt education technology and online learning platforms, an experiment that lasted an entire year. Now, as students return to in-person classes, what can educators retain from the tools they've grown used to? And will they?
Ed tech researchers Ryan Baker and Ulrich Boser of the University of Pennsylvania have authored a report, High-Leverage Opportunities for Learning Engineering, that aims to identify improvements ed tech developers need to undertake in order to ensure that students receive the best in digital learning. Here, Baker, who uses data to better understand online learning as a researcher at the University of Pennsylvania's Graduate School of Education, discusses where ed tech is getting it right, where it needs to improve and where the biggest growth areas are still to come. This interview has been edited for length and clarity.
The 74: How different will ed tech look — or how different does it need to look — a year from now compared to a year ago?
Ryan Baker: I think we've learned a lot from this year. There were a lot of great technologies out there that expanded, and a lot of mediocre technologies also expanded a lot. Some of the lessons we already had about these kinds of technologies were validated. Adaptive learning, if done right, can make a big difference, and getting teachers data on what students are doing can make a big difference. Teachers are going to bring in some of the things they liked, particularly for homework, and some platforms already have really good analytics for teachers. Many others are going to need to build that up.
Will we continue to see new ed tech solutions coming online that were scrambling to start up over the past year?
I suspect so. Everyone saw what was possible with virtual learning and what the limitations are, and that inspires a whole new generation, some from the tech world and some from teachers who saw what didn't work and want to build something. We will see a flourishing of creativity and startups.
What were the key items learned about ed tech during the pandemic?
I think we learned — and it doesn't have to do with the tech itself — how much students didn't have access to good broadband or a quiet place to work, and that is important for using technologies in the home. A lot of teachers learned what they can do and what pedagogy they can support. As more and more learners from historically disadvantaged backgrounds come into virtual learning, we see how the system needs to support them.
What areas of ed tech are best positioned to translate to the classroom?
We saw a gigantic burst in the use of Zoom for teaching, but that is going to be a short-term phenomenon. Maybe it eliminates snow days, but platforms where students work one-on-one with technologies are really well poised to carry forward. There is so much more data now, and data brings insights.
Which ed tech solutions can help address pandemic-caused learning gaps?
There are curricula out there that are particularly successful when used in a blended setting. How much they will be, I'm not sure about that. A lot of districts chose bad approaches to how to deal with the pandemic and had relatively high learning loss. Are those districts going to make good choices now? That seems improbable. There is learning loss from lack of access, and in those places, there is opportunity to pick blended solutions that lead to better student outcomes.
You write about the need for ed tech solutions to help disengaged students and teachers. Was that learned during the pandemic, and will companies change to adapt?
I think it was something that was well known even before the pandemic. There was research on disengagement in ed tech going back to the 1970s. The biggest question is what we will have learned about disengagement now that we can do something about, and I would hope various platforms that have done poorly in this current era have been paying attention to it. I think the solutions around helping disengaged teachers around professional development and using analytics for support will continue moving forward.
Do you see a need for diversity in ed tech teaching styles? Can a new type of ed tech take into account different skills?
I think a lot of skills can't be learned from watching a video and taking a quiz, or through a tutor. Students need to learn experientially, whether collaborative with other students or simulation with the real world. Instead of reading a textbook to learn French, students are going to a simulated train station to get a ticket and get on a train. Those simulations are a much better way to learn. Games and augmented reality are going to be so much more successful for teaching 21st century skills.
Is that the biggest growth area for ed tech?
I see it as one of them. I believe using data to improve learning is powerful, transformative. Developers who create an entire year of content want it to be good, and putting a lot of effort into figuring out what content isn't working is such a powerful opportunity. Data supports the decisions by developers and teachers and creates more artificially intelligent systems, and that is the biggest opportunity.
You have written on the importance of integrating artificial intelligence and human tutoring together instead of relying just on AI. Why is that?
There are things humans do well and things computers do well. When you take the strength of each, it is better than either alone. Computers do well on repeatable or scriptable things. If a student is making progress and doesn't need help, it is okay to continue, but when they get to a point where AI gets lost and can't figure out what to do next, that is a perfect time to bring in a human being. Teachers have an easier time with what is really going wrong with a student who is struggling. Having a human being do repetitive things is a waste, but having a computer doing things where a human is needed is not going to work in the current generation of AI.
Where are educators looking for in quality ed tech solutions?
I think the number of educators who are fully satisfied with technology solutions is pretty low. They are looking for better ways to save time and effort for auto grading and looking for richer activities. Educators really care to make a difference, and so many things fall short of what we could do.
What's your hope moving forward?
The main point of the report is that there were a lot of opportunities to do things better for students and teachers. Current progress in learning engineering has been real but has been pretty slow. There are ways to make it faster. I hope we don't see another pandemic in my lifetime, but if we do, I would hope we are better prepared for virtual learning. The irony is we were prepared, but most people didn't know what was good. I hope this caused us to see what we could do virtually so we can have a better blend in the future.
Get stories like these delivered straight to your inbox. Sign up for The 74 Newsletter