74 Interview: Atlanta Thrive Co-Founder on Fighting for Everyone's Children, Making Sure the Presidential Candidates Recognize Poor Parents' Right to Choose & Knocking on 10,000 Doors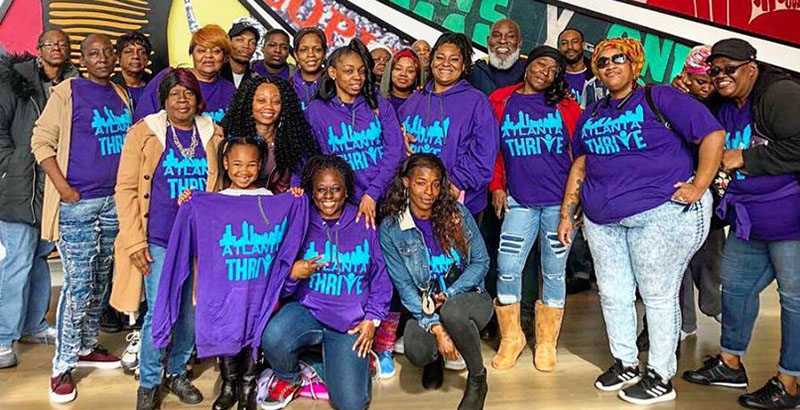 See previous 74 interviews: Howard Fuller on schooling Elizabeth Warren about charters, African-American families, school choice & her education plan, Education Secretary Betsy DeVos on Freedom Scholarships, why parents deserve more school options & the 'noisy status quo-protecting cabal' fighting her agenda, and Achieve Atlanta's Tina Fernandez on doubling the number of Atlanta Public School students graduating from college by 2025. The full archive is right here.
Atlanta native Kimberly Dukes had volunteered at her children's schools for over 10 years, but she never knew that the schools she sent her children to were categorized as failing by the Atlanta Public Schools. After absorbing that news, she quickly realized that the district wasn't willing to work with families to provide them with better educational opportunities. Dukes refused to accept the status quo, instead taking it upon herself to begin advocating on behalf of her children and many others from similar backgrounds.
Fast-forward to spring 2019, when Dukes co-founded Atlanta Thrive, a parent advocacy group with a mission to empower parents to disrupt inequities in education. The group was immediately tasked with working to improve the district's turnaround strategy so that all students would have access to a better education.
Nowadays, when she isn't tending to her 10 children, who all currently attend Atlanta public schools, or spearheading her organization's parent fellowship training program, you can find Dukes and many other parent advocates sitting down with the Democratic presidential candidates to discuss their education plans and press them on the need to offer sufficient solutions for families with children in failing schools.
This week, Dukes will be speaking on a panel at the SXSW EDU conference in Austin titled "Empowering the Voice of the Black Mother." The March 11 session, which also features Deirdra Reed of The New Teachers Project, Marilyn Rhames of Teachers Who Pray and Ashley Virden of The Mind Trust, is sponsored by EdChoice.
The interview has been edited for length and clarity.
The 74: So, we know that this work is very personal for you. You mentioned that you have 10 kids who attend Atlanta public schools. So can you tell us a little bit about what sparked your interest in parent advocacy and what ultimately compelled you to start Atlanta Thrive?
Dukes: I've always been a mother that has volunteered in schools. My oldest daughter is 17 years old, and I've volunteered at her elementary school since she was in first grade. What sparked my advocacy work is when the turnaround strategy happened. The parents at Thomasville Heights Elementary School were initially pleased with the school culture and the staff, but we never knew the school was actually graded and we eventually found out that Thomasville Heights Elementary School was categorized as a failing school. One day, I came to the school only to find out that all of the teachers had staged a walkout and I didn't understand why, and then that's when I began to learn and dig into what was actually happening on a local and state level.
After I began to ask questions and engage in these policy issues, I became a target for the big unions. I specifically remember when I was targeted by a …. [union employee] who tried to use me to work with him by also mentioning that the mega-churches would also offer their support, all so he could use me to say the things that he wanted to say. I eventually told him that I couldn't do it because I'm not dishonest and I'm going to always represent my families and my parents with integrity. So, I separated myself from their efforts, and I eventually went to speak at a board meeting alone. I spoke on behalf of my children, saying that it's not fair that children growing up in low-income communities are still in failing schools all while parents aren't informed. Furthermore, the district wasn't willing to work with parents and families to help them pick and choose what's best for their children. So, what ultimately got me involved in leading the work for Atlanta Thrive was the turnaround strategy and parents not understanding what's going on in a system that constantly intimidates them or talks over their heads.
How do you engage and empower parents to get involved in education advocacy efforts not only in your local community but also across the country?
Monday through Friday, I go door to door in the lowest-performing neighborhoods in Atlanta, and we are currently targeting the 12 schools that are on the state takeover list. I make a significant effort to meet parents in their comfort zone and hear their stories to figure out how we can help and address their concerns with the hopes of eventually drawing them into a larger movement of parents who are willing to stand together to say, "I'll fight for your child and you will fight for mine." We also offer a five-week fellowship, where parents come and learn about the history of APS along with the current campaigns that we're running. The fellows learn how to go out into the community, organize and mobilize, and they also learn how to read data and to tell their personal stories. … We also bring the fellows together once a month and we have conversations that we like to call Straight Talk. This month's Straight Talk will consist of us convening parents to watch the movie Miss Virginia and getting their overall perspectives around the movie with the hopes of getting everyone to share out their next steps of how they plan to move forward.
Additionally, I've knocked on over 10,000 doors — and counting — and I've helped 45 of our parents graduate from our fellowship program. The goal is to have 100 parents graduate from our fellowship program by the end of the year.
Can you talk about some of the challenges and lessons learned throughout your work so far?
One of the most challenging aspects of this work that actually breaks my heart the most is that schools are not open to working with parents. Parents are the experts when it comes to our children. Parents are the only people that don't reap any benefits by sending their children to these failing schools. The other challenging piece that also breaks my heart is that parents don't know much about how to navigate the education systems. Parents don't know schools have grades; parents don't know that our schools are failing. Parents often believe that because their kids come home with A's and B's on their report card, that means that their kids are excelling in school, which we know not to be true.
So this is where I found an opportunity to go out into the community every day to talk to parents. If I just get one or two parents that are receptive to what I have to say or express interest in participating in my organization's fellowship program, it makes my heart smile. In the instance that parents are going through things or they're just too busy to attend an event we're hosting, I completely empathize because I am a mother with 10 kids, so when those things happen, I just tell them to keep my number on file and let them know that they can reach out to me about things related to their children's education or even unrelated items, such as self care, etc. I really appreciate it when parents reach out to me just to have a conversation because I really believe we have to be a friend before we need a friend. And I learned that from the mother of our movement, Ms. Sarah Carpenter. We cannot expect parents to show up until we invest in parents, and I've realized that this work is about building relationships. This is something that we can teach the schools, administration staff and even the school board. We can also teach them how to deepen relationships with the hopes of having communities and schools that want to work in tandem to support the whole child.
If you had the power to change one thing, one thing about your school district, what would it be?
I would change the current composure of the school board by replacing it with parents who are willing and have the mindset or the learning curve to actually do the work. The board is responsible for decision-making and making things happen. Therefore, parents who have children in struggling schools similar to many other parents in the district won't be compelled to make decisions based on politics or what their next move will be. Instead, they will make decisions on what's best for their children because they would presumably also have children in the district. Also, a lot of times, they try to pit parents against the teachers or our neighborhoods against other neighborhoods, but that's not the fight we should be fighting. The fight we should all be fighting should be against the system because the system is broken. A lot of us accept the status quo, and until we stop doing so, it won't ever stop.
Can you talk to us a little bit about your organization's plans? What's most important to you this year? Over the next five years?
Right now, one of our priorities is to educate at least 100 parents this year by having them go through our fellowship program and to have at least 50 powerful parents by the end of each year [a "powerful parent" is a parent who attends four or more events within six months]. Ideally, the powerful parent advocates will keep on consistently attending events afterwards and eventually influence the board to vote to change policies based on black and brown kids to make sure that the equity is in everything that the board decides upon. We're also hoping to influence the decision-making around the next superintendent appointment because that person will ultimately determine what else can happen in the future.
On Tuesday, March 3, APS is holding a school board meeting to vote on a five-year plan, which is something Atlanta Thrive has been rallying behind, and I will be speaking in favor of implementing the plan. For the next year or two, we plan on holding the board accountable to implementing the measurements and the other items they voted on in this plan. (Dukes testified before the APS school board on March 3, advocating for increased accountability metrics for black and brown students in the district's five-year plan.)
What are your thoughts regarding parent activism gaining more traction on the national stage, such as the creation of Powerful Parent Network, and do you believe it may be at a tipping point in terms of political influence?
This is really important because we can't just fight on the school, local or state level. The overall state of literacy in our country and the fact that many black and brown kids are not reading on grade level is a serious national problem. The presidential candidates have been discussing their latest education plans for our kids, and we have to make sure that whoever gets elected has a great plan that will ensure our kids aren't locked in these failing schools.
As a parent activist, I think parents can help influence the presidential election process. For example, a lot of people, including myself, initially really liked EIizabeth Warren's campaign and believed she had a lot to offer. However, after some of the parent activists and myself sat down with Warren at Clark Atlanta University to discuss her education plan, we realized she was no longer the highlight of this election season because her plan didn't provide sufficient solutions for families with children in failing schools. Our only opportunity shouldn't have to be to stay in a neighborhood school. Now, if that ended up being our only option, then we would need to know what the candidate's plans are to fix our failing neighborhood schools. For example, among the 88 functioning schools in APS, 54 schools have received a D or F, and that's a serious problem.
We believe that families living in poverty or parents with kids in failing schools should have the opportunity to have a choice on where they would prefer to send their kids to school. As long as we're exposing each candidate's educational plans and talking to as many parents as possible, we'll have an opportunity to influence the vote. A lot of people often vote because they think the candidate is a good person, but I think we should be talking more about the candidate's education plans because that's the key for anybody to be successful, and everyone in the world will be impacted by the educational plan, whether it may be your children, your grandchildren, another member of your family or even your neighbor.
As we know, parenting alone can be incredibly taxing and demanding, and so can this work. How do you find time to take care of yourself?
Self-care is really hard for me primarily because Atlanta Thrive is so new and I'm building a team. But self-care for me right now means getting up around 4:30 a.m. to meditate and getting in bed at least by 9:30 p.m. to have an hour of silence to think, take my medication for my blood pressure, etc. I also make sure I'm drinking water and exercising. These are the small and necessary things that I do for self-care right now.
Get stories like these delivered straight to your inbox. Sign up for The 74 Newsletter