4th Circuit Weighs Whether Elite Va. School Discriminates Against Asians
In a case one expert described as a 'play' for the conservative Supreme Court, district officials insist its admission policy 'benefited all races'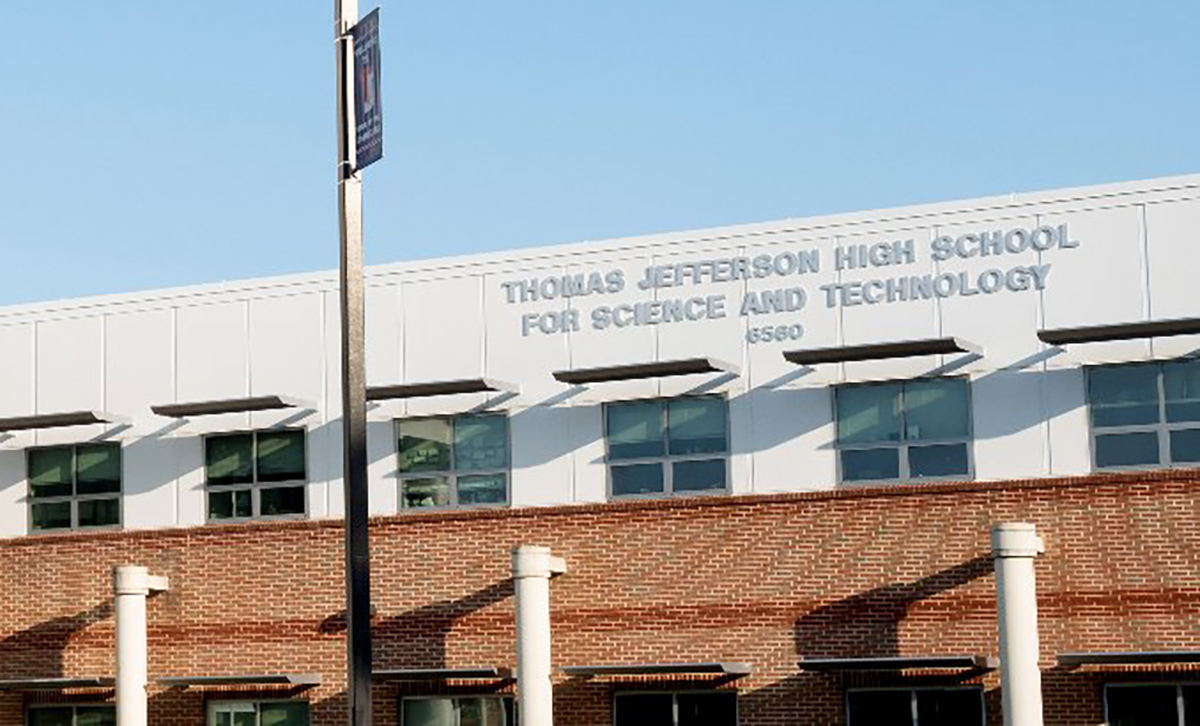 Get stories like these delivered straight to your inbox. Sign up for The 74 Newsletter
In a case one attorney said has "split" the country, the Fairfax County Public Schools argued in federal court Friday that the admissions policy for one of the nation's top high schools does not discriminate against Asian American students.
"There is no evidence of any animus against Asian Americans," said Don Verrilli, a former U.S. solicitor general representing the school district.
In the wake of the pandemic and George Floyd's murder in 2020, the district amended the admission criteria for Thomas Jefferson High School for Science and Technology — T.J., for short — to increase equity and build a student body better reflected the diversity of northern Virginia. The district removed a rigorous admissions test and a $100 application fee, and reserved seats at T.J. for the top 1.5% of 8th graders in each middle school.
As a result, the makeup of the Asian student population declined from 73% to 54% last year, a drop that amounted to what plaintiffs, Coalition for T.J., called illegal "racial balancing."
But Verrilli told a three-judge panel for the 4th Circuit Court of Appeals that the policy "benefited all races." In fact, the number of low-income Asian students admitted last year — the first year the policy was implemented — increased from one to 51, Verrilli said.
The coalition's only evidence, he said, is an "expression by the board that it [wanted] to increase opportunities for African American and Latino students."
As school districts nationally seek to increase educational opportunities for historically underrepresented minorities, they've faced pushback from those who say they discriminate against Asians and rely on racial stereotypes that portray them as high achievers. A similar debate in higher education challenging race-conscious admission policies at Harvard University and the University of North Carolina will take place next month before a conservative U.S. Supreme Court.
Since 2007, the court has given K-12 districts less leeway to consider race in admissions to special programs or schools. But Erin Wilcox, an attorney with the Pacific Legal Foundation, a libertarian firm representing Coalition for T.J., said the board members' stated intent was enough to qualify as "racial balancing."
She described admissions for a competitive school like T.J as a zero-sum game that "disproportionately burdens" one group of students because of their race.
Even though the board adopted a resolution calling its policy race-neutral, board members, she argued, made statements in text messages suggesting "Asian American students were in the way. They needed to clear out room to increase the numbers of black and Hispanic students."
Court documents showed that Board Member Abrar Omeish told Board Member Stella Pekarsky in a text that the new policy had an "anti asian [sic] feel." She added "lol."
In March, U.S. District Judge Claude Hilton sided with Coalition for T.J. and ruled the policy unconstitutional. The plaintiffs and 16 Republican states want the three-judge panel to uphold Hilton's decision, while the school district, civil rights groups and the Biden administration want the appellate court to overturn the district court.
"It's safe to say the country's split on the issue," said Andrew Ferguson, solicitor general for Virginia, one of the 15 states that filed a brief supporting the plaintiffs.
'Contrary to Supreme Court precedent'
Stefan Lallinger, a senior fellow at The Century Foundation, who teaches about desegregation at American University, said it's a mistake to consider the T.J. case a K-12 version of the Harvard and North Carolina cases.
The Supreme Court has allowed colleges and universities to consider race on a narrow basis. But the precedent in K-12 hinges on a 2007 decision in a case against the Seattle Public Schools and the Jefferson County Public Schools in Kentucky. In that case, the court said school districts couldn't explicitly use race in their efforts to create more diverse schools.
But in a separate opinion, Justice Anthony Kennedy wrote that districts still had a "compelling interest" to seek racial integration. Since then, districts have largely moved toward voluntary integration programs based on students' socioeconomic status.
In arguing that Fairfax's policy is discriminatory, Hilton and the Coalition for T.J. are "essentially asking the court to make a decision that is contrary to a Supreme Court precedent that has been upheld many times," Lallinger said.
While he thinks the Fairfax district will prevail at the appellate level, he said the plaintiffs are making a "play to a Supreme Court that is a radical Supreme Court."
In addition to the Fairfax County case, Pacific Legal also represents plaintiffs in similar federal cases involving three other school districts — New York, Boston and Montgomery County, Maryland.
In each district, the application process for specialized schools was changed to "deemphasize or just completely eliminate" an objective test for admission in order to achieve racial balancing, said Wen Fa, a senior attorney at the firm. He said those districts also lack test prep and mentorship opportunities that would help students improve their chances of earning a spot in those schools.
Strategies that districts have adopted in the wake of the Seattle case are "covert forms of discrimination," he said. "The Constitution requires the government to treat individuals as individuals and not on the basis of their membership in any racial group."
Get stories like these delivered straight to your inbox. Sign up for The 74 Newsletter