39 Million Students Get High-Speed Internet, but Some Schools Still Struggle to Close the Digital Divide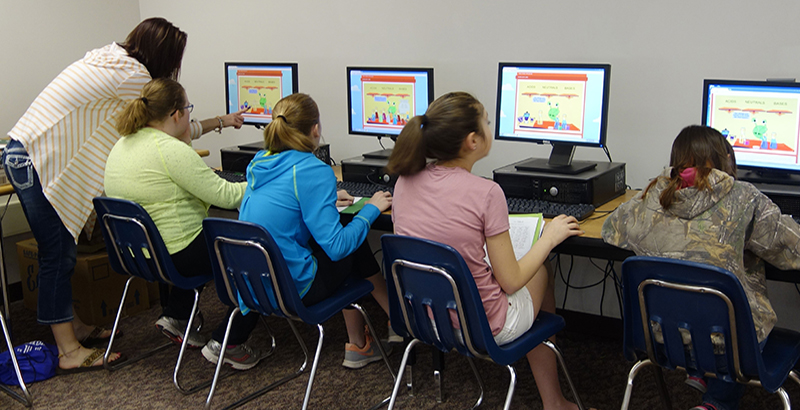 In 2013, then-President Barack Obama promised that 99 percent of students would have fast internet at their public schools within five years. A new study suggests that goal is within reach — but there is still a ways to go in closing the K-12 digital divide, particularly for students in rural areas and small towns.
In its annual State of the States report, the nonprofit EducationSuperHighway found that 94 percent of districts now have high-speed broadband, reaching more than 39 million students in 74,000 schools. That's an increase from 30 percent in 2013.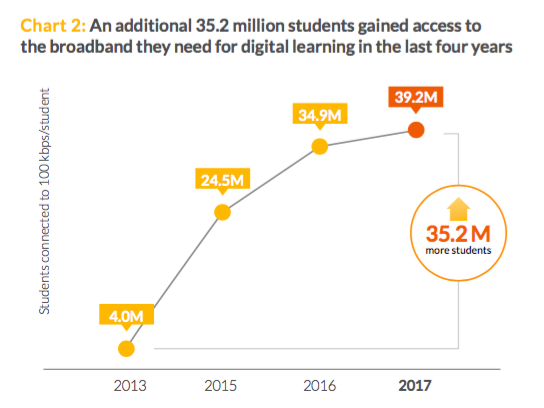 But 6.5 million students still don't have that access, and EducationSuperHighway CEO Evan Marwell told The 74 that it may be getting more difficult for schools to obtain it for them.
Part of the problem, he said, is that more than 2,000 schools, mostly in rural areas and small towns, lack the fiber optics needed for high-speed internet, which the Federal Communications Commission defines as a minimum of 100 kilobits per second for each student.
Those schools — spanning 45 states — are hard to reach, he said, and lately there has been a lag in approvals for projects to get them connected through the FCC's E-rate program, which funds internet infrastructure and service for schools and libraries.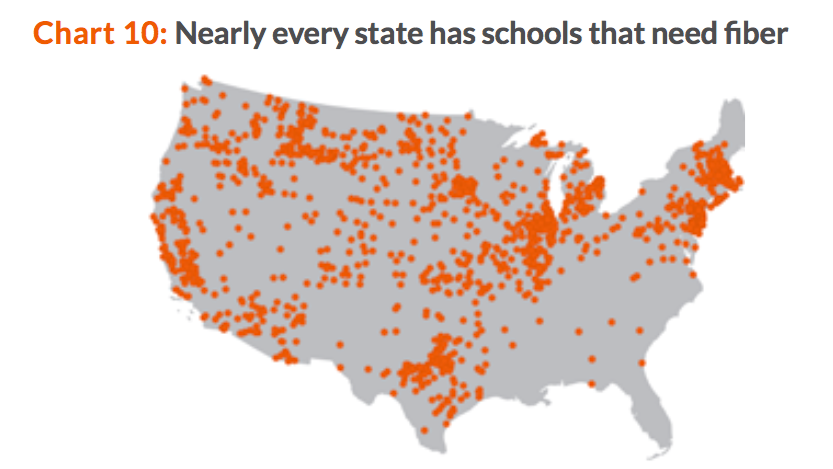 "I'm concerned because with the change in administration, we have seen the Federal Communications Commission, which ultimately has to approve all these projects, starting to slow down, and a lot of red tape coming up around approving these projects, despite the fact that governors have put up $200 million of matching funds to help get these programs funded," Marwell said.
(The 74: Faster Internet at School: What's Next for $4 Billion E-rate Fund Under New FCC Chief Ajit Pai?)
The report cited three reasons that schools might still lack fiber connections: They have not applied to the FCC for funding, service providers have not offered bids to the schools, or districts have not come up with the money for the projects. Marwell noted that he has heard positive rhetoric from the FCC and the White House about closing the digital divide.
"We believe that access to digital learning can truly be a playing-field leveler in terms of making sure that every student has access," Marwell said. "Our mission has been to make sure that no kid in this country is left behind because they don't have access to broadband."
The FCC did not respond to a request for comment.
At 100 kbps, schools have enough internet access for teachers and students to use most education technology tools, such as Khan Academy and Google Classroom, he said. A stronger connection is needed for "media-rich" environments that can, for example, allow every student to watch videos independently at the same time, he said.
Some other statistics from the study:
88 percent of classrooms have wifi
46 governors have made expanding broadband in schools a priority
85 percent of the 900 largest districts are buying more than the recommended 100 kbps per student
The cost of internet access for schools has dropped significantly since 2013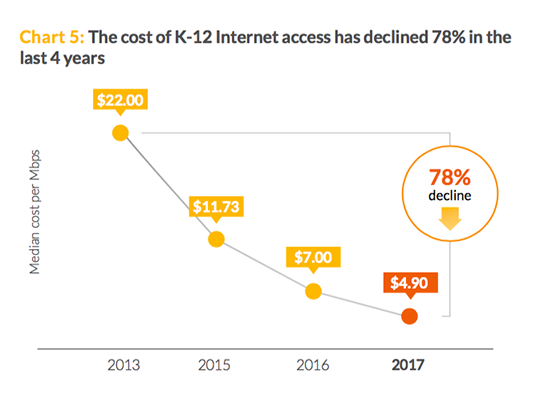 Going forward, EducationSuperHighway is aiming to help 10,000 schools get better wifi for their classrooms and to boost schools that have reached the 100-kbps goal to even faster internet connections.
Data for the report came from applications to the E-rate program from all 50 states and the District of Columbia.
Disclaimer: The Bill & Melinda Gates Foundation provides funding to EducationSuperHighway and to The 74.
Support The 74's year-end campaign. Make a tax-exempt donation now.