3 Ways Schools Can Use Federal Funding Through ESSA to Support Social-Emotional Learning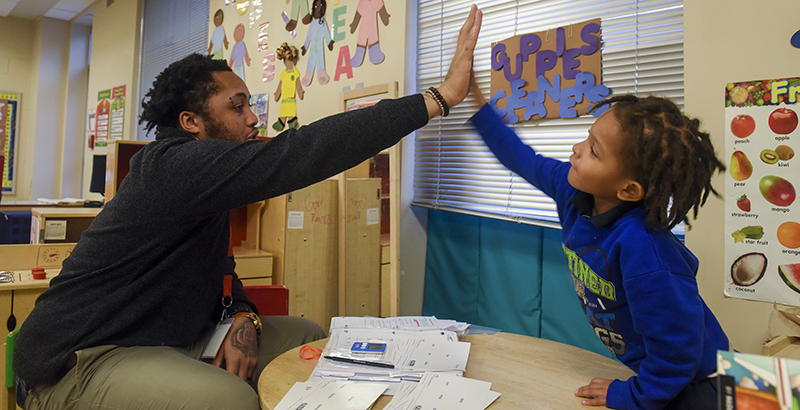 Schools looking to implement social-emotional learning programs have several funding options available to them through the Every Student Succeeds Act, according to a new report, which identifies 60 evidenced-based programs that fit ESSA requirements.
The report comes from the RAND Corp.'s evidence review of how ESSA supports social-emotional learning, commissioned by The Wallace Foundation.
"We were pleasantly surprised that there are a pretty good number of options for states and districts to consider when they want to adopt evidence-based SEL instruction," Laura Hamilton, associate director of RAND Education, told The 74. "ESSA doesn't explicitly use the phrase 'social and emotional learning,' but there's a lot of language in there that suggests opportunities to focus instructionally on students' SEL skills that would be consistent with the goals of ESSA."
Here are some of those funding sources:
Title I: Schools with large populations of low-income students can select interventions that target the social and emotional well-being of these students.
Title II: These funds support the retention and professional development of teachers. Schools can implement programs that train teachers in delivering SEL, as well as support their own educators' social-emotional health.
Title IV: Funds programs that support safe and healthy students and a well-rounded education.
The report identified 60 evidence-based social-emotional learning interventions schools and districts can use that align with the ESSA requirements.
For a school to receive federal funds, ESSA requires that its interventions meet a certain degree of evidence, with Tiers I–III being the most rigorous. But there is a fourth tier, sometimes referred to as "demonstrating a rationale," which lets schools adopt a program that doesn't have strong evidence but is informed by research and therefore "likely" to work.
While this is a loose requirement, Hamilton said this can be useful if evidence-based social-emotional learning programs don't fit a particular school's geographic or demographic needs.
"It's tricky, because ideally you would want schools to be adopting interventions that are good at improving outcomes," she said. But she added that research in SEL is new and still developing, which makes more flexible evidence guidelines friendlier for schools. "I think we're at a stage where we're experimenting with different [SEL] approaches," Hamilton said.
More evidence-based SEL programs exist for elementary schools than for middle and high schools. This might not necessarily mean middle and high school students aren't receiving social-emotional support, Hamilton said, but rather that it is incorporated into their school day in a way that is not curriculum-based, as with programming for younger students.
In their evidence review, researchers found that the recommended programs do a better job of teaching students how to develop interpersonal skills (communication, leadership) and intrapersonal skills (emotional regulation, grit) than of promoting discipline, school climate, academic attainment, and civic attitudes. Again, Hamilton said this doesn't necessarily mean more programs exist to target interpersonal skills, but perhaps those skills are easier to evaluate than the others.
The funding and program identified in the report give schools and districts an opportunity to implement social-emotional learning on their own. Most states ignored SEL as an accountability measure in their federal plans, citing fears that data could be easily corrupted if given a high-stakes platform.
The report is one of several The Wallace Foundation has recently funded, looking at how education issues like school leadership and arts integration are being implemented under the Every Student Succeeds Act, especially in light of the evidence requirements mandated by the law.
Get stories like these delivered straight to your inbox. Sign up for The 74 Newsletter