2023 Election Results Throw Doubt on Lasting Sway of School Culture War Issues
From Virginia to Ohio to Pennsylvania, voters appeared to reject hard-right agenda embraced by parental rights movement.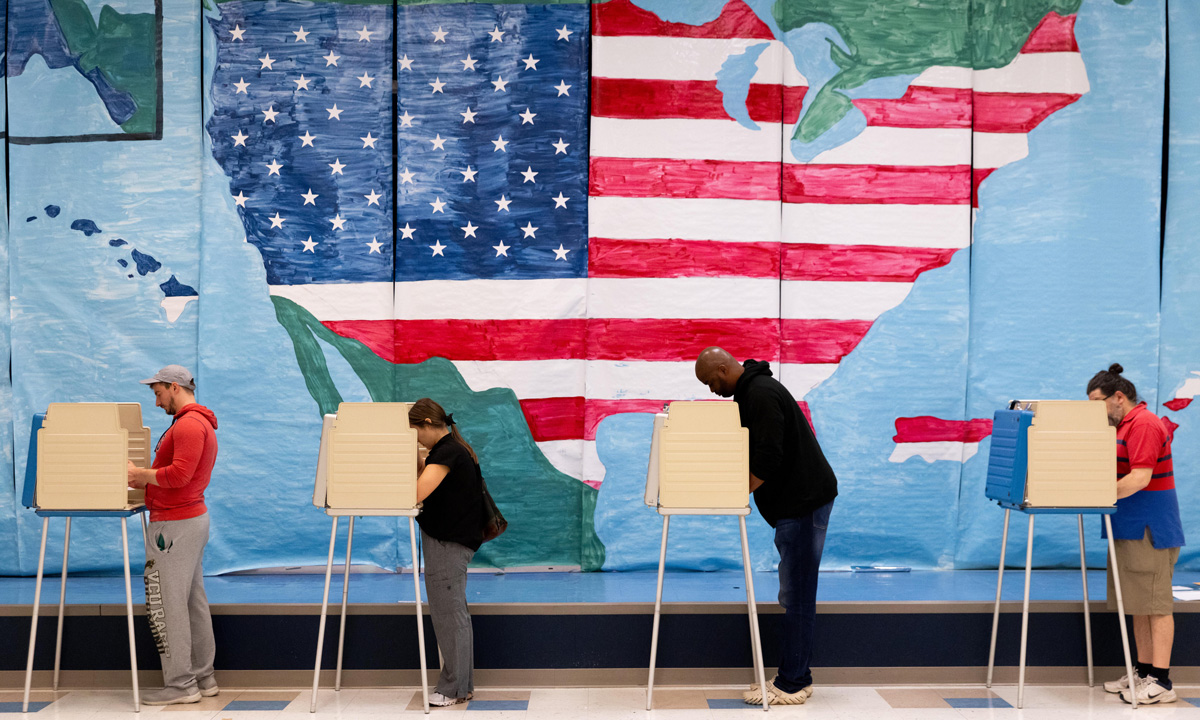 Support The 74's year-end campaign. Make a tax-exempt donation now.
The last two years of Republican Virginia Gov. Glenn Youngkin's term look very different now that Democrats won both state houses in Tuesday's election, changing the calculus for the would-be presidential hopeful and his conservative parent rights agenda.
Virginia Democrats were primarily celebrating being able to now block the governor's plan to introduce a 15-week abortion ban in the state, but the outcome of Tuesday's races — both at the state and local school board level — raise questions about the political viability of other Youngkin mandates, such as adopting state policies seen as hostile to LGBTQ+ students and giving parents far greater control over classroom materials.
These volatile issues have roiled national politics for the last several years and were at play in school board and statewide elections in multiple places Tuesday. But voters did not flock to the conservative mantra, as seen in Democratic and progressive-leaning teachers unions quickly heralding the results and foes of Moms for Liberty, a high-profile, hard-right parent group whose candidates did not fare well, rejoicing on social media.
"Voters across the country rejected extremist politicians and school board candidates running on divisive "culture war" issues in yesterday's elections, as mainstream parents rallied instead behind those championing investments in safe and welcoming public schools that kids need to recover and thrive," the American Federation of Teachers said Wednesday.
Citing its own analysis of 250 races nationally, the union said AFT-supported candidates won in over 80% of them and that "extremist school board candidates" were defeated in Bucks County, Pennsylvania; Wichita, Kansas; Albuquerque, New Mexico; and Aldine, Texas; and throughout Ohio and Minnesota.
On the other side of the aisle, the conservative Center for Education Reform was hoping for an opportunity to extend school choice funding measures that did not materialize: "If [Youngkin's] party wins the votes necessary to take the majority in both chambers, there is potential for this state to provide parents with Education Savings Accounts."
Here are five places where the school culture wars were pivotal in the 2023 elections:
Pennsylvania: Two school board contests in particular, in Pembridge and Central Bucks in suburban Philadelphia, were being watched nationally as a showdown between Republican incumbents, who had adopted a range of anti-LGBTQ+ and ultra-conservative curriculum measures, and Democratic challengers who pledged to change course. The contests also drew outsized political contributions, most notably in Central Bucks where Democrats and Republicans raised more than $600,000. The Democratic candidates claimed a sweep of the Central Bucks races and all five open seats in Pembridge appeared to go to candidates opposed to the Moms for Liberty-aligned incumbents.
Virginia: In Spotsylvania County, where a conservative board was among the first to implement Youngkin's education platforms, all four GOP-endorsed candidates lost to more liberal opponents. One who went on to defeat, Kirk Twigg, suggested that books pulled by the board from school libraries should be burned. He lost by almost 25 points, according to the Associated Press. In Loudoun County, which became ground zero for a host of culture war issues, particularly during Virginia's prolonged school closures, all nine board members will be new in this upcoming term. "It was chaos for the last four years and I'm glad the election is finally over, and we can get to work," said Deana Griffiths, who defeated one of the two board incumbents who sought reelection.
Ohio: The state, where former President Trump won 53% of the vote in 2020, became a leading story out of the 2023 elections when voters enshrined a right to abortion and reproductive health care in the state constitution. It's difficult to say how those voters may have gone down ballot in their local school board races, but in central Ohio, only two of the 10 candidates either supported or aligned with Moms for Liberty or the right-leaning 1776 Project won their races. In the Lakota and Forest Hills districts outside Cincinnati, challengers who opposed their boards' anti-diversity measures, including painting over a mural celebrating different races, carried the day.
Minnesota: Five of the largest suburbs of Minnesota's Twin Cities this year saw an unprecedented wave of spending by two political action committees backing candidates running on parental rights agendas. As of last week, the Minnesota Parents Alliance and a local affiliate spent a combined $80,000 — the lion's share donated by one person — on 44 school board candidates. Just nine of their candidates clinched their election, according to unofficial results. Three races were still too close to call as of Wednesday afternoon. Two of the PAC-supported candidates won board seats in the state's largest school system, the Anoka-Hennepin School District, which has a long history of local elections centering on culture war issues. In the southern city of Hastings, where in the 2021 election cycle activists outed the now-former school board chair's 8-year-old child as transgender, three Minnesota Parents Alliance candidates captured seats on a seven-member board.
New Jersey: Parental rights and gender issues have taken center stage at school board meetings, with the results from Tuesday's election being mixed on whose agenda resonated more with voters. In Morris County, where school boards have fought over parental notification and LGBTQ+-themed reading materials, conservative candidates did well. In Sussex and Bergen County, however, incumbents lost seats after blocking pride signs on school grounds, seeking to remove books from the library or altering policies on transgender students, the Daily Record reported.
Support The 74's year-end campaign. Make a tax-exempt donation now.