12 Must-See Panels at the ASU-GSV Summit, Where Innovators Go to Conjure the Future of Education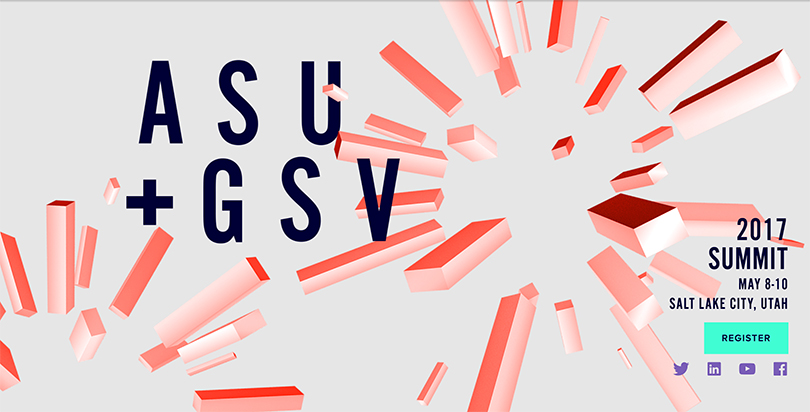 Future. It's a word that appears in the titles of at least 65 panels at next week's annual ASU-GSV summit, where educators, innovators, and entrepreneurs will meet in Salt Lake City to talk about the Future of Education for America's 74 million children, as well as adult learners.
The wide-ranging discussions attempt to tackle that enormous question from all sides. Conversations range from how Artificial Intelligence is impacting personalized learning technologies for students to finding innovative solutions to old education challenges, like getting incarcerated youth back on track.
We've studied the agenda and highlighted some of the K-12 sessions — including one organized by The 74 — bound to inspire new ideas in the quest to ensure every student receives a high-quality education. We've also included some pre-reading suggestions for so you can ask the smartest question in the room.
If you get to Salt Lake City, and happen to find The Future, let us know.
MONDAY
10:30 to 11 a.m. @ Grand Salon
United States of Corrections: You May Be Released from Prison, But You Will Never Be Free in America
John Deasy, former superintendent of Los Angeles Unified School District and CEO, Reset: New Day, New Year, will talk about his efforts to provide educational options to young men behind bars.
Pre-reading
74 Interview: Former L.A. Superintendent John Deasy Previews New Initiative to Rethink Juvenile Prisons
11 a.m. to 12 p.m. @ Imperial Ballroom A
Thinking Outside the Box: New K12 Learning Models
Brian Greenberg, CEO, Silicon Schools Fund, leads a conversation on thinking outside the box, and taking new approaches to learning delivery with some of the nation's most intriguing school organizations. Panelists include K12.com, AltSchool, GEMS Education Americas, and the Khan Lab school. The panel will explore the Silicon Valley-style mindset each has applied to rethinking teaching and learning and explore how those changes are impacting students, parents, teachers and school leaders.
Pre-reading
AltSchool Hires 5 New Education and Technology Execs, Looks to Scale Learning Platform to Millions of Kids
2 to 3:30p.m. @ Arizona Room
XQ: How is Technology Helping Us Rethink the American High School?
Russlynn Ali, CEO, XQ Institute, and Matt Lorin, president, XQ Institute, talk to XQ Super School awardees, about how technology is supporting personalization, student agency, and equity in their schools. Panelists include the co-founders of Washington Leadership Academy, a public charter school in Washington, D.C. which is using some of its $10 million prize to develop the nation's first-ever virtual high school chemistry lab.
Pre-reading
A D.C. Charter Wins $10M to Invent Virtual Reality Programs That Will Change High School — All of Them
TUESDAY
10 to 10:50 a.m. @ Grand Ballroom
Impact of Media on Childhood Learning
Experts from across the education, technology and "edutainment" sectors will share insights on safe, equitable, and purposeful digital media designed for learning.
Pre-reading
Fake News Isn't Just an Internet Problem, It's a Classroom Crisis. A New Push for Media Literacy
4 to 5 p.m @ Imperial Ballroom Main Stage
TrumpED: How Will #45 Change the Learning and Work Landscape?
John Bailey, a Chan Zuckerberg Initiative fellow, asks a huge question of his panelists: What are the opportunities for accelerated innovation in K12 and higher education under the Trump administration? Experts inside and outside the Beltway will weigh in including, Colorado Sen. Mike Johnston; Michael Sorrell, president, Paul Quinn College; Lauren Maddox, principal, Podesta Group; Ben Wallerstein, co-founder of Whiteboard Advisors; and Alison Griffin, who runs government relations at Strada Education a non-profit post-secondary education and careers organization.
Pre-reading
Conservatives Embrace, Progressives Deride Trump's Order to Scale Back Federal K-12 Role
3 to 4 p.m. @ Grand Ballroom B
Leading a Personalized Learning Transformation: Lessons Learned in Change Management
In this session, part of the "Leading Educators" track, some of Chicago's most disruptive school leaders will discuss their approaches to leading change inside their schools. All of the panelists have experience rethinking their school designs, and implementing personalized learning across their instructional programs.
Pre-reading
Will Personalized Learning Become the New Normal? Inside Rhode Island's Statewide Tech Initiative
4:30 to 5 p.m. @ Grand Salon
Educating the Algorithm: How We Can Shape AI's Impact on EdTech
Algorithms drive customization and personalization in so many online user experiences; but when it comes to education, where automated decisions are being made for millions of children daily, we want to be sure an algorithm is choosing especially wisely and in a manner that is aligned with our values as a society. Dr. Jorg Drager, executive board member of Bertelsmann Stiftung, explains.
Pre-reading
9 Things Science Tells Us About How Kids Learn to Read and Think Critically
5:30 to 6:00 p.m. @ Grand Salon
Fireside Chat with Colorado Sen. Mike Johnston
Johnston, who is running for governor, will deliver a fireside chat about his work in politics and education. He is a former principal and teacher who joined the Colorado legislature in 2009. As a lawmaker, he led the successful push for a statewide educator evaluation system, which based half of teachers' scores on student assessment growth.
Pre-reading
Q&A: State Senator (and Former Principal) Mike Johnston, on Advancing Colorado Education Reform
WEDNESDAY
8 to 10 a.m.@ Grand Ballroom
Keynote Panel: A Conversation with The Beltway Boys
James Shelton, president of education at the Chan Zuckerberg Initiative, will moderate a keynote panel between two Beltway Boys, Arne Duncan, former U.S. secretary of education, and Emerson Collective managing partner, and Don Graham, chairman, Graham Holdings. A play on the weekly news show, we hope they'll touch on the hottest topics in education today.
Pre-reading
Arne Duncan's Next Mission: Helping the Young Men at the Center of Chicago's Gun Violence Epidemic
10 to 11 a.m. @ Grand Ballroom
Learning Beyond the Classroom: The Experiential Learning Evolution
Forget the testing debates for just a moment (try, I know it's hard). This conversation on learning beyond the classroom, led by Michael Horn, chief strategy officer of Entangled Solutions, is focused on how real-life experiences are an extremely powerful tool to foster student learning and preparedness for life in the 21st century.
Pre-reading
The 74 Interview: Ulrich Boser on Understanding the Science of Learning
10:15 to 11:15 a.m. @ Flagstaff
North Carolina's Lt. Governor, an Industry Thought Leader, a Think Tank Fellow, and an Investment Banker… Have a 50 State Solution for Education, Economic Development & Community Innovation
Jeanne Allen, CEO of the Center for Education Reform, moderates a conversation with North Carolina Lieutenant Gov. Dan Forrest, American Enterprise Institute Senior Fellow Gerard Robinson, and co-founder and CEO of RIDGE-LANE Limited Partners, R. Brad Lane on the increased power that states have in designing and leading education reforms.
Pre-reading
'Dirty Jobs' Star Mike Rowe Stumps for Career and Tech Ed
11 a.m. to 12 p.m. @ Grand Ballroom
The 74 Presents — Districts and Public Charters: Sharing Secrets and What Works
Across the country, charter-district collaborations, compacts, and portfolio districts are flourishing under the radar. Yours truly will be moderating a panel with educators on the leading edge of thinking through how collaboration and sharing innovation can help close the achievement gap for all students. The discussion features Marcia Aaron, executive director of KIPP LA, Mira Browne, CXO of Summit Public Schools, Alex Shub, CEO of School Empowerment Network, and D'Andre Weaver, community superintendent of Spring Branch Independent School District.
Pre-reading
Whitmire: In Bridging Charter-District Divide, Educators Collaborate to Make the Impossible Happen
---
---
Get stories like these delivered straight to your inbox. Sign up for The 74 Newsletter