Newsfeed'All of These Tweets Are People's Futures': After Texas Tragedy, Hashtag #IfIDieInASchoolShooting Gives Voice to Students' Despair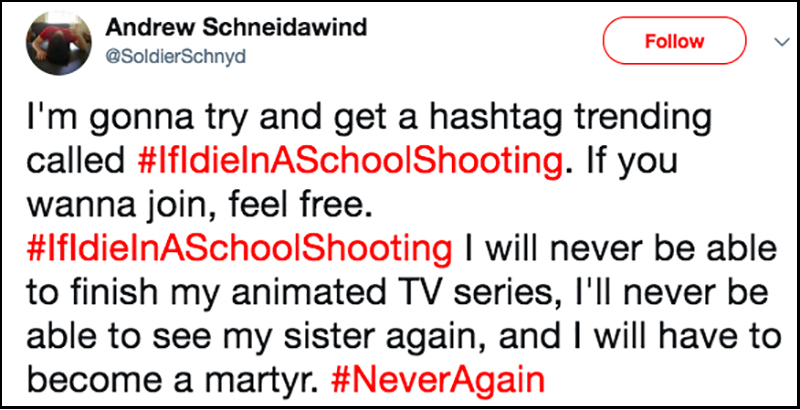 If Twitter user @chad_williams05 dies in a school shooting, he wants someone to tell his siblings he loves them.
User @ianquick wants someone to put his body in the NRA parking lot. And @Faaabbbuloousss wants people to know she "wasn't surprised" it happened.
Since Sunday, tweets with the hashtag #IfIDieInASchoolShooting have flooded Twitter, as students' fear, desperation, and anger over gun violence — the most recent case being Friday's attack at a Santa Fe, Texas, high school — has once again reached a fever pitch. The hashtag had been tweeted nearly 50,000 times as of Monday, joining a string of viral school-shooting-linked hashtags such as #NeverAgain and #EnoughIsEnough, which gained traction following February's Parkland, Florida, massacre.
Eighteen-year-old Andrew Schneidawind started the hashtag on Sunday with no expectations but with a hope: to "shame the people who are not doing anything into possibly changing their minds."
"All of these tweets are people's futures; they're people's families that they want to have, things they want to do," Schneidawind, a freshman at the University of Mary Washington in Virginia, told the 74.
I'm gonna try and get a hashtag trending called #IfIdieInASchoolShooting. If you wanna join, feel free. #IfIdieInASchoolShooting I will never be able to finish my animated TV series, I'll never be able to see my sister again, and I will have to become a martyr. #NeverAgain

— Andrew Schneidawind (@SoldierSchnyd) May 20, 2018
The notifications quickly started piling up — more than 1,500 retweets and 6,100 likes on his initial post, as of Tuesday — including from Parkland student activists such as Emma González, who responded, "#IfIDieInASchoolShooting I'd get to see Carmen again," referencing one of the Parkland victims.
#IfIDieInASchoolShooting I'd get to see Carmen again

— Emma González (@Emma4Change) May 20, 2018
#IfIDieInASchoolShooting plaster my face outside of every politician Who accepts money from the NRA's office so every day as they walk into work they have to look into the eyes of someone who died because of their inaction and think of their own children or someone they know.

— Lauren Hogg (@lauren_hoggs) May 20, 2018
With the hashtag clearly striking a chord on social media, Schneidawind said he intends to physically send some of the tweets to legislators in the coming weeks.
"I hope others send [tweets] too, and maybe a few [legislators] will be so uncomfortable that they'll change their minds just to make it stop," he said. "If that's what it takes, we'll have to do it. That's how desperate we are."
Here are only a handful of the letters I'm writing. I'm gonna send many more, and I encourage everyone to send them to your reps! pic.twitter.com/FCvPGXob2Y

— Andrew Schneidawind (@SoldierSchnyd) May 21, 2018
Here's a roundup of some of the most powerful #IfIDieInASchoolShooting tweets we've seen so far — including those from teachers and onlookers:
#IfIdieInASchoolShooting
i will never
– get married
– have children
– go to college
– graduate
– buy a car
– live

— jenna (@idioticjenna) May 20, 2018
#IfIDieInASchoolShooting deliver my heart to dana loesch on a silver platter because she's a heartless woman and clearly needs a new one.

— jordyn #NEVERAGAIN (@jordynzoe_) May 20, 2018
remember my name.

Christian Riley Garcia
Sabika Sheikh
Angelique Ramirez
Cynthia Tisdale
Ann Perkins
Shana Fisher
Chris Stone
Kimberly Jessica Vaughan
Aaron Kyle McLeod
Jared Black#SantaFeHighSchool pic.twitter.com/NDajEiun9Y

— 🎩TheMadTrumpHater🎩 (@iRun4Jules) May 22, 2018
#IfIdieInASchoolShooting
My projects wont be finished.
My boyfriend will be all alone.
My parents will have lost another kid.
Friends will be abandoned.

Politicize my death. Make it mean something. Cover my grave with daisies and stuffed animals. I live to make a difference

— boo (@Boo4Change) May 20, 2018
#IfIDieInASchoolShooting oh wait, "if" turned into "when" for me on 2/14. I wouldn't have gone to prom or college. I wouldn't have lived to be at my sisters wedding or become an aunt. I wouldn't have lived to have kids. But I would have been just another number. This is America.

— Stephany DeOliveira🦅 (@ohstephany_) May 20, 2018
Teacher here #IfIdieInASchoolShooting use my name in protest- for gun control and better school funding. Hopefully my death will have saved my students.

— MK (@mackanncheese) May 22, 2018
#IfIDieInASchoolShooting I'll never get to grow up and look back at the person I used to be and think about how much I've grown. I'll never know what's like to not be just another sad teenaged girl.

— Naomi Caplan (@_naomi_abigail_) May 20, 2018
#IfIDieInASchoolShooting have the GOP put my casket in the ground so that they can let me down one last time.

— Brieana Shelton (@More140) May 22, 2018
#IfIdieInASchoolShooting I wouldn't have to worry about my future kids dying in one.

— Adam Alhanti (@AAlhanti) May 21, 2018
Dear America:

Your children are planning their own funerals.@NRA @GOP#IfIDieInASchoolShooting

— Emma Beeblebrox (@EmmaBeeblebrox) May 21, 2018
Submit a Letter to the Editor