'All of These Tweets Are People's Futures': After Texas Tragedy, Hashtag #IfIDieInASchoolShooting Gives Voice to Students' Despair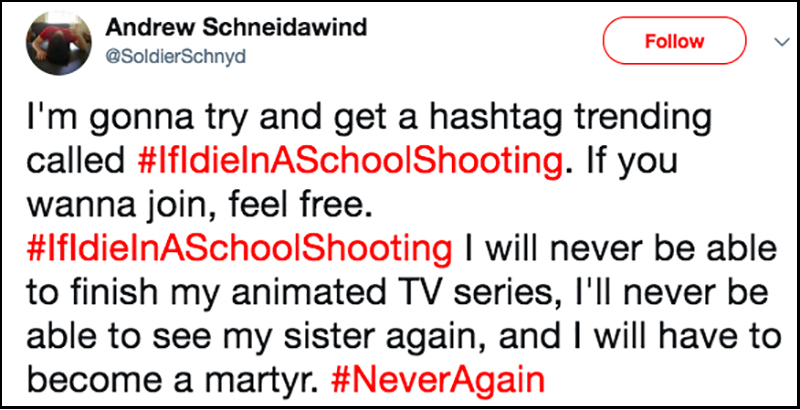 If Twitter user @chad_williams05 dies in a school shooting, he wants someone to tell his siblings he loves them.
User @ianquick wants someone to put his body in the NRA parking lot. And @Faaabbbuloousss wants people to know she "wasn't surprised" it happened.
Since Sunday, tweets with the hashtag #IfIDieInASchoolShooting have flooded Twitter, as students' fear, desperation, and anger over gun violence — the most recent case being Friday's attack at a Santa Fe, Texas, high school — has once again reached a fever pitch. The hashtag had been tweeted nearly 50,000 times as of Monday, joining a string of viral school-shooting-linked hashtags such as #NeverAgain and #EnoughIsEnough, which gained traction following February's Parkland, Florida, massacre.
Eighteen-year-old Andrew Schneidawind started the hashtag on Sunday with no expectations but with a hope: to "shame the people who are not doing anything into possibly changing their minds."
"All of these tweets are people's futures; they're people's families that they want to have, things they want to do," Schneidawind, a freshman at the University of Mary Washington in Virginia, told the 74.
The notifications quickly started piling up — more than 1,500 retweets and 6,100 likes on his initial post, as of Tuesday — including from Parkland student activists such as Emma González, who responded, "#IfIDieInASchoolShooting I'd get to see Carmen again," referencing one of the Parkland victims.
With the hashtag clearly striking a chord on social media, Schneidawind said he intends to physically send some of the tweets to legislators in the coming weeks.
"I hope others send [tweets] too, and maybe a few [legislators] will be so uncomfortable that they'll change their minds just to make it stop," he said. "If that's what it takes, we'll have to do it. That's how desperate we are."
Here's a roundup of some of the most powerful #IfIDieInASchoolShooting tweets we've seen so far — including those from teachers and onlookers:
Get stories like these delivered straight to your inbox. Sign up for The 74 Newsletter