After Campaign Turns to K-12 Issues, Democrats Lose Virginia Governor's Race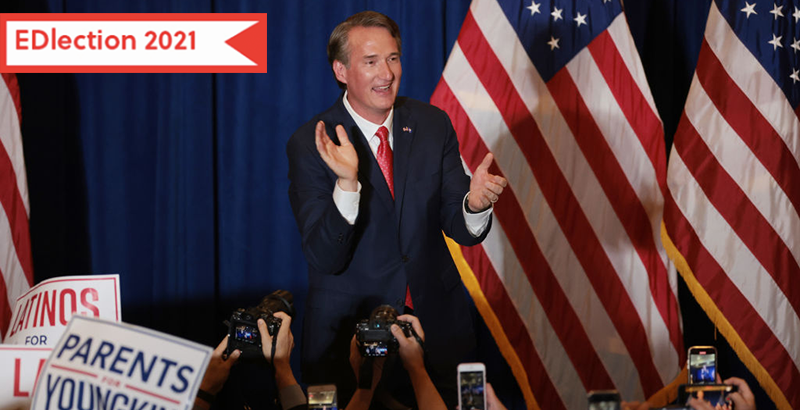 No paywall. No pop-up ads.
Democrats' first major defeat of the Biden era came on Election Night in Virginia, where Republican Glenn Youngkin, a businessman and first-time candidate who made the battle against "critical race theory" one of the hallmarks of his campaign, defeated Democratic former Gov. Terry McAuliffe by more than a two-point margin.
The result did not come as a shock to local political observers, who noted Youngkin's bid gathering steam in the final months of the campaign as attention shifted to K-12 issues. Late-breaking surveys showed McAuliffe's advantage dissipating, particularly with parents of school-aged children, at the same time that voters increasingly listed education as the most important issue on their minds.
But the defeat of a broadly popular former governor — along with the GOP apparently seizing control of the state's House of Delegates and prevailing in races for lieutenant governor and attorney general — marks a reversal in Virginia's long march leftward in recent years. Democrats had won four of the last five gubernatorial elections and finally seized unified control over the state legislature in 2019. Just last year, President Biden carried the formerly deep-red stronghold by more than 10 points, the biggest win for a Democratic presidential candidate in Virginia since the days of Franklin Roosevelt.
But the state's governor's race has historically swung away from the party occupying the White House. In fact, since 1977, Virginia voters have elected governors from the party out of power in every race except one: 2013, when McAuliffe won his first term. A host of obstacles, from the lingering ennui of the pandemic to Biden's sinking approval numbers, stood in the way of McAuliffe's reelection.
But the last challenge, and perhaps the most significant, was the outrage around issues of K-12 education that steadily built as summer turned to fall. While the Republican primary was still ongoing, Youngkin and his rivals were loudly arguing in favor of reopening public schools for in-person instruction. Once Youngkin secured the nomination, he also pledged to ban the teaching of critical race theory as governor.
His adoption of the issue dovetailed with several high-profile controversies around diversity and equity initiatives in school districts. In both Fairfax and Loudoun Counties, two suburban enclaves outside of Washington, D.C., that have been among the most Democratic-leaning in the state during its blue transformation, angry parents have moved to recall school board members over dissatisfaction with local COVID mitigation strategies and schools' approaches to teaching controversial subjects of race, gender, and sexuality.
The dispute gained more airtime as the race headed into its final months, with Youngkin calling on the Loudoun County school board to resign and McAuliffe declaring, at a public debate, that he didn't believe "parents should be telling schools what to teach." Ultimately, Fairfax and Loudoun both gave majorities to the Democrat — but they also swung rightward by seven and nine percentage points, respectively, compared with the 2017 governor's race.
Tom Loveless, an education researcher who formerly led the Brookings Institution's Brown Center on Education Policy, noted that Democratic candidates like McAuliffe have become increasingly dependent on suburban, college-educated voters during the Trump era. Their positioning on K-12 issues during the pandemic helped cost them the seat, Loveless told The 74.
"Schools are important to parents in the suburbs," he wrote in an email. "McAuliffe put himself on the wrong side of the education issue when he said what he said about parents and schools during the debate. It was a fatal blunder, appearing both tone-deaf and condescending."
Andrew Rotherham, co-founder of Bellwether Education Partners and a former member of the Virginia state board of education, argued that Democrats around the country "did not do a good job staking out a clear position" on controversial topics in education, allowing their opponents to paint them as hostages to "unaccountable systems."
"It's not that hard for a candidate to tell parents, we're going to teach an unsparing history curriculum here in this state that is honest about race and racism, but we're also not going to tell your kindergartener they are complicit in white supremacy or have your second grader doing a privilege walk," Rotherham said. "Instead, Democrats set themselves up to own any ridiculous thing that happened in a school anywhere."
Get stories like these delivered straight to your inbox. Sign up for The 74 Newsletter