A Year After Espinoza, Supreme Court Accepts New Case That Tests Limits of Religious Freedom in School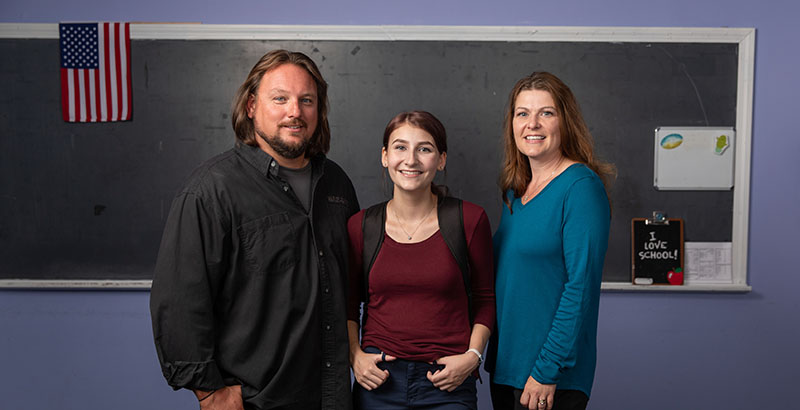 Updated July 6
The U.S. Supreme Court on Friday announced that it will hear Carson v. Makin, a case involving Maine's tuition assistance program. Following the court's decision last year in Espinoza v. Montana Department of Revenue, plaintiffs in the case argue that excluding religious schools from the program is a violation of their constitutional rights, while the state has said the program is only meant to provide students a public education they can't access in their own community. 
School choice advocates celebrated the court's decision. In a statement, Leslie Hiner, who leads EdChoice's legal efforts, said, "We applaud the action of the Court in agreeing to hear a case brought by parents in Maine who have been denied the opportunity to send their children to a school of faith using the state's town tuitioning vouchers."
The U.S. Supreme Court will discuss Thursday whether to hear a case that could settle for good whether states can exclude religious schools from publicly funded voucher programs.
The argument in Carson v. Makin is over Maine's tuition assistance program, which pays for students in towns without a public school to attend another one of their choice — public or private — as long as it's not religious.
In October last year, the 1st U.S. Circuit Court of Appeals upheld the religious exclusion, and the plaintiffs appealed to the Supreme Court. But earlier this month the 2nd Circuit reached the opposite conclusion, ruling that students in a similar program in Vermont can use public funds at religious schools.
"It is a mess, to put it mildly," said Michael Bindas, a senior attorney with the libertarian Institute for Justice, which is representing the two families in Maine who sued over the state's policy. The contradiction "cries out for Supreme Court review, and only the Supreme Court can resolve it," he said.
This time last year, school choice advocates won a major victory in Espinoza v. Montana Department of Revenue, when the court ruled 5-4 that officials could not exclude religious schools from a state tax credit scholarship program simply because they are religious. It was a major setback for states with so-called Blaine amendments, 19th century laws that prevent public funds from supporting religious schools. The Espinoza ruling sparked a renewed push at the state level to expand such scholarship programs, and former Education Secretary Betsy DeVos suggested the decision opened the door for religious-oriented charter schools.
The justices, however, left one issue unsettled. The Espinoza ruling means states can't prohibit religious schools from participating in a school choice program because of their religious status, but the justices didn't resolve whether states could exclude schools because they teach students about religion.
The Institute for Justice addressed this in a brief to the court following the 2nd Circuit's decision in the Vermont case, referring to "the utter disarray of the law in this area."
The court typically schedules conference days when the justices discuss current cases as well as whether to hear or reject appeals. The "order list" is usually released a day or so after justices hold a conference, Bindas explained. That means the court could announce as soon as Monday whether they'll hear the Carson case, but a quick decision could mean they're going to pass, he added. If the justices decide to hold it over for a "cleanup conference" next week, that could signal their intention to hear the case.
Maine Attorney General Aaron Frey has said that the state's law doesn't discriminate against religious schools because it is "simply declining to pay for religious instruction that would be unavailable in a public school." Ted Fisher, spokesman for the Vermont Agency of Education, said the department doesn't comment on pending litigation.
Anti-discrimination policies
If the justices agree to hear it, Carson could be the first school choice case before the court since the confirmation of Associate Justice Amy Coney Barrett, a conservative Catholic who served as a trustee for a religious school that participates in Indiana's school choice program and doesn't welcome children with same-sex parents.
The Espinoza ruling was a 5-4 decision, and conservatives now hold a 6-3 supermajority on the court.
Some legal experts have suggested the court's decision last week in Fulton v. City of Philadelphia — a case involving a Catholic social services agency that opposes certifying same-sex couples as foster parents — would have an impact on school voucher programs.
In Fulton, the court ruled unanimously that the city violated the agency's First Amendment's religious freedom protections by requiring it to give up its opposition to same-sex relationships in order to receive a government contract. The connection to school choice is that religious schools, such as the one where Barrett served as a trustee, are often opposed to hiring LGBTQ staff or admitting gay students or those with gay parents.
But the impact of the decision on school choice programs is limited. While the opinion was unanimous, the court focused on a narrow exemption in the city's contract with the agency.
"Fulton does not create a right to religious exemptions from anti-discrimination laws that apply equally to everyone," said Alex Luchenitser, associate vice president and associate legal director at Americans United for Separation of Church and State. "State constitutional prohibitions and laws that prohibit use of public funds to support religious instruction generally do not have any exemptions and so should not be affected by Fulton."
The issue is relevant in Bethel Ministries, Inc. v. Salmon, a case before a Maryland district court. The state excluded the religious school from a voucher program because the school's handbook says it "supports a biblical view of marriage" and that "God immutably bestows gender upon each person at birth as male or female." The school, which serves low-income students, said these statements don't impact its admissions process, but the state still declined to admit it to the program.
The state is expected to submit a brief Friday requesting a decision in the case, with the plaintiff's request expected in July.
Bindas, with the Institute for Justice, noted that the plaintiffs in the Maine case are arguing that families attending any religious school should be able to participate in a state's school choice program. As it stands, Vermont could try to get around the appeals court's decision by passing new legislation excluding religious schools because they teach students about doctrine or have a time for worship.
"Using public funds for religious instruction violates the religious freedom of taxpayers who are forced to subsidize faiths to which they do not subscribe," said Luchenitser, who has argued that the court should decline to hear the appeal in the Carson case.
Dave and Amy Carson kept their daughter Olivia at the Christian school she attends but that doesn't participate in the tuition assistance program. The other plaintiffs in the case, Angela and Troy Nelson, wanted to send their children to a religious school, but instead sent their two children to a secular private school that accepts vouchers.
"You either forgo the benefit," Bindas said, "or you forgo the school that you think is best for your child."
In a broader sense, the Fulton decision shows the court continues to move toward a "more aggressive" position in favor of religious rights, said Joshua Dunn, a political science professor at the University of Colorado-Colorado Springs.
"The reasoning of Espinoza … is hard to square with the 1st Circuit's opinion," Dunn said, adding that if the court decides to hear the case, "Maine should be very worried."
Get stories like these delivered straight to your inbox. Sign up for The 74 Newsletter