A Month After Hurricane Maria, Puerto Rico Misses 'Ambitious Target' for Reopening Schools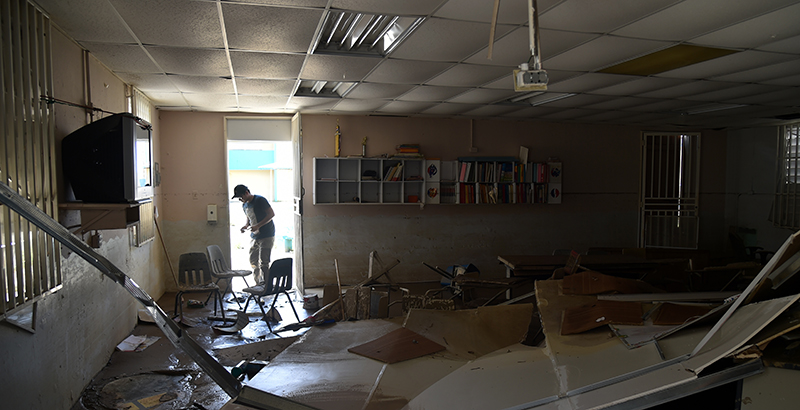 A month after Hurricane Maria devastated much of Puerto Rico, public schools on the island are slowly beginning to reopen — though classes haven't resumed. Instead, the facilities are being used as community centers and shelters.
Puerto Rico's education department had initially set a goal of having a majority of schools up and running by Monday, but that plan has now been scrapped.
In a column published Tuesday in The Hill, Puerto Rico's education secretary, Julia Keleher, called a Monday reopening an "ambitious target," noting that 167 schools had reopened so far. But many of the island's 1,113 schools, which served roughly 350,000 students before the storm hit, were damaged beyond repair. Flocks of Puerto Rican children and educators have fled in recent weeks to the U.S. mainland.
"Despite scarce water and electricity, Puerto Rican students have been eager to get back to learning," Keleher wrote.
By Wednesday, however, she acknowledged that her ambitious target was not attainable, the Associated Press reported, and the official start date for Puerto Rico's schools was pushed back to Oct. 30 at the earliest.
On Wednesday, the number of schools opened as community centers was bumped up to 190, and an additional 99 buildings were being used as shelters for families displaced by the storm. For school buildings to reopen, they must be deemed structurally sound and have running water. Working electricity isn't required.
After more than a month of missed school days following Hurricanes Irma and Maria, the academic calendar has been extended from May 31 to July 15, and additional changes, including a lengthened school day, are under consideration.
"We must seize this opportunity to re-envision the future for Puerto Rico's youth," Keleher wrote in The Hill. "I am determined to see how we can not only get Puerto Rican children back on track, but also open up new opportunities for them along the way. I am committed to see how our educational system can build back better so that we make smart investments in the next generation."
Support The 74's year-end campaign. Make a tax-exempt donation now.