A Better Equation: New Pandemic Data Supports Acceleration Rather than Remediation to Make Up for COVID Learning Loss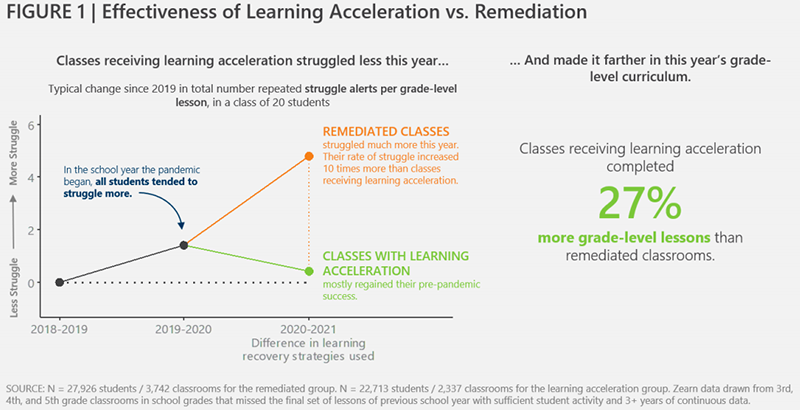 Get essential education news and commentary delivered straight to your inbox. Sign up here for The 74's daily newsletter.
As educators plan how they will address lost student learning during the next school year, they should forgo the traditional remedy of remediation in favor of a strategy known as acceleration, a new report recommends. The analysis was performed by TNTP, formerly known as The New Teacher Project, and the nonprofit Zearn, whose online math platform is used by one in four elementary students nationwide.
If they are coached on missing skills required, students complete 27 percent more grade-level work than if teachers try to back up and fit in unfinished material from prior years, the researchers found. Yet the children who are likely to return to school in the fall with the biggest learning losses are twice as likely in many instances to get ineffectual remediation.
The researchers hope states and school districts will consider the new data as they decide how to spend their American Rescue Plan dollars, which come with a congressional mandate to use a portion of the money to address academic gaps, both for summer programs and for the 2021-22 academic year.
Teachers are trained that remediation, the practice of focusing on missing, below-grade-level material — covering all lessons in second grade before moving on to third, for example — is the chief method for helping students who are behind catch up. But past research by TNTP and others shows it's not effective.
Teaching grade-level material, while stopping to supply missing, underlying skills as they become necessary — acceleration — is a strategy some researchers have found promising. TNTP and Zearn say the new data is the most concrete yet to support this notion.
"It's a counterintuitive difference," says Shalinee Sharma, Zearn CEO and co-founder. "The simple idea [behind] remediation would be that if a child is struggling, you go back all the way to where everything is easy again and you bring them back gradually.
"Acceleration says, 'Nope, the human brain is plastic,'" she continues. "You start with something really specific, like how do you add fractions. You drop down and teach that skill and then pop right back up."
Because it is an app, Zearn's math platform automatically gathers data every time a student opens it. Because of this, it has drawn the attention of researchers at a number of organizations. The new report analyzed information gleaned from 2 million students in 100,000 classrooms during the current academic year. It's possible to tell who, in socio-economic terms, the students in any given classroom are and whether they are working on grade-level materials or covering ground lost last year.
The same two-way flow of precise information, complete with demographic data, compelled the economists leading Harvard University's Opportunity Insights team to incorporate Zearn into their interactive pandemic tracker. At the same time, the platform's effectiveness has spurred education leaders in Louisiana, Delaware and other places to create incentives for schools to incorporate it in their plans to address learning losses.
Zearn and TNTP found that pupils in classrooms where acceleration was used for addressing early pandemic learning losses not only completed more grade-level lessons than their peers, they mostly regained their pre-pandemic success.
By contrast, students in classrooms where remediation took place struggled to complete lessons 10 times as often. And children of color and those in high-poverty schools were often twice as likely to be in classrooms where remediation was the primary strategy for closing academic gaps.
"This is in some ways a field-flipping idea," says TNTP Vice President Bailey Cato Czupryk. "It feels counterintuitive because we are saying to teachers, 'The thing we taught you to do isn't working.'"
When students give an incorrect answer or otherwise show they don't understand a concept, the Zearn app — without signaling to the students that they are failing — supplies another example or equation, or suggests an alternative means of solving a math problem. If this cycle repeats more than a couple of times, the app sends a "struggle alert" to the teacher, who then has the right information to provide what academic diagnostic experts sometimes refer to as "just-in-time" intervention.
The new research found that even when students of color and those from low-income backgrounds had been successful with grade-level academic content, they were more likely than their white, wealthier peers to experience remediation. In schools with mostly students of color, nearly one in six students were remediated, whether or not they previously had met grade-level standards. At the same time, acceleration was particularly effective for these disadvantaged students.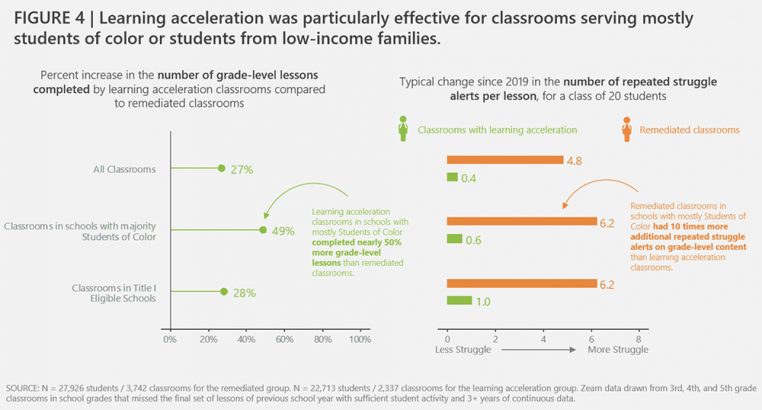 The new report bolsters existing TNTP research. In 2018, the nonprofit released The Opportunity Myth, a report on the experiences of 4,000 students in five public school systems that found they spent hundreds of hours each year doing work that wasn't challenging enough for their grade level. The lower their exposure to lessons geared for their grade, the less likely the students were to master the academic material that was being presented, TNTP found.
The Zearn data, the new report notes, "reaffirms our finding from The Opportunity Myth that remediation can become a vicious cycle: as gaps accumulate year after year, students miss more and more grade-appropriate content in favor of review of content from previous grades and become increasingly less likely to ever make it back to grade-level mastery."
The researchers say the pandemic year findings underscore the need for several fundamental shifts. Teachers need to be brought up to speed on the perils of remediation and trained to let go of longstanding perceptions that missing skills mean a student is not ready for challenging material.
Acceleration also calls for high-quality classroom materials, support for teachers in using those materials and, in some instances, for more instructional or tutoring time that's closely tied to the strategy. Educators should expect truly catching students up to be a multi-year process, the researchers add.
"With the help of funding from the American Rescue Plan, school systems have an opportunity to invest in the tools, training and support necessary to successfully implement learning acceleration next school year and beyond," the report notes.
Disclosure: The Bill & Melinda Gates Foundation, Carnegie Corporation of New York, Chan Zuckerberg Initiative and Charles and Lynn Schusterman Family Foundation provide financial support to Zearn and The 74. The Bill & Melinda Gates Foundation and Chan Zuckerberg Initiative provide financial support to Opportunity Insights and The 74.
Support The 74's year-end campaign. Make a tax-exempt donation now.