7 Things a National Survey of Librarians Told Us About the State of School Libraries Amid the Pandemic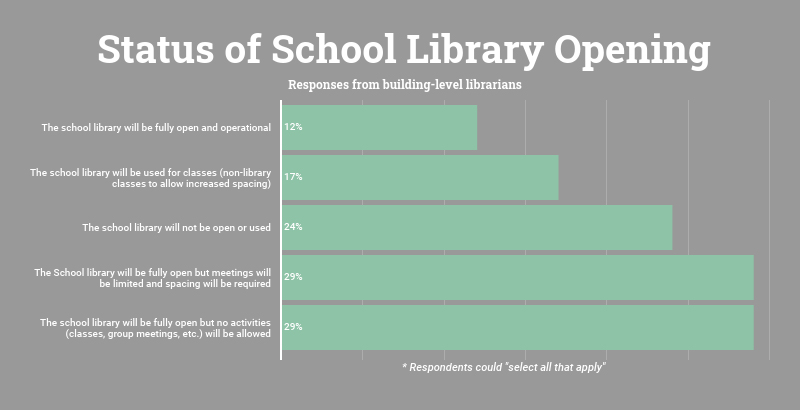 With a majority of American students now committed to remote online instruction for at least part of the week, many aspects of physical school buildings are being rethought amid this prolonged period of distance instruction. Cafeterias, gyms, auditoriums, maker labs — none can operate as normal amid the ongoing pandemic.
Much the same is true for libraries. From the physical catalog of books to the layout of this communal learning space and the role of librarians in students' school days, very little about the library is familiar for students coast to coast.
To get a better gauge on how library resources will be used for the upcoming school year, the American Association of School Librarians (AASL) conducted a back-to-school survey of more than 1,000 professionals back in August (83 percent of whom are building-level librarians). The results were released earlier this month.
School librarian professionals representing all 50 states responded, revealing their concerns about their role inside schools, student learning, reprioritized budgets and how they plan to adapt. "School librarians are at the forefront of teaching and learning. We possess the expertise to help students, parents and educators adapt and thrive within our current digital environment while continuing to fulfill our role as educators," said AASL President Kathy Carroll. She added that "by providing access to an array of well-managed resources, school librarians encourage learners' innate curiosity, support inquiry and enable academic knowledge to be linked to deeper, personalized learning."
Seven noteworthy takeaways from this snapshot of libraries amid coronavirus: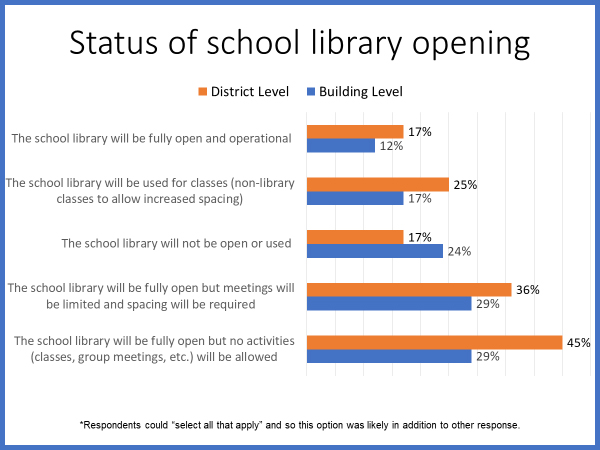 1 Nearly 1 in 4 School Libraries Are Shuttered Right Now
"The school library is a third space for learning, a space between the classroom and home," Carroll said. But 24 percent of building librarians said their school libraries would not be open or even used during the fall. (Only 12 percent said their library would be fully open and operational.)
2 The Libraries That Do Open Will Be Used Very Differently
Roughly 1 in 6 libraries (17 percent) are being converted to standing classrooms to aid with social distancing, respondents said. A majority (58 percent) said that any activities or gatherings inside the library will be forbidden (29 percent) or that the library will facilitate fewer and smaller meetings that require greater distancing (29 percent).
Is checking out physical books a thing of the past? Although a majority reported that books will still be circulated after being disinfected, librarians said they do plan to encourage greater use of e-books and online resources than before the pandemic.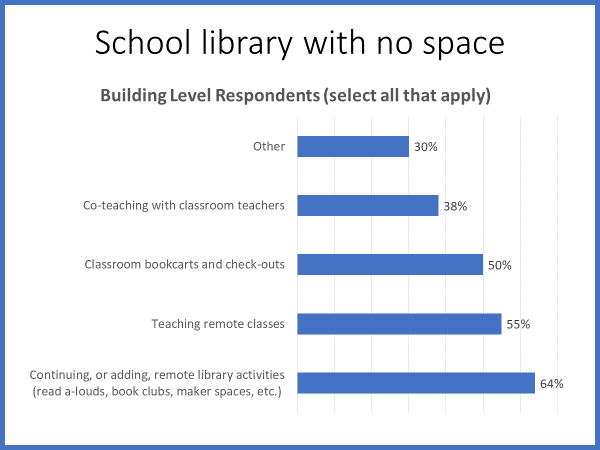 3 Majority of Schools Looking to Make Libraries Mobile and Virtual
Due to limitations in the physical library's function, respondents said their school was now planning to meet learners outside the four walls, including taking book carts to classrooms for in-class checkouts (50 percent), expanding remote instruction (55 percent) and co-teaching with classroom teachers (38 percent). They also mentioned roles in curbside technology pickups and tech support for teachers.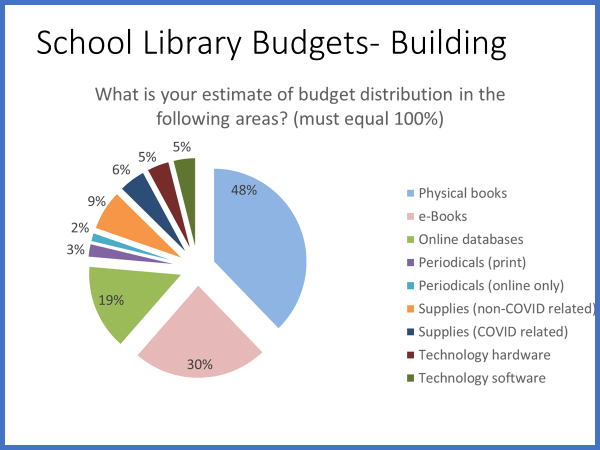 4 Libraries Say 6 Percent of Their Budget Now Going to Personal Protective Equipment
Librarians expect to spend 6 percent of the current budget on masks, hand sanitizer, disinfectant and other PPE to ensure health and safety — which is more than what they expect to spend on periodicals, hardware and software.
5 Despite Pandemic, Majority of Libraries' Budgets Will Still Go to Physical Books
The majority of those surveyed responded that they would receive funding for this school year, but 58 percent reported that their budget plans have changed since the last school year. As to how these shifting funds will be distributed, a majority of respondents said spending will mostly go toward physical books (48 percent), e-books (30 percent) and online databases (19 percent). These estimations are followed by non-COVID-related supplies, COVID-related supplies, technology hardware, technology software, print periodicals and, lastly, online periodicals.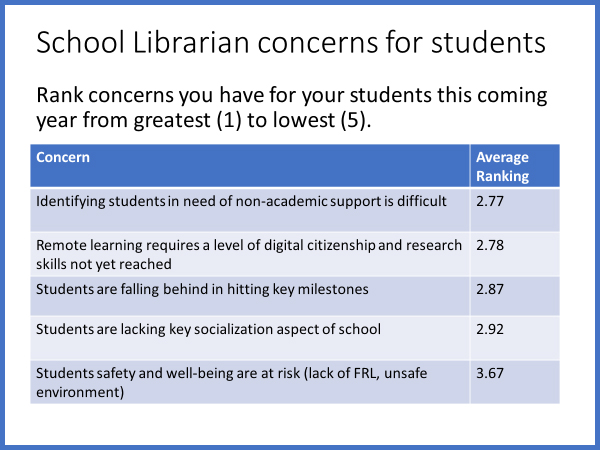 6 Meals, Safe Spaces, Socialization: Librarians' Concerns Go Well Beyond Academics 
In surveying librarians about their top concerns about students, they pointed to the potential impacts prolonged closures will have on students, such as missing meals, being in unsafe environments, missing out on socialization and falling behind on hitting key milestones.
As far as their own well-being, librarians indicated concern for their personal safety. On a scale of "0, I don't believe I am at any greater risk" to "100, I strongly believe that exposure to students will greatly increase my risk of contracting COVID," the average answer was 77.
7 Their Top Concern: Not Even Knowing If Students Are Falling Behind
When ranking concerns for the new school year, many librarians of course expressed concerns about student well-being and safety. But of even greater concern was the idea that they would be unable to identify students falling behind outside core academic subjects and in greater need of nonacademic support. Also of top concern: learners who have not yet reached the required level of research and digital citizenship skills to successfully navigate remote learning.
Some respondents said they plan to meet students' needs with video tutorials on research and media literacy topics.
Get stories like these delivered straight to your inbox. Sign up for The 74 Newsletter