Klibanoff: Books Can Teach Empathy and Connect Past, Present & Future. That's Why We're Helping Teachers Fill Their Classroom Libraries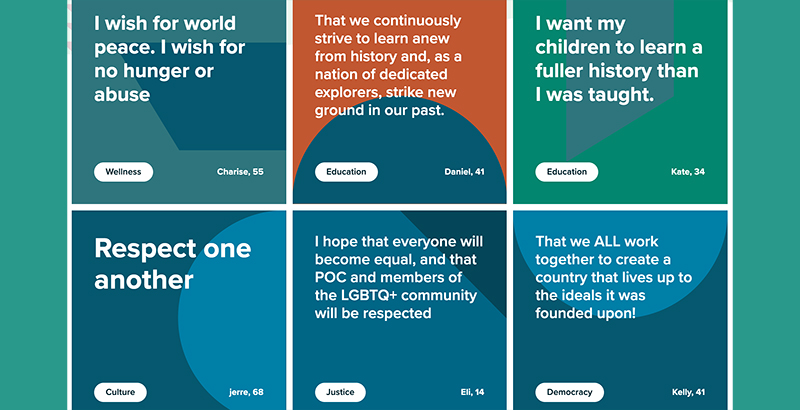 As far back as I can remember, the narratives and voices of human history have commanded my attention, and it all started with books.
Was it the American Girl series? Or Dear America, perhaps. Or The Watsons Go to Birmingham. Or Sarah, Plain and Tall. Or The True Confessions of Charlotte Doyle. Number the Stars. Roll of Thunder, Hear My Cry. Fever 1793.
I read them all. I can still remember the way they made me feel: transported, awakened, full of fresh knowledge of a place and a time I could never visit in real life. Each page brought me to a complex understanding of an era before my own time, through the eyes of young people like me, the characters in the story.
The trajectory those books set me upon is the reason that today, I'm a historian, working at the Smithsonian, managing Made By Us, a coalition of more than 80 museums united to connect young people with history. It's not because I learned a timeline of facts and details from these books, or because I had any affinity for the olden days. If anything, these books left me feeling relieved to be part of my modern age, the butter-from-a-grocery-store age, the internet age.
No, the reason I gained so much from this fictional introduction to history is that the young protagonists were just like me. They felt like old friends from page one. Their stories humbled me, giving me a respect for people in the past, for their struggles, their stories. They made the dry paragraphs in my elementary school textbooks feel real, and relevant.
When the coronavirus pandemic hit, and life around us changed so fast, I was confronted again by the lessons historical storybooks had taught me. When disaster strikes, people outside the situation sometimes ask: Why didn't you just leave? Why didn't you see it coming? Couldn't you just avoid it? I can see how people in the future might ask us: Why didn't you all just stay home immediately? Why didn't you take it more seriously? How could you let this happen?
When you've put yourself in so many stories throughout history, when you've walked in other people's shoes — even if only in your imagination — you learn that change happens fast, news travels slow, and people do the best they can with the information they have.
Books can open our eyes to new circumstances, but they can also help us develop a radical empathy for others and for the ties that bind us to the past, present and future. They put us in the story and connect us to our shared humanity.
Sadly, access to these books is a challenge right now, especially for kids in underserved communities. Classroom libraries have been depleted as teachers sent books home with students during the early days of the pandemic.
To help, the nonprofit First Book has teamed up with Made By Us and American Heritage Chocolate to launch the Wishes for Books campaign this fall, which will deliver 20,000 books to 1,000 classrooms in need across the country.
From now until Sept. 21, Title I teachers can submit their classroom's wish for the future of the country at MyWishForUS.com, then share their wish to the social media platform of their choice. At the end of the campaign, First Book will randomly select 1,000 classrooms to replenish their library with books on activism, civic engagement and history, to use in school or in distance learning settings.
Teachers can choose exactly which books they want from the First Book Marketplace, ensuring that they receive titles that are relevant and age-appropriate for their students.
As we live out our own historical moment, it's important to remember that history doesn't just happen — we all play a role in shaping it. From the characters in our books to the figures in our past, we can use stories to help us create a brighter future and empower the next generation to see themselves as part of history.
Caroline Klibanoff is program manager for Made By Us, a coalition of more than 80 history and civics organizations across the country with a mission to present history to the next generation in relevant, provocative and surprising ways. Made By Us has partnered with First Book and American Heritage Chocolate, a Mars Wrigley brand that supports the Mars family's long-standing mission of education, to deliver libraries to 1,000 classrooms in need this fall with the Wishes for Books campaign. 
Get stories like these delivered straight to your inbox. Sign up for The 74 Newsletter