2019 Election Preview: 5 Big 'Off-Year' Races to Watch With Major Implications for Schools, Students and Education Policy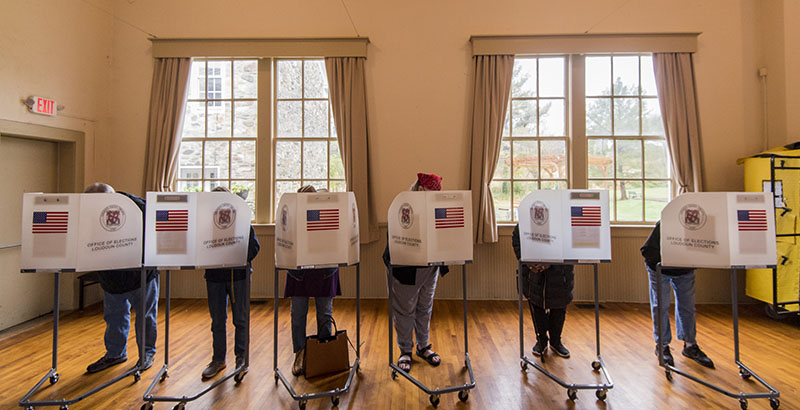 Cable news might still be fixated on the 2020 primaries, but a good number of ballots are about to be cast across the country this week in an "off-year election" with major implications for classrooms and education policy.
Over the past couple weeks, Kevin Mahnken has been previewing the most notable 2019 races that education observers should monitor on election night. We'll be updating poll numbers throughout the week (and Nov. 16 in Louisiana) at our official "EDlection" homepage at The74Million.org/Election.
Five key races to watch this election day:
1 Denver School Board
Is Denver's era of education reform coming to an end?
Over the past 15 years, the city has become a model for urban school reform. Parents are given wide latitude to choose where to enroll their children. Charter schools have spread swiftly, authorized by a school board largely friendly to the sector. And all schools, whether traditional or charter, are subject to an aggressive rating system that measures quality. But persistent disquiet over Denver's reform regime, and questions about whom it has served, have grown louder in recent months. Momentum from a successful teachers' strike earlier this year has spread to a wider movement for change across the district, and next month's local elections will prove a crucial test of the community's attitudes.
Two reform-minded incumbents on the elected school board are term-limited, and another is not running for re-election. That means there will be three open seats on the seven-member body — enough to swing the membership away from its long-running consensus and potentially bring an end to one of the nation's bolder experiments in charter expansion and test-driven accountability. The situation is reminiscent of the 2017 board cycle, when candidates opposed to further reforms were able to pry away two board seats. (Read our full preview)
2 Virginia Legislature
Can Democrats sweep Virginia?
There is no gubernatorial race in Virginia this year; Democratic Gov. Ralph Northam, elected in 2017, will remain in office no matter what. But the remainder of his term will be defined by the outcome of Tuesday's legislative elections. Republicans, who once held commanding majorities in both houses of the Virginia General Assembly, are now clinging to just a one-vote majority in the state Senate and a three-vote lead in the House of Delegates. And while the Democrats' push to flip control has mostly centered on their stalled attempts to pass gun control laws, the stakes for K-12 schools are high as well. (Read the full preview)
3 Kentucky's Governor
Is this RedforEd redux?
The central question in what has become a nasty re-election fight for Republican Gov. Matt Bevin is this: Can partisan loyalties overcome personality deficits? Bevin has been the least popular governor in the country for much of his time in office (he was superseded in that dubious honor only recently, by Rhode Island's Gina Raimondo). That's largely a product of his rather pugilistic approach to politics.
He has often aimed his broadsides at Kentucky's teachers. When legions of school employees walked off the job last spring as part of a wave of #RedforEd protests for higher salaries and education funding increases, he "guaranteed" that some children had been sexually assaulted while left unsupervised during the demonstrations. Similarly, he blamed the shooting of a 7-year-old in April on teachers who had launched a wave of unsanctioned "sick-outs" to close schools again. His opponent, Democratic Attorney General Steve Beshear, has energetically courted the support of alienated teachers and their allies by proposing a $2,000 pay raise and attacking Bevin for cutting education spending. (Read the full preview)
4 Mississippi Governor
Can the Democrats' ideal candidate win?
Mississippi is among the most comfortable places in the country for Republicans to get elected. Though the party has only held unified control over state government since 2012 — a vestige of the old-school Southern Democratic hold over the area — residents haven't favored a Democratic presidential candidate since Jimmy Carter, and virtually all prominent politicians in the state ride with the GOP. Well, Democrats have nominated the exception to the rule: four-term Attorney General Jim Hood, who is running against Lt. Gov. Tate Reeves this year. The latest polling puts Hood just three points behind Reeves, who had to spend millions to vanquish primary opponent Bill Waller, the long-time chief justice of the state supreme court.
Despite running in one of the reddest states in the country, Hood has made huge increases in school spending — including a $3,000 teacher pay raise and universal pre-K for Mississippi children — one of the hallmarks of his campaign. In fact, both have called for a pay bump, a testament to the state's persistently low salaries for teachers and classroom aides. (Read the full preview)
5 Louisiana Governor (Nov. 16)
Can a popular incumbent hold on?
Louisiana Gov. John Bel Edwards is in some ways the inverse of Matt Bevin: A well-liked Democratic office holder who has defied political gravity for years by tacking to the center. His survival, like Bevin's, is a test of whether constituents will vote against their typical partisan preferences.
The early signs suggest he's in for a fight. Edwards had hoped to win 50 percent of the state's "jungle primary" in October, which would have given him a second term automatically; instead, he garnered just 46 percent, with his two closest Republican rivals splitting another 52 percent between them. The incumbent will face businessman Eddie Rispone in a second round of voting on November 16, the outcome of which is now seen as a tossup.
Political experts painted the disappointment as a reflection of national trends. Edwards triumphed over expectations to win his first term four years ago — not because of polling miscues, as Bevin had, but because Democrats have gradually been purged from statewide offices in recent years as local voters have become less willing to split their tickets. Edwards's 2015 victory was largely credited to his Blue Dog profile — he campaigned as a foe of surging budget deficits and has disappointed liberals by signing restrictions on abortion — and a significantly compromised opponent. If Republican turnout in the runoff mirrors Louisianans' enthusiastic support for President Trump, the thinking goes, Edwards can start packing his bags now.
If he can refocus the spotlight on his record locally, including on schools, his prospects might be considerably stronger. Edwards has fought against a heavy current of reform during his time in office, unsuccessfully attempting to curb the growth of charter schools and private school vouchers. But his administration has earned plaudits more recently by securing a teacher pay raise, and he has worked with Republicans in the state legislature to win new funding for public schools more broadly. (Read the full review)
Get the latest election analysis, and the day's top education news, delivered straight to your inbox; sign up for The 74 Newsletter
Get stories like these delivered straight to your inbox. Sign up for The 74 Newsletter