Exclusive: Teachers Union Document Reveals Master Plan for Unionizing Charter School Networks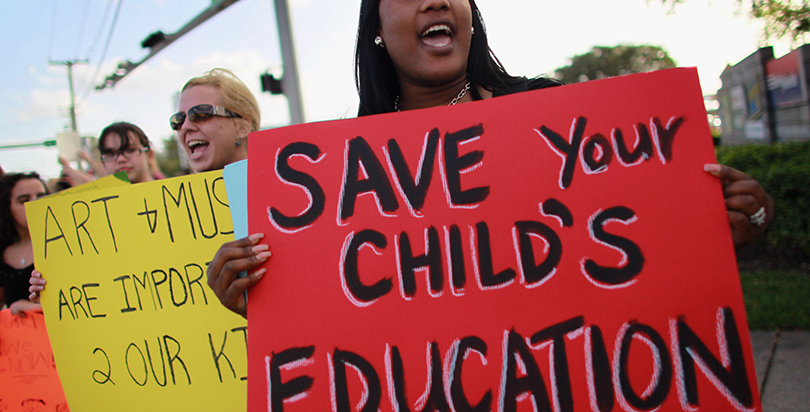 Mike Antonucci's Union Report appears Wednesdays; see the full archive
Over the past few years we have seen major efforts to unionize teachers in charter schools in Los Angeles, Chicago, and Washington, D.C. Some have been successful, others not, but teachers unions and their allies continue to hope they can make significant inroads in the charter school movement.
These efforts face significant challenges, not the least of which is the unions' continuing opposition to the establishment of new charter schools and hostility to many that currently exist.
In public statements the National Education Association and American Federation of Teachers say they aspire to provide the best education for students and the benefits of collective bargaining for teachers. But if we want a more complete picture, we can find it in a remarkable document produced by the Pennsylvania State Education Association almost 17 years ago.
---
---
At the time, charter schools were in their infancy and PSEA was mostly concerned with charters managed by Edison Schools, an aggressive for-profit company. To address the challenge, the union created a 17-member task force called the Charter Schools Strategic Options Project.
The task force worked for most of a year on a report presented to the PSEA board of directors and adopted as official union policy on Nov. 30, 2000. While Edison Schools ultimately disappeared from the charter management scene, the report survives because of its prescience in forecasting what charters might become and candor in revealing PSEA's motivation for opposing and unionizing them.
The task force understood the limitations of outright opposition. "Attempts to prevent the granting of charters can have negative public relations consequences," the report states. The authors knew that "even if charters never produce the educational innovations promised by their early proponents, they will continue to extend their reach because they provide an expanded range of consumer choices and also provide options for students who are not fitting well into their regular public schools."
The task force saw the employment of non-union charter school teachers as a form of "outsourcing," and recommended organizing them to prevent a decline in union membership.
This isn't unusual, but the task force's rationale was astonishing in its forthrightness. The report notes that the state's public sector collective bargaining law granted unions "a legal monopoly" and explains why that's important:
"Once we obtain majority representative status, PSEA becomes the exclusive bargaining agent. IN NO OTHER ENDEAVOR PSEA UNDERTAKES CAN IT ENJOY THIS EXCLUSIVE POSITION … The main source of PSEA's influence is that almost all Pennsylvania teachers are unionized. If we want to maintain our influence, our ability to do ANYTHING, we must make sure that education remains a unionized industry." (emphasis in original)
The task force warned: "If we lose our grip on the labor supply to the education industry, we will bargain from a position of weakness."
Having issued this call to arms, the task force set out a strategy. It needed to overcome the fact that the average charter school employed only 16 teachers: Smaller workplaces are harder to organize and not cost-effective for the union to represent. By contrast, it could use the growth of charter networks against them.
The report's authors noted that "with the corporate entry into the charter school movement, there may be an opportunity, in the long run, to create single company statewide units and to merge small locals into statewide locals with a single contract." In other words, all the KIPP schools in New York state would be one bargaining unit, with one contract, negotiated with KIPP's central management.
This is the key that unlocks union organizing decisions about charters since that time. Although they are happy to organize small charters here and there for public relations value, neither NEA nor AFT can really afford to unionize a dozen teachers at a time. But organizing a network of 50 schools with 1,000 teachers would be worth the expenditure of time and resources.
The task force recommended organizing the larger for-profit charters first in the hope that this would also create pressure on smaller charters to follow suit, or pressure them to raise salaries which, in the union's eyes, would make them less attractive from a budgetary standpoint to takeover charter operators.
Charter networks head off this strategy by maintaining they are not the "employers" for collective bargaining purposes at individual schools. Union successes have come where this argument is weaker, such as online charters in California (California Virtual Academies) and Pennsylvania (Agora Cyber Charter School) where there are no individual campuses. Other wins have come at places like Green Dot, whose founder is union-friendly.
The United Federation of Teachers has been unsuccessful in organizing KIPP charter teachers as a single group, but over the years it has managed to unionize a few individual schools, which seem to go through cycles of certifying and decertifying. The status of one KIPP charter school union is currently under investigation by the National Labor Relations Board.
United Teachers Los Angeles is helping to organize teachers at 26 Alliance charter schools into a single bargaining unit.
Recent upticks in union activity around charters are directly related to the growth of charters themselves. The bigger the charter, the bigger the threat it is to the union's "grip on the labor supply to the education industry." But it also becomes a bigger target for a union organizing drive.
The PSEA policy was binding only on the Pennsylvania union, of course, but its 17-year-old directives and rationales tell us much more about current teacher union strategies and motivations than any recent NEA policy.
Email tips to mike@the74million.org
Support The 74's year-end campaign. Make a tax-exempt donation now.