A Month Into Russian Invasion, Fear Grips Ukrainian Students in the U.S. With No Clear Path Home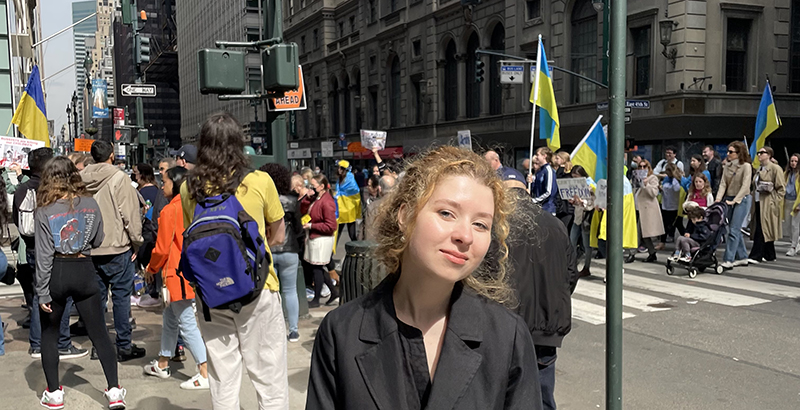 Support The 74's year-end campaign. Make a tax-exempt donation now.
More than a month into the Russian invasion, Ukrainian students in the U.S. and others in American academia with strong ties to the besieged country drift daily between hope and despair, brightened at the start of every peace talk and heartsick at the end of every failed negotiation.
Wondering when life will return to normal in the States and abroad, they check social media for news of friends and loved ones, answer requests for cash from a relatively inexperienced yet robust civilian army and contemplate their return to the country they cherish. With no clear sense of the future, they pray for a quick resolution to the war while bracing for the possibility of a long and painful insurgency. Over the weekend, Russian troops retreated from their attempted assault on Kyiv, but what appeared to be a strategic victory quickly darkened with evidence that Russian forces had left indiscriminate civilian killings in their wake.
Ukrainian national Marta Hulievska, 19 and a freshman at Dartmouth College in Hanover, New Hampshire, worries daily about her parents, with whom she speaks through WhatsApp. Her father has stayed behind in her hometown of Zaporizhzhia, eight and a half hours southeast of Kyiv, while her mother, two younger sisters and maternal grandmother fled to Lviv in early March. They're staying with family in a cramped, two-bedroom apartment where, in an attempt at normalcy, they log onto their computers each day to continue with work and school. Hulievska's mother is a law professor whose students struggle with unreliable internet in their own basements and bunkers. Her family's efforts to carry on are frequently interrupted by sirens warning them to take cover.

Sometimes, Hulievska said, they leave their building for a community shelter. Other times, they simply gather in the hallways — four adults and four children — hoping the walls can withstand a direct hit.
At least 1,417 civilians have died in the conflict and 2,038 have been injured as of April 2, according to the UN High Commissioner for Human Rights. But the actual figures are likely much higher. Intense fighting in areas such as Mariupol and Volnovakha and the newly discovered atrocities in Bucha outside Kyiv make it difficult to quantify the carnage.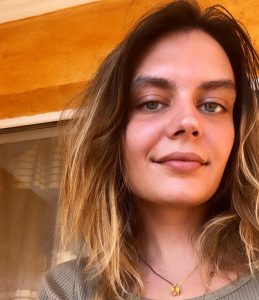 More than 4 million Ukrainians have fled the country to date and millions more have been uprooted from their homes, but remain within its borders.
Yana Annette Lysenko, 27 and working toward a Ph.D. in comparative literature and Slavic studies at New York University, can relate to Hulievska's worries. She fears for her aunt, uncle and cousin who fled to the outskirts of Kyiv weeks ago but have not been heard from since.
"I don't know if their phones aren't working or if something really bad happened," said Lysenko. "No one can call them — even family members in Ukraine."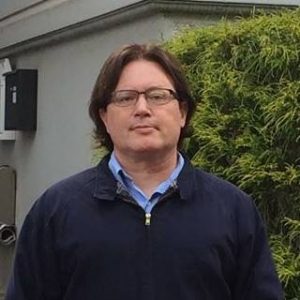 William Risch, a history professor at Georgia College in Milledgeville, lived in the country for four years. He's maintained friendships with the Ukrainian students who have passed through his classroom as well as the scholars, historians and activists he met there while researching a book on the beleaguered nation.
He recently joined a Facebook group that serves as a resource for those searching for missing or evacuated loved ones. It also lists the dead.
The professor does not yet know what happened to a Fulbright scholar who studied at his school in 2017 and who was, weeks ago, heading a territorial defense battalion defending the airport at Vasylkiv. The airport has been destroyed by the fighting.
"I did ask a friend who knows him more to tell me any updates," Risch said. "I have not gotten any."
He takes heart in what little information he can find about his friends, including a former graduate student who has since joined the army and reached out asking for cash: The professor wired him $120 through Western Union.
"He said it was for food and other supplies," Risch said. "They don't get very much as volunteers."
Hulievska, the Dartmouth freshman, is glad to be in regular contact with family, but it doesn't always allay her fears. Her concerns for her parents are two-fold: She worries her father, a 57-year-old lawyer, will be drafted into the military.
"He will probably join because he thinks that is what is needed of him, that it's his duty as a Ukrainian — and as a man," she said. "I'm scared."
And she knows, too, her mother, sisters and grandmother are no longer safe as Lviv has become a new target for Russian forces.
Hulievska came to the United States in 2021 through an organization that helps students from low-income families attend top-tier universities around the globe. She hopes to major in creative writing and chose America for its diversity, which she believes will improve her craft.
She doesn't know when she will see her family again.
"I was very much looking forward to going home," she said, but, fearing the situation there will be too dangerous, she's already asked her dean to help her find summer housing. "I miss them — a lot."
Hulievska's distress, which seems to grow overnight and erupt in the morning, has shaped into anxiety, a condition for which she is seeking treatment.
Yet even now, she's inspired by the hope her family provides others: Her grandmother, a medical doctor, travels each day to a nearby train station to give urgent care and advice to those refugees who come to Lviv knowing no one at all.
"I think it is a good example for me and a good inspiration to keep doing what I can do here on campus," said her granddaughter. Hulievska has recently begun translating social media posts written by Ukrainians in the early days of war for one of her classes, Media Research and Creative Writing in Russian. She receives the incoming messages from an organization called War in Translation: The translated missives appear on the group's Twitter account.
Such a task, Hulievska said, helps those outside Ukraine feel empathy for those trapped by the conflict.
Lysenko, the fourth-year Ph.D student, has much to lose in the war. She's concerned about her boyfriend, who lives in Odessa, and might soon be drawn into the fighting.
"He lives between three military bases and sometimes sees rockets flying over his apartment," she said.
The graduate student wonders if she'd be better off relocating to Europe so she could use her Ukrainian and Russian language skills to assist incoming refugees.
"I definitely feel I'd be doing something better if I'm helping in some way," she said, adding it's difficult to watch the tragedy unfold from afar. "My plan is to get through this semester and once I submit the rest of the work I have to do, evaluate then."
Marina Shapar, 26 and who spoke to The 74 last month from her basement in Kyiv, a shelter she shared with nine other people, including her parents, siblings and neighbors, has since fled the country. After passing through the Slovakian border, she moved by train through the Czech Republic before landing in Poland.
She's currently staying with a friend in Finland and remains on constant alert about the rest of her family, who plan to return to Kyiv — they're temporarily relocated to the western part of the country — as soon as they deem it safe.
"To be honest," Shapar said, "they said they planned to go home in one and a half months. I do not fully support this idea."
As for Shapar, it's unclear when she will be reunited with her family as her hopes for the outcome of the war might not be reached.
"I decided to go back as soon as the Ukrainian government confirms our victory," she said.
Support The 74's year-end campaign. Make a tax-exempt donation now.