Youth Voter Registration Day at All NYC High Schools Aims to Reverse Dismal Youth Turnout in Upcoming Elections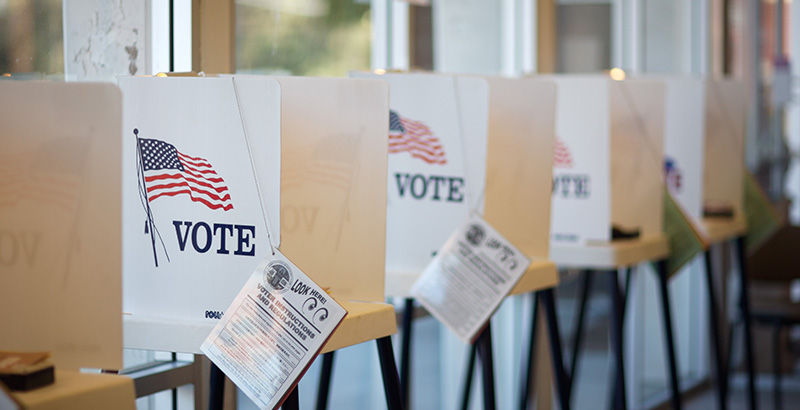 When New York City officials visited select high schools across the city in 2016 and helped students register to participate in the upcoming election, the effort drew a substantial gain in eligible young voters. In fact, the number of 18-year-olds registered to vote citywide spiked by more than 50 percent.
This time around, however, Student Voter Registration Day in New York City high schools will be even larger.
In 2016, city officials helped 8,500 18-year-olds register to vote at 62 high schools. This year's Voter Registration Day, which takes place on May 21, will go down at all high schools — of which there are more than 500 — citywide. Voter registration forms will be given to all students who are 18 or will be on Election Day — an estimated 110,000 students in total.
"Our goal as educators is to help our kids become active, knowledgeable, and engaged citizens," Schools Chancellor Richard Carranza said in a statement. "Expanding Student Voter Registration Day to every high school citywide is an important step towards that goal."
Inspired by National Voter Registration Day, the NYC event kicked off in 2015 to help young people become civically engaged. Along with being encouraged to register to vote, students learn about the importance of civic participation. Similar to national trends, voter turnout among young adults in NYC is dismal, especially in years without presidential contenders on the ballot. Last year, for example, just 13.5 percent of New Yorkers 18 to 29 years old cast a ballot during the mayoral election.
Eligible students who register on time are able to vote in the federal primary election on June 26, the state primary election on September 14, and the general election on November 6.
"We need youth in the forefront of democracy, so that they can harness the power of their voices and make a difference on the issues they care about," declares a resource guide designed to prepare educators for the event, which is presented by the mayor's office, the city council, the education department, the New York Immigration Coalition, and NYC Votes — a voter engagement initiative by the NYC Campaign Finance Board.
"Young people are making their voices heard like never before and it's up to us to help them connect the issues they care most about to voting," Onida Coward Mayers, director of voter assistance at NYC Votes, said in a statement.
An education department spokeswoman didn't make an official available to comment for this article.
The day's activities aim to make civic engagement relevant to young adults by highlighting some issues that affect them, like student financial aid, jobs, housing, gun control, and immigration reform. The event will reach out to noncitizens unable to vote by highlighting alternative forms of civic engagement.
Support The 74's year-end campaign. Make a tax-exempt donation now.