With Easy Primary Win, Stacey Abrams Moves Closer to Becoming Nation's First Black Woman Governor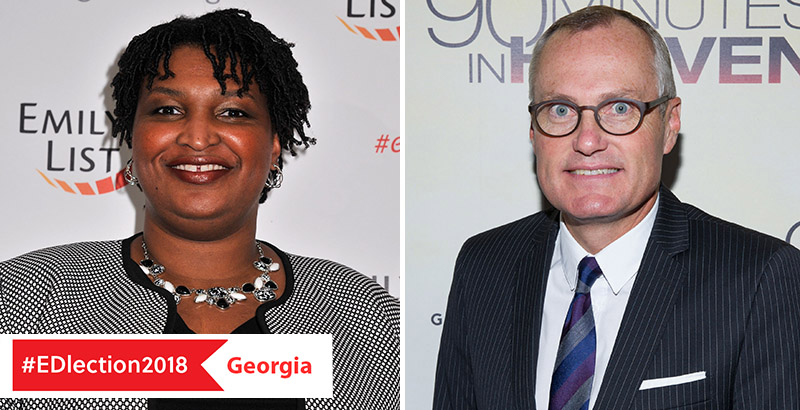 Former Georgia lawmaker Stacey Abrams cruised to a lopsided victory in the state's Democratic gubernatorial primary Tuesday, becoming the first black woman ever to be nominated for governor by a major party.
Abrams won nearly 76 percent of the vote and will face the winner of a July 24 runoff between two current state GOP officeholders. Lt. Gov. Casey Cagle, who led candidates in both parties in polls and fundraising throughout the race, failed to win a majority against a crowded primary field, attracting 39 percent of Republican voters.
In a year when Democratic office seekers in conservative districts have tried to distance themselves from the party's liberal leadership, Abrams campaigned as an unapologetic progressive, aiming to mobilize non-participating and unregistered voters, particularly in black and Hispanic communities.
Her "new Democratic majority," as a supporter called it, won the support of the Bernie Sanders wing of the party, as well as celebrities ranging from Meryl Streep to Cardi B and organizations like Planned Parenthood and Emily's List. Profiles of Abrams appeared in every national news outlet, both legacy and online, sometimes several times.
"Having interviewed Stacey Abrams back in the day," said Rachel Maddow, the popular left-leaning MSNBC news personality Tuesday night, "I found her to be one of the most charismatic politicians of her generation."
Abrams easily defeated her more moderate Democratic rival, Stacey Evans. If Cagle emerges from the GOP runoff in July, the two will compete to succeed outgoing Republican Gov. Nathan Deal, who pursued several education-reform-minded initiatives during his two terms.
Deal helped pass a 2012 constitutional amendment allowing the state to authorize charter schools, which Abrams voted against. She also objected to Deal's signature 2016 proposal: a so-called Opportunity School District for chronically low-performing schools. The schools, which enrolled 68,000 students at that time, Deal said, would be run by the state. Voters rejected the plan by a 60–40 voter margin. The Georgia Federation of Teachers still felt that Abrams, as House minority leader, didn't do enough to get her caucus to defeat the Opportunity School District before it could get to voters and endorsed Evans.
Abrams supported 2011 legislation, advanced by Deal, that raised academic eligibility requirements for the state's HOPE college scholarships. Evans had argued that poorer students are being hurt, which data bear out. Abrams said she saved the scholarship from further cuts and negotiated added benefits. Abrams has promoted early education, improved social-emotional learning, and increased school funding. She believes quality day care needs to be part of the solution and opposes private school vouchers.
Cagle, the leading Republican, supports voucher expansion and charter schools, along with prep programs that prepare students for study at one of Georgia's 22 technical colleges.
Cagle wrote a 160-page book, Education Unleashed, blurbed by former U.S. secretary of education William Bennett, that functions as a campaign manifesto. He decries "the compliance mentality of our state's educational bureaucracy" and calls for empowering local districts, even allowing them to design their own assessments.
Back in January, Georgia voters identified education as the state's most important issue. Whether that will hold true through the general election remains to be seen, as does whether Abrams's electoral strategy will work beyond Democratic voters. Donald Trump won Georgia modestly — by 5 points — but his approval ratings have climbed. And Georgians haven't elected a Democrat to statewide office in two decades.
As with Democrat Doug Jones in his successful U.S. Senate race in Alabama — which comes up often in interviews with Abrams supporters — she will need a large turnout, particularly in Atlanta and the state's relatively few other urban areas.
Preliminary reports indicated voter turnout was low Tuesday.
Get stories like these delivered straight to your inbox. Sign up for The 74 Newsletter