White House Unveils Plans for Mass Vaccination Effort of 5- to 11-Year Olds, Will Launch Campaign to 'Increase Vaccine Confidence'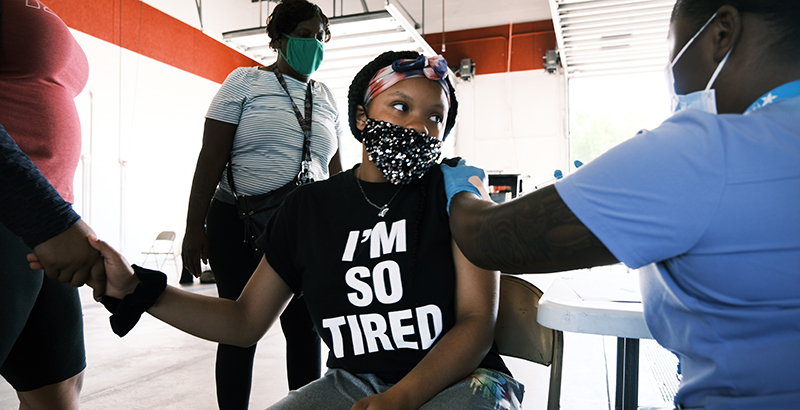 Get stories like these delivered straight to your inbox. Sign up for The 74 Newsletter
The Biden administration will match schools with COVID-19 vaccine providers as part of its effort to roll out shots for 5- to 11-year-olds, the White House announced Wednesday. Expecting that tens of thousands of sites will be necessary to meet the demand, including hundreds of schools, the administration said it aims to make vaccines available "in settings that kids and their parents know and trust."
The Department of Health and Human Services will also enlist community-based clinics, doctor's offices, hospitals and faith-based organizations in rapidly distributing vaccines through the end of the year, making enough available to immunize 28 million children.
Considered a major milestone toward ending the pandemic, emergency use authorization of a vaccine for children could be announced any day. Pfizer-BioNTech sent data on the use of its vaccine among that age group to the Food and Drug Administration in late September. An FDA advisory committee is scheduled to meet Oct. 26, followed by a Centers for Disease Control and Prevention committee the week after. The administration said it is "hosting operational readiness calls" with states, tribes and territories to ensure a smooth process once the FDA approves and the CDC recommends the vaccine. With thousands of schools still quarantining students because of outbreaks, families and schools have been anticipating this key step.
"Superintendents have been very anxious for this to happen," said Dan Domenech, executive director of AASA, The School Superintendents Association. But he added that some schools might consider the attitudes of their community before agreeing to serve as vaccination sites. "If they have a supportive community, they will do vaccines in the schools as they've done in the past."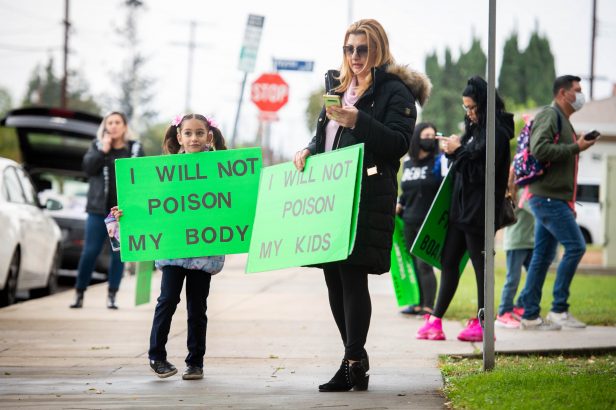 The Federal Emergency Management Agency will take charge of setting up sites, storing supplies — including smaller needles — and providing transportation to sites, if needed, according to the fact sheet. The White House said pediatrician's offices and pharmacies will also be critical in providing the vaccine because they are already "trusted sources." Roughly 25,000 pediatrician's offices, tens of thousands of pharmacies and over 100 children's hospitals are expected to be involved, offering vaccines during the evenings and weekends for convenience.
The American Academy of Pediatrics applauded the announcement.
"Parents trust us to care for their children, come to us with questions and concerns about how to keep them healthy and safe, and will turn to us during this next phase for reassurance and guidance about the COVID-19 vaccine," AAP President Lee Savio Beers, said in a statement. "We are ready to do what we've always done: counsel our families and protect our patients."
But as Domenech said, the administration is expecting that not all parents will be eager to get their children vaccinated, considering less than 60 percent of adolescents are vaccinated, according to the American Academy of Pediatrics. HHS will launch a nationwide education campaign to assure parents that the vaccine is safe, working with schools and community organizations to "increase vaccine confidence."
"A key focus of our efforts is raising vaccine awareness and getting parents the facts they need to make the right choice for their kids," Jeff Zients, White House coronavirus response coordinator, said during a briefing Wednesday.
Schools have been used as vaccination sites for over 100 years, and Linda Mendonca, president of the National Association of School Nurses, said school nurses "have a trusted relationship with students and families." But schools are facing a nursing shortage along with many other staff positions, which could impact the vaccination effort as it has school-based testing.
An Ipsos poll conducted at the end of September showed that two-thirds of parents with children in the 5-11 range said they're "likely" to get their children vaccinated, but 43 percent responded that they would be "very likely."
Those who are unsure about vaccinating their children are more likely to be unvaccinated themselves and continue to note the speed of vaccine's development and potential side effects as top reasons for their hesitancy. A quarter of parents of adolescents responding said a requirement that their child be vaccinated to attend school could make them change their minds.
California is the only state so far to mandate the vaccine for students once it earns full FDA approval. But others are expected to follow. In Washington, the Seattle Public Schools is considering a resolution that would ask the state's health department to issue a such mandate.
Get stories like these delivered straight to your inbox. Sign up for The 74 Newsletter