WATCH: In New Animated Video Created for Kids, Dr. Fauci Helps Students Understand Coronavirus and Safety — and Plays a Memorable Round of 'Fauc or Slouch'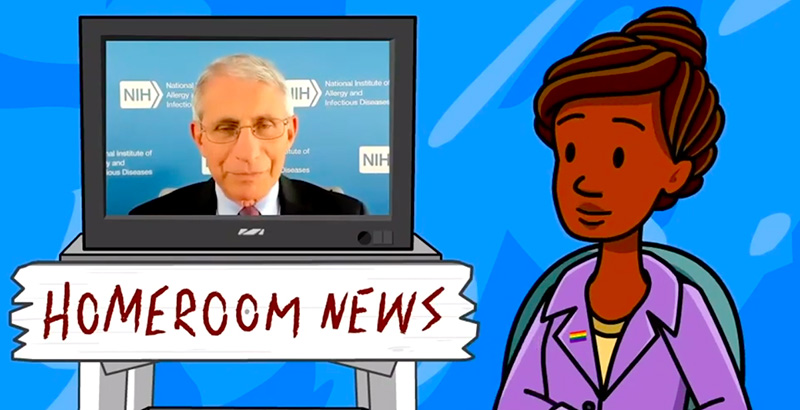 Talking to children about COVID-19 may have just gotten a little easier.
In the latest kid-friendly pandemic video published by BrainPOP, the director of the National Institute of Allergy and Infectious Diseases, Dr. Anthony Fauci, explains to students of all ages the role they can play in controlling the spread of coronavirus.
Over the past several months, BrainPOP, a group of education websites that produce videos, quizzes and other materials to help translate challenging topics for students in grades K-12, has uploaded an array of pandemic-related projects. From defining "flattening the curve" to detailing how soap works, the animated shorts aim to help define and contextualize the crisis that kids keep hearing about on the evening news — and that is keeping so many of them from returning to class.
The new 11-minute video recaps Dr. Fauci's background as a public health official before he takes the stage to review key safety practices that all Americans should be following and discuss the science of vaccines.
A few key highlights:
How coronavirus affects younger patients: Children can get infected and infect others, but the symptoms — if there are any at all — are usually minor compared to those experienced by older people. That is why, he explains, "teachers and your health officials are going to try as best as possible to protect you from getting infected."
How COVID-19 spreads: Children can help mitigate the spread by not touching their faces, washing their hands as often as possible, practicing physical distancing and, if they're old enough, wearing a mask.
How kids can influence their parents' decisions: "Parents listen to their children," Dr. Fauci says. Children should encourage them to wear masks, practice distancing and stay away from large crowds.
Science of vaccines: Dr. Fauci details how a coronavirus vaccine will work, explaining that it mimics antibodies to attack the virus without getting you sick.
When can we get one?: When a vaccine comes along, which he said will probably be by the end of the year, we should all get it to protect each other and end the pandemic.
Trusting in science: Dr. Fauci underscores the importance of turning to scientific truth to guide our actions.
Dr. Fauci isn't all science. Near the end of the video, the public health leader also offers a message of hope, noting the "resiliency of the American spirit or the spirit of all mankind," and plays along in a round of "Fauc or Slouch" in which he's quizzed on his New York City roots and knowledge of fly-fishing.
"BrainPOP has always focused on teachable moments," said the company's founder and executive chairman, Dr. Avraham Kadar, in a statement tied to the video's release. "Twenty years ago, we began by tackling complex health and science concepts 'at eye level,' and we continue to take this approach with every topic we cover across the curriculum."
Students and educators can access (mostly free) K-8 resources like lesson plans, coding games and more informational videos on BrainPOP.com. Animated videos can also be found on their YouTube channel.
Here are some of the other recent animations explaining elements of the pandemic:
Flattening the Curve:
How to Prepare for the 2020 School Year:
How to Stop the Spread:
How Soap Works:
Social Distancing: A Kid-Friendly Explanation:
Support The 74's year-end campaign. Make a tax-exempt donation now.