WATCH: Former Education Secretary Margaret Spellings Talks About the Challenges Facing Higher Education — and the Preparation of America's Future Workforce — Amid the Pandemic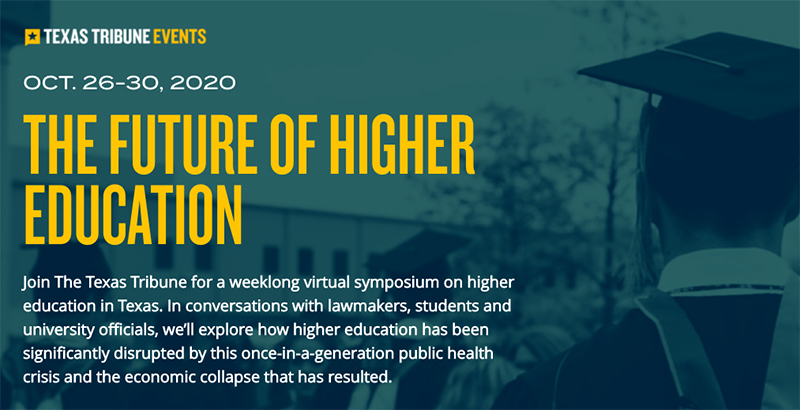 The 74 is honored to partner with the Texas Tribune this week, in support of the ongoing "Future of Higher Education" virtual symposium which will be showcasing midday conversations with lawmakers, education advocates, students and university officials through Friday. (You can stream and share replays of the week's earlier events at this Texas Tribune hub)
Among the week's highlights is Wednesday's lunchtime livestream: a centerpiece conversation featuring Margaret Spellings, president of Texas 2036 and former U.S. secretary of education, and Drexell Owusu, senior vice president for education and workforce at the Dallas Regional Chamber. The duo joined Texas Tribune energy and economy reporter Mitchell Ferman to analyze how the pandemic's impact on higher education could lead to long-range consequences for the American workforce.
Watch the replay:
The Texas Tribune's higher education programming continues through Friday with a focus on access, equity, academics and career preparation.
Among the key questions of the symposium: What does higher ed in the age of COVID look like? And can ambitious goals of setting the table of opportunity for all, creating pathways forward for future generations and producing the most workforce-ready citizens of the modern world be achieved in a time of profound uncertainty?
The "Future of Higher Education" event is free and open to the public. RSVP and stream the conversations at TexasTribune.org/Events.
From The 74 Archive: Q&A — Margaret Spellings talks about the national impact of the pandemic, and the urgent need for federal leaders to unite. (Read the full interview — and sign up for The 74 Newsletter to get the latest education news and interviews delivered straight to your inbox)
Support The 74's year-end campaign. Make a tax-exempt donation now.