WATCH — Dr. Fauci Warns Schools May Not Be Ready to Reopen in August; Says Any Hopes for Coronavirus Treatments by Fall May Be 'Bridge Too Far'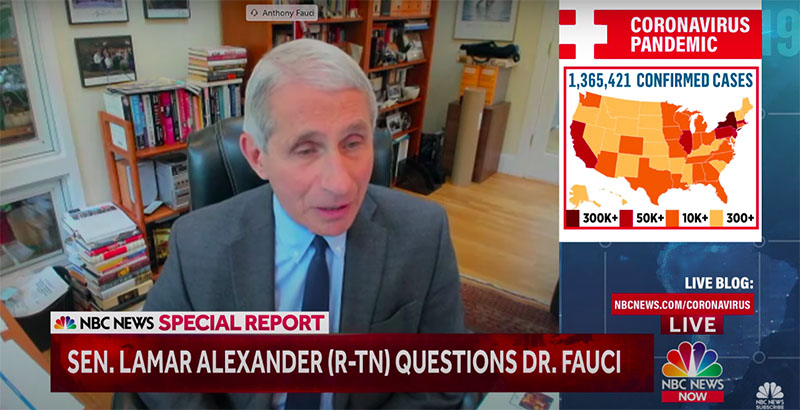 "All roads back to work and back to school run through [coronavirus] testing," said Sen. Lamar Alexander at a Tuesday committee hearing that featured the testimony of several public-health officials in addressing issues around the nation safely getting back to jobs and classrooms. "What our country has done so far on testing is impressive, but not nearly enough."
Questions surrounding the reopening of college campuses and K-12 school districts arose time and again during Tuesday's hearing, which featured Dr. Anthony Fauci, who leads the National Institute of Allergy and Infectious Diseases; Dr. Robert Redfield, director of the Centers for Disease Control and Prevention; and Admiral Brett Giroir, testing czar at the U.S. Department of Health and Human Services.
The most noteworthy exchange occurred between Sen. Alexander and Dr. Fauci:
Here's a condensed transcript of that Tuesday exchange:
Sen. Alexander: Let's look down the road three months. There will be about 5,000 campuses across the country trying to welcome 20 million college students. And 100,000 public schools welcoming 50 million students. What would you say to the chancellor of the University of Tennessee, Knoxville, or the principal of a public school about how to persuade parents and students to return to school in August?
Dr. Fauci: Thank you very much, Mr. Chairman. Well, I would be very realistic with the chancellor and tell … her that in this case that the idea of having treatments available or a vaccine to facilitate the re-entry of students into the fall term would be something that would be a bit of a bridge too far.
As I mentioned, the drug that has shown some degree of efficacy was modest and was in hospitalized patients [and has] not yet — or [may never be] — used either as prophylaxis or treatment. So, if the issue is that the young individuals that have begun going back to school would like to have some comfort in that there's a treatment, probably the thing that would be closest to utilization, then, would likely be the passive transfer of convalescent serum.
But we're really not talking about necessarily treating a student who gets ill, but how the student will feel safe in going back to school. If this were a situation where we had a vaccine, that would really be the end of that issue, in a positive way. But as I mentioned in my opening remarks, even at the top speed we're going, we don't see a vaccine playing in the ability of individuals to get back to school this term.
What they really want is to know if they are safe. And that's the question that will have to do with what we discussed earlier — about testing. I'd like to just pass the baton to Admiral Giroir, who would address the question of the availability of testing and what role that might play in returning to school.
Sen. Alexander: Thank you, Dr. Fauci. Admiral Giroir, you said that while we're doing about 10 million tests this month, that we might be as high as 40 or 50 million a month by September, which is a significant increase. So, if I'm chancellor of the University of Tennessee, could I develop a strategy where I'd say to all my students: "We have antigen tests, which are quick and easy." Do you want everybody on campus to come by and take it once before [they get to campus]? That would at least let everybody know that on that day, we've isolated anyone who has been positive and then we can continue to monitor.
Is that strategy possible in August and September?
Admiral Giroir: The strategy that's going to be employed really depends heavily on what the community spread is at that time. If there's almost no community spread, your strategy will be different. If there's high community spread, it will also be different. But yes, technically we will have the ability and your chancellor will have the ability. We expect there to be 25 to 30 million point-of-care tests per month available. It's certainly possible to test all of the students, or it is much more likely that there would be a surveillance strategy done where you may test some of the students at different times, to give an assurance that there's no circulation. That would be done in conjunction with the CDC and the local health department.
There's also strategies that are still needing to be validated, like pooling samples. We know that in some experimental labs that as many as 10 or 20 samples can be pooled. Essentially one test could test 20 students. And finally, there are some experimental approaches that look interesting, if not promising, where, for example, wastewater from an entire dorm or from an entire segment of a campus could be tested to determine whether there's coronavirus in that sewage.
Dr. Redfield: Just some quick comments: First, I think it's really important to evaluate critically the role of changes in social distancing on college campuses and schools, and not to forget the importance of what we've learned. Clearly, also developing an aggressive program for wellness education — making sure people understand when they're symptomatic and need to seek evaluation. I think we're going to have to look at the role of testing. I think there is going to be an important role of testing, in these circumstances, and I think it will be individualized based on where these different schools are and how much infection is in the area.
Support The 74's year-end campaign. Make a tax-exempt donation now.