Video Debate: Who Should Be Holding Schools Accountable — Parents or the Public?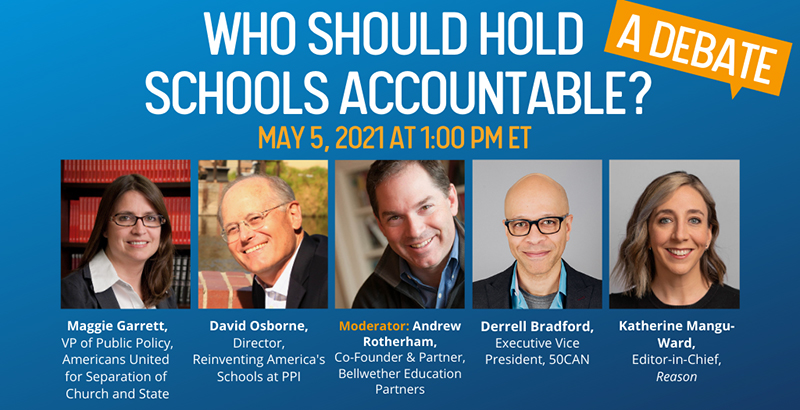 Get essential education news delivered straight to your inbox: Sign up here for our daily newsletter.
It's hard to find someone who will disagree with the premise that schools need to do a good job educating kids. But how do you determine if a school IS good? What are the right measurements? And who should be making that determination? Parents? States and school districts? Or does it need to be some combination of both?
Those were the questions before a panel of experts in a debate sponsored by The 74, the Progressive Policy Institute and Bellwether Education Partners. Maggie Garrett, VP of Americans United for Separation of Church and State, made the case for public oversight. "This is public dollars," she said. "Any time you have public dollars you have to be accountable to the public. There has to be oversight, monitoring, minimum teacher requirements. Otherwise we don't know what we're funding. We don't know if it's working."
"Public education isn't just a private consumer good," she added. "It's a public good. It benefits all of us, and that's why all of us — whether you have school age kids, whether you have no kids — we all pay into the system."
Katherine Mangu-Ward, Editor in Chief of Reason Magazine, said the limitations of public accountability were vividly exposed during the pandemic. "The elephant in the room here … is what has happened with public schools, especially in the last year. It's really, really hard to defend the idea that public accountability is working well for kids in this last year."
"My kids and so many other people's kids were completely out of school for an entire year," Mangu-Ward said, "and I think that is in many cases because of the way that our public accountability systems are built and the ways in which they are broken."
With what has been learned during the pandemic, she wants to see parents taking a bigger hand in shaping schools. "I want to talk about how we capitalize on a lot of parents' being forced to take on ownership of their kids' education… Now we have some momentum there."
Derrell Bradford, executive vice president of 50CAN, sees parents as the best arbiters of schools' performance, particularly after a year of pandemic disruption. "For something as complicated as your kids' education, a parent's moment-to-moment assessment and self-interest are the magic quantity," he said. "Because it can change at any time and it is focused on the end goal in a way that no institutional interest can be."
David Osborne, Director of Reinventing America's Schools at PPI, noted that he's been a long-time proponent of school choice, but sees the public sector as the only means of holding public schools accountable for their performance.
"We've learned the hard way that we just can't rely on parents," he said. "My argument is let's use both. Let's give parents lots of choices. And when they move their child let's move the money with it so the school feels the consequences and is accountable to the parents. But because that's not enough let's have districts or authorizers also measure the school performance."
Get stories like these delivered straight to your inbox. Sign up for The 74 Newsletter