Under Shadow of Online Charter School Scandal, Mike DeWine & Richard Cordray Win Primaries in Race for Ohio Governor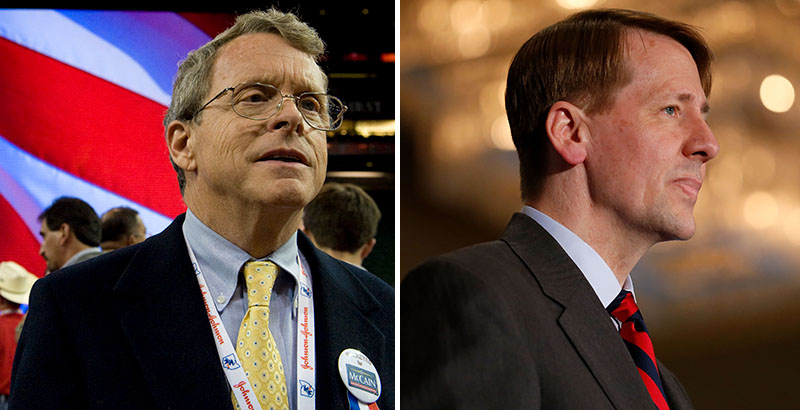 Old political rivals will face off once again after Ohio's attorney general, Republican Mike DeWine, and his predecessor, Democrat Richard Cordray, won their parties' primaries for governor Tuesday night.
Many are calling the upcoming campaign a rematch of the 2010 race for attorney general, which DeWine won by a small margin.
Cordray, who headed the federal Consumer Financial Protection Bureau under President Barack Obama, defeated former Cleveland mayor and congressman Dennis Kucinich, earning 63 percent of the vote. DeWine bested Lt. Gov. Mary Taylor with 59 percent.
Now, the two have their work cut out for them, convincing voters that they will address some of Ohio's top issues, including the opioid crisis, mounting student debt, and unemployment compensation, the Dayton Daily News reported.
Although Ohio's legislature and governor's office have been controlled by Republicans for 20 of the past 24 years, some have called this year the best chance for Democrats to retake the governor's seat, especially as the party tries to capitalize on anti-Trump sentiment in major elections this fall.
An unexpected education scandal could make this reality even likelier. Ohio's largest — and now shuttered — online charter school, the Electronic Classroom of Tomorrow (ECOT), allegedly overcharged the state millions of dollars for its students. An anonymous whistleblower claimed that the school's leaders used software that intentionally miscounted attendance. Those same leaders have donated millions to Republican candidates, making the scandal a major problem for the GOP in the November elections.
"The ECOT thing is going to be a huge issue in the fall — not just for the governor's race, but almost every other race that's out there," said education commentator Stephen Dyer, "because there are such close connections from this school to nearly every Republican candidate who's run for state office since, basically, 2004. And all those guys are running now."
President Donald Trump was quick to congratulate DeWine on Twitter and accuse Cordray of being a socialist.
In a speech after his win, DeWine highlighted improving the state's education system, preparing its future workforce, and fighting illegal drugs as issues he'd address as governor, Cleveland.com reported. "Republicans, Independents, Democrats, come with us," DeWine said. "We need you to be part of this, to be part of creating our new future, this new Ohio that we will forge together."
Cordray used his victory speech to portray himself as a candidate for the working class while painting DeWine as a politician for the wealthy, Cleveland.com reported. "I congratulate Mike DeWine tonight for winning one of the ugliest campaigns I've ever seen," Cordray said after the results were in. "We now have a clear choice in November, and the things we stand for cannot be more different."
Get stories like these delivered straight to your inbox. Sign up for The 74 Newsletter