U.S. News Shakes Up Its National High School Rankings — 5 Things to Know About What's Changed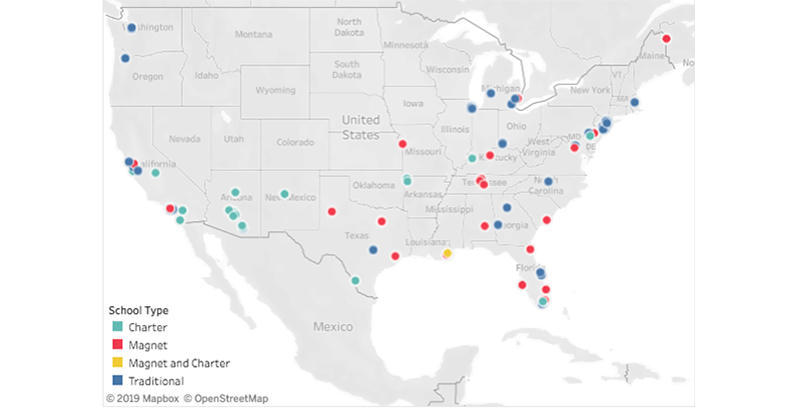 U.S. News and World Report released its annual national rankings of public high schools, and the well-known — and often-contentious — list got a serious remodel. As it has in the past, the site worked with the North Carolina-based nonprofit research institute RTI International, and drew from school-reported public data. But this year, the magazine cast a wider net in an effort to make the rankings more inclusive and less volatile.
Here are five takeaways from the results of that new calculation:
1  Many more factors affect the rankings.
In past years, U.S. News has focused closely on Advanced Placement and International Baccalaureate exams, looking both at how many each school offers and how well students perform on them. Those figures still influence the rankings, but new factors also impact where schools fall on the list, including how well students performed on state math and reading tests, state test performance (specifically for black, Latino and low-income students) and graduation rates.
That shift better aligns with recommendations from national organizations representing high schools, including the National Association of Secondary School Principals. On its website, the association urges rankings to include "multiple indicators of school progress." It goes on, however, to suggest factors U.S. News still hasn't incorporated, including teacher salaries and class-size ratios.
The rankings have drawn criticism in the past for not acknowledging the systemic challenges some schools face. Kevin Welner, professor at the University of Colorado Boulder School of Education and founder of the National Education Policy Center, has been a vocal critic. He appreciates how changes to the process recognize different school contexts, but he's still concerned that national rankings ignore underlying inequities.
"Societal ills like poverty and racism lead to unequal opportunities to learn inside and outside of our schools … Rankings like this just feed into that cycle, with no serious attempt to confront self-deceptive beliefs that students compete within a fair meritocracy," he wrote in an emailed statement.
2 The list is much (much) longer.
For those who want to check out every ranked school, be prepared to scroll. This year's list, released on April 30, is about seven times as long as last year's. For the first time, U.S. News included every public high school in the country with a senior class of at least 15. That adds up to just under 17,000 schools, compared with about 2,700 last year. The top three quarters of the list are ranked individually, but the bottom quarter are all listed as one group.
The additions were meant to give more readers information about their local schools, according to Eric Brooks, a data analyst who worked with U.S. News. And with such a bigger pool to sort through, Brooks says, some schools saw their rank shift dramatically.
"More than half of schools ranked in 2018 dropped in their ranking in 2019 because the rankings expanded," he wrote in an emailed statement.
Schools whose rank jumped aren't necessarily any higher-performing than in the past; they're just getting more recognition for strengths outside of AP and IB test scores alone. Schools at the very top of last year's list, however, didn't budge much. The top 20 from last year all found a spot in the top 70 this year.
3 The top of the charts still aren't very diverse.
The highest-performing schools continue to have disproportionately low black and Latino representation, even with the list's greater focus on underrepresented students. For schools that report high minority enrollment, the disconnect can sometimes still be striking. Thomas Jefferson High School for Science and Technology in Alexandria, Virginia, ranked third in magnet schools and fourth overall. It reported a 77 percent minority enrollment, largely bolstered by a high proportion of Asian students. But enrollment levels for black and Latino students at the school measured at just 4.3 percent, according to the State Department of Education's School Quality Profiles.
Nationally that dynamic persists. Black and Latino enrollment at the top 50 ranked high schools averaged about 23 percent, according to 2015 data from the Office for Civil Rights — the most recent available. That's significantly lower than the 41 percent national black and Latino enrollment in high school, measured in 2015 by the U.S. Department of Education. Enrollment for black and Latino students at the top 10 ranked schools averaged only about 12 percent.
4 BASIS schools in Arizona slip out of the top positions.
The BASIS chain of charter schools — schools that are privately run but publicly funded — no longer occupy most of the top spots. BASIS is a corporation that owns and operates both public charter and private schools, and its schools consistently place at the highest end of the high school rankings. Last year, BASIS charter high schools, none of which had more than 100 seniors, took the first through sixth positions on the list. This year, they are more dispersed throughout the top 100.
How much of this change comes from the new methodology isn't clear, but the schools' low diversity — coupled with the list's emphasis on underrepresented students — could be one contributor. Most of the top BASIS schools report small minorities of black or Latino students. At BASIS Peoria in Arizona, the chain's top-ranked school this year, just seven out of 67 students identified racially as something other than "white" or "Asian."
5 The new rankings are designed for more accurate year-to-year comparisons
Because older versions of the list used fewer data points and included fewer schools, they were more sensitive to minute changes, according to the U.S. News site. If a school saw a dip in AP testing scores, even if most other factors remained steady, it could fall out of the ranking altogether.
The wider web of factors influencing the list, and the higher number of ranked schools, mean small changes in a school's data are now less likely to lead to huge swings. And even if they do shift significantly, readers should be able to trace their position over time, at least moving forward. The site won't release older versions of the rankings, saying they're no longer comparable with the current list.
Overall, U.S. News is confident that the new standards will help the rankings better inform families as they decide where to send their children, Brooks says. But for critics, including Welner, the revisions are only the first step toward rethinking how to evaluate public schools.
"They're doing the wrong thing, but they're doing it better," he wrote.
Support The 74's year-end campaign. Make a tax-exempt donation now.