Two More School Board Recall Efforts Fall Short on Election Night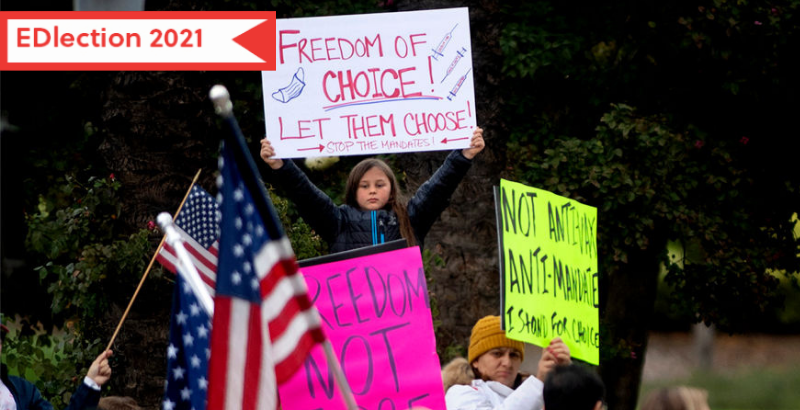 Support The 74's year-end campaign. Make a tax-exempt donation now.
The eyes of most political observers were trained on the governor's races in two blue states on Election Night, with Republicans claiming a convincing victory in Virginia and still threatening to unseat Democratic Gov. Phil Murphy in New Jersey on Wednesday afternoon.
But closely contested races were playing out down the ballot as well. At the local level, school board members in both suburban Milwaukee and northern Kansas survived attempts to recall them from office. The campaigns were part of one of 2021's biggest trends in education politics: a surge in recall efforts aimed at board members around the country, with over 200 officials targeted. That number is roughly quadruple the figure in an average year, according to the nonprofit elections site Ballotpedia, while the 84 total recall attempts so far this year total more than triple the usual rate.
The most prominent efforts have already generated national headlines and seen some success; in San Francisco, over 50,000 signatures were gathered to force a recall election of three board members in February, while in Loudoun County, Virginia, one targeted member has already resigned rather than see her removal proceedings go to a circuit court trial.
But more notable has been a pattern of recalls either not generating enough support to make it to the ballot or failing once they get there. Both of Tuesday's results met with failure.
In the Mequon-Thiensville School District, which enrolls nearly 4,000 students in Wisconsin's suburban Ozaukee County, a well-funded effort to oust four members fell short by significant margins. With over 11,600 ballots cast — close to double the number in the last board race there — each of the four incumbents won over 58 percent of the vote on Tuesday.
Recall proponents had raised nearly $50,000 for the effort, with donations and support coming from local conservative donors and nonprofit organizations. The stated reasons for the recall included parents' frustrations with the board's COVID mitigation strategies and suspicions that the district leaders were attempting to introduce aspects of "critical race theory" into K-12 curriculum. The election marks the 16th failed recall attempt in Wisconsin since the pandemic began; the state has seen the second-most attempts in that time, behind only California.
In the smaller Nemaha Central Unified School District in Kansas, board member Amy Sudbeck also beat back a recall attempt, launched this spring after she voted to continue the district's mask mandate in school buildings. Only 25 percent of voters supported the recall.
Support The 74's year-end campaign. Make a tax-exempt donation now.