Trump's Weekend Executive Actions Leave School Funding 'On the Cutting Room Floor'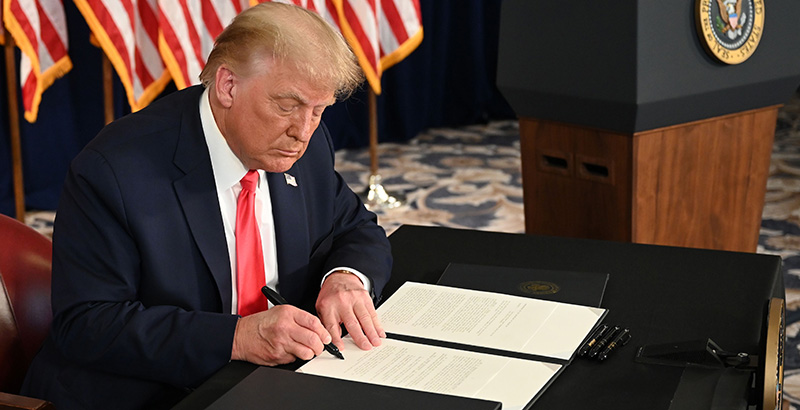 President Donald Trump took action over the weekend to extend unemployment benefits, suspend payroll taxes, prevent evictions and freeze federal student loan payments. But his impatience with Democrats in negotiations over another pandemic relief bill leaves K-12 schools out for now.
"Nancy Pelosi and Chuck Schumer have chosen to hold this vital assistance hostage on behalf of very extreme partisan demands and the radical-left Democrats, and we just can't do that," the president said about the House speaker and the Senate minority leader in a press briefing Saturday.
K-12 policy analysts fear that because Trump's orders addressed the major issues dividing Republicans and Democrats, there's less urgency to pass another relief package.
"Passing something on unemployment has been the issue that has kept them negotiating," said Danny Carlson, the director of policy and advocacy for the National Association of Elementary School Principals. "With that taken care of … funding for schools would be left on the cutting room floor."
And Rep. Bobby Scott, R-Va., who chairs the House Committee on Education and Labor, said the president's freeze on student loan payments doesn't cover as many borrowers and wouldn't last as long as the relief in the Democrats' Health and Economic Recovery Omnibus Emergency Solutions — or HEROES — Act.
"Our education system is facing serious challenges that cannot be solved by an executive order," he said in a statement. "The Trump administration's failed response to this pandemic has already robbed students of all ages of the education and growth they deserve."
Democrats also contend that the president's move to defer payroll tax obligations hurts Social Security and, without congressional approval, might be illegal. Robert Greenstein, president of the Center on Budget and Policy Priorities, a left-leaning think tank, suggested that Trump's order that states pay $100 of a $400-a-week employment benefit could lead to teacher layoffs.
"The executive actions raise serious legal issues and may not withstand legal challenge," he wrote. "Nor is it clear that the administration actually can implement them — in particular, that it can secure the funding and use the funds as the executive actions direct."
Another major point of debate is that the Democrat's' $3 trillion HEROES Act, which the House passed in May, includes $900 billion in flexible funding for states and local governments to offset declines in tax revenue.
State education leaders and advocacy organizations have said that additional funding for state and local governments will help protect education budgets. Recent research confirms that during the Great Recession, there was a decline in the percentage of state funding going to education.
But Trump argues that funding for states is unrelated to the virus.
"What they really want is bailout money for states that are run by Democrat governors and mayors, and that have been run very badly for many, many years -— and many decades, in fact," he said at the briefing.
The Senate Republicans' $1 trillion Health, Economic Assistance, Liability Protection, and Schools Act doesn't include such funding. While it does propose $70 billion for K-12 schools, two-thirds of that amount would be contingent "on meeting certain opening requirements and other criteria."
In a tweet, Tennessee Sen. Lamar Alexander, chairman of the Health, Education, Labor and Pensions Committee, suggested that negotiations over another recovery bill should continue.
"Democrats should stop blocking common sense proposals to help students going back to school & college & parents going back to work who need child care," he wrote.
Get stories like these delivered straight to your inbox. Sign up for The 74 Newsletter