This Week's ESSA News: New York's Waiver Request Sparks Civil Rights Backlash and Florida's 'Terrible' ELL Proposal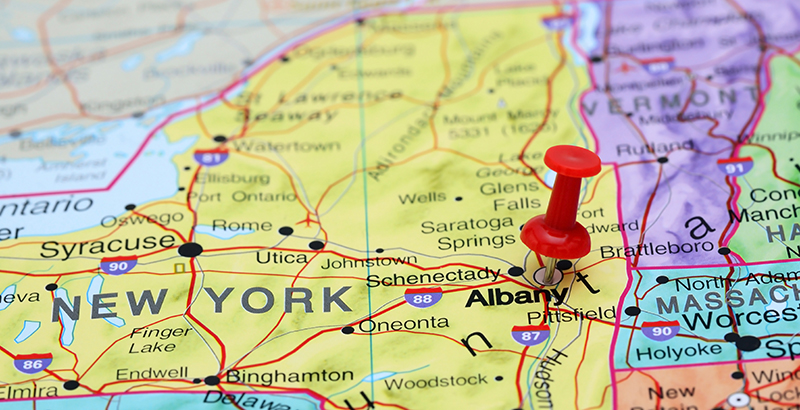 This update on the Every Student Succeeds Act and the education plans now being refined by state legislatures is produced in partnership with ESSA Essentials, a new series from the Collaborative for Student Success. It's an offshoot of their ESSA Advance newsletter, which you can sign up for here! (See our recent ESSA updates from previous weeks right here.)
Seventeen member organizations of the Leadership Conference on Civil and Human Rights released a letter urging U.S. Secretary of Education Betsy DeVos to reject New York's ESSA waiver requests. As part of its ESSA plan, New York requested waivers to allow districts to administer assessments for special needs students that are "below their chronological grade-level," according to the state, and use these results to determine participation and accountability provisions for elementary and middle school students. The state also seeks to exclude recently enrolled English language learners from its assessment system on all subjects for a year and its accountability system for two years on English Language Arts.
In their letter, the civil rights groups argue that the waiver request means New York is trying to skirt provisions of ESSA that require states to "develop educational accountability systems that ensure a high-quality education" for all children. "The Department of Education must ensure that all state plans and waiver requests advance educational equity and serve the interests of all children," the Leadership Conference's statement reads. "Low-income children, children of color, children with disabilities, English learners, and Native children have been left behind for far too long and deserve no less than a robust and thorough state plan review to ensure an excellent and equitable education."
The Leadership Conference says New York's plan "should be a declaration of its commitment to educate all children in New York, developed in partnership with the students, parents and families who have faced barriers to success in the state and the input of these communities should drive the development of the plan."
We're calling on @BetsyDeVosED to reject New York's #ESSA waiver request. Read the letter from 17 civil rights and education organizations: https://t.co/Bgm5JA9AAb pic.twitter.com/tfREzxBHne

— The Leadership Conference (@civilrightsorg) November 29, 2017
We have more ESSA news for you below.
1 Must listen: The Check State Plans podcast series!
In a few weeks, the Collaborative for Student Success and Bellwether Education Partners will release the peer reviews of the final 34 state ESSA plans submitted to the Department of Education in September. In anticipation of this second-round release, the Collaborative has launched a three-part podcast series hosted by Collaborative executive director Jim Cowen that examines how the process began, what peer reviewers found in the first round, and what reviewers hope to see in the second analysis. Listen here.
In anticipation of the 2nd #CheckStatePlans release, we've launched a short 3-part podcast series featuring some awesome experts. Listen here: https://t.co/WMjrxAadDR pic.twitter.com/69Hqo4nR9H

— for Student Success (@StudentSuccess) November 28, 2017

(You can also check out results from the first round of reviews at CheckStatePlans.org.)
2 Department of Education (finally) approves Michigan plan
Education Secretary DeVos has approved Michigan's accountability plan. In a statement, covered by MLive, she noted, "While the plan meets the statutory requirements, Michigan must not view this as a ceiling, but rather as a baseline upon which to build, strengthen and expand. I urge Michigan's leaders to continue to find new and innovative ways to help students succeed."
Initially, the federal agency rejected Michigan's plan because it did not include enough detail about proposed provisions to comply with ESSA, particularly about how the state would identify low-performing schools. The state's initial plan, which was submitted this spring, included three accountability system options, two of which "were variations of a report card where each public school in the state would be graded on an A–F scale," while the other was a transparency dashboard that "instead of grading or ranking schools, simply displays the performance of each public school on a variety of indicators," according to the article.
Michigan's plan is the last of the first 17 submitted plans to be approved.
Betsy DeVos approves Michigan's #ESSA plan.https://t.co/ZhUeiKSjvF pic.twitter.com/slF1wE5bOg

— Education Week (@educationweek) November 29, 2017
3 Botel wants innovation … and compliance
According to Education Week, Department of Education official Jason Botel told a recent gathering of state school chiefs "that he wants states to be innovative in working to close the nation's yawning achievement gap, but also wants them to make sure they comply" with ESSA as they do so. "We're trying to strike a balance of encouraging innovation and assuring compliance with the letter of the law," said Botel. "This is a collaborative, iterative process. This is not a gotcha process." Education Week also reported that state education chiefs are "scrambling staff duties and outsourcing tasks such as data collection and school improvement efforts as they prepare for new responsibilities under" ESSA—all while coping with ongoing funding and staffing issues.
USED's Botel says 'we don't want compliance to be the driving force' in #ESSA but focusing on excellence, equity #statesleading

— Melissa McGrath (@melissarmcgrath) November 15, 2017
4 States taking a second look at teacher evaluations
With the passage and implementation of ESSA, Education Week's Alyson Klein details how the new law is impacting state-based teacher evaluation systems. To date, a total of six states (Alaska, Arkansas, Kansas, Kentucky, North Carolina, and Oklahoma) have "dropped teacher evaluations through student outcomes," according to research by the National Council on Teacher Quality. Meanwhile, other states have simply made modifications to their existing evaluation systems. Florida, for example, is keeping student-growth measures in place but is allowing districts to determine how they are calculated. Klein notes that while half a dozen states "ditching teacher evaluation through test scores may not seem like a lot," the number of states doing so "could climb after the 2018 gubernatorial and state legislative elections."
"Six states—Alaska, Arkansas, Kansas, Kentucky, North Carolina, and Oklahoma—have now dropped requirements that evaluations include student-growth measures" https://t.co/6OtUREKYHt

— Chad Aldeman (@ChadAldeman) November 27, 2017
5 Williams: Florida trying to get around ESSA a "terrible idea"
Speaking of Florida, New America's Conor Williams discusses Florida's ESSA plan on The 74 — and how the state is "proposing to leave ELLs' progress toward proficiency out of the state's system for measuring school quality." Williams says that in the "outline of what the state will do for its students learning English with the approximately $800 million in federal education dollars it will receive this year, Florida has decided to test whether the U.S. Department of Education is paying attention." More specifically, the Sunshine State wants to eliminate ELL proficiency from the state's school quality measurement system altogether. Williams argues this is "a terrible idea" that "also happens to be illegal" since ESSA "says states must include these students' progress learning English in schools' ratings under these new systems."
@ConorPWilliams sums up Florida's #ESSA plan for ELs: "This is a terrible idea. It also happens to be illegal." https://t.co/lj9rbeZyG2

— Anne Hyslop (@afhyslop) November 29, 2017
Want to stay up to date? Click here to sign up for the ESSA Advance newsletter to receive all the information in your inbox every Wednesday.
Get stories like these delivered straight to your inbox. Sign up for The 74 Newsletter