This Week in Education Politics: With Shutdown in Background, Congress Focuses on Disaster Aid for Districts, Higher Ed Regulations, School Choice & More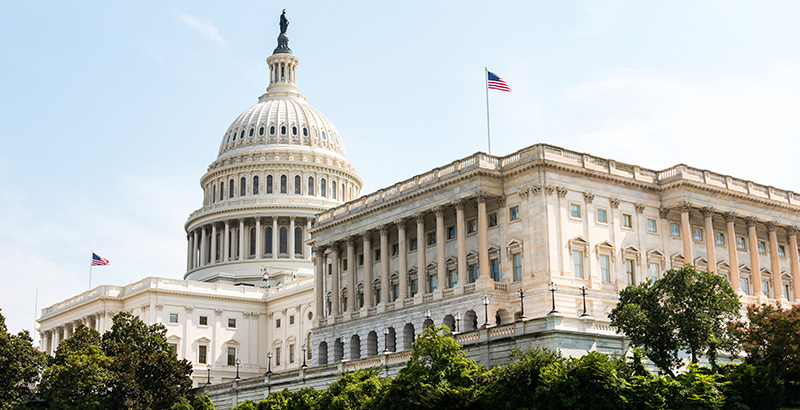 THIS WEEK IN EDUCATION POLITICS publishes most Saturdays. (See previous editions here.) You can get the preview delivered straight to your inbox by signing up for The 74 Newsletter; for rolling updates on federal education policy, follow Carolyn Phenicie on Twitter @cphenicie.
INBOX: SHUTDOWN WEEK 4 — As the partial federal government shutdown, now the longest ever, enters its fourth week, both sides remain entrenched. A deal floated by some Senate Republicans to fund the border wall in exchange for passage of a law protecting DACA recipients is off the table. The ongoing stalemate has taken the wind out of the sails of most other congressional activity.
Though the Education Department has a full year of funding and is up and running as usual, there have been impacts to students, particularly those living in the D.C. area, where federal employees account for about 11.5 percent of the workforce and about 145,000 people have been furloughed.
In Northern Virginia, Fairfax Public Schools officials held an event to hire out-of-work feds as substitute teachers; one event held last week quickly reached capacity and officials planned another session this week, according to NBC Washington.
School districts throughout the D.C. region are expediting free and reduced-price lunch applications for children of furloughed federal workers, and some urged affected families to requests breaks on afterschool program fees, The Washington Post reported.
A spokesperson for the School Nutrition Association, which represents cafeteria workers, said the group has not heard of similar needs for the school lunch program outside of Washington.
The program is run under the auspices of the shuttered Agriculture Department. Officials had originally said the program could keep running on surplus funds "into February," but in a memo to program providers, they said it would continue "well into March."
ON THE HORIZON: TITLE IX COMMENTS — Congressional Democrats urged the Education Department to extend the comment period for proposed changes to Title IX rules governing how schools handle allegations of sexual assault. The current deadline is Jan. 28.
The rules changes are complex, and many students were taking final exams and on winter break during the comment period, Sen. Patty Murray, ranking Democrat on the Senate Health, Education, Labor and Pensions Committee, and Rep. Rosa DeLauro, chair of the Appropriations subcommittee with oversight of the Education Department, said in a letter to Education Secretary Betsy DeVos. They asked for an additional 30 days.
The Education Department did not respond to a request for comment from The 74. More than 50,000 public comments had been submitted as of Jan. 10.
THIS WEEK: DISASTER AID — The House Rules Committee will consider a large-scale disaster aid bill that includes $165 million for schools affected by a variety of disasters last year, including Hurricanes Florence and Michael, the wildfires in California, and typhoons and earthquakes. The bill could come to the House floor later in the week.
MONDAY: HIGHER ED REGS — The Education Department starts a week of negotiated rulemaking sessions to hash out regulations on a variety of higher ed issues, including accreditation and online learning. The proposed regs would let recipients of federal TEACH grants, which help prospective teachers pay for college in exchange for teaching at low-income schools, to teach in private schools serving low-income students, Inside Higher Ed reported.
TUESDAY: SCHOOL CHOICE WEEK — Sen. Tim Scott and Rep. Paul Mitchell, co-chairs of the congressional School Choice Caucus, hold a press conference. Members of Congress, students, parents, and teachers "will discuss the importance of innovation and opportunity in education," organizers say. The event is held annually (see our coverage from 2017 and 2018) as part of National School Choice Week.
TUESDAY: ATTORNEY GENERAL NOMINEE — The Senate Judiciary Committee begins two days of hearings on the nomination of William Barr to be the next attorney general. The Justice Department during the Trump Administration has been involved in a variety of education-related issues, including the repeals of student discipline guidance and protections for transgender students, the end of the DACA program, and school safety.
WEDNESDAY: EARLY CHILDHOOD — The Bipartisan Policy Center hosts a panel discussion on Early Head Start–Child Care Partnerships. The federal program, authorized in 2014, allows Early Head Start, a spinoff of the federal preschool program for low-income children under age 3, to integrate into existing childcare centers and family care providers.
Support The 74's year-end campaign. Make a tax-exempt donation now.