For the first time, the percentage of students in both virtual-only and hybrid learning models went down as schools transition to full-time in-person instruction, a response to the Centers for Disease Control and Prevention's relaxation of social distancing guidelines in classrooms 10 days ago.
But with continued fear of new, more infectious variants of COVID-19, the debates over how to provide a safe, quality education are far from over.
Here's what you need to know about the state of play on school reopenings across the nation, powered by data from the school calendar tracking website Burbio.
1 The push toward five-days-a-week, in-person learning continues
Across all grade levels, the share of students attending schools that offer full in-person learning continued to tick higher this week. Up two percentage points from last week, 53 percent of students nationwide now have the option for full-time classroom learning.
Elementary schools students enjoy the greatest access. Over 6 in 10 youngsters attend schools where traditional in-person learning is available, while 48 percent of middle schoolers and 44 percent of high schoolers have the option to learn in the classroom every day.
The numbers reflect a transition toward full-time in-person learning, away from remote or hybrid models, said Dennis Roche, founder of Burbio, in an update summarizing the numbers his team crunched.
"This week represents the first time in our tracker that the percent of students attending virtual schools dropped in a given week and the percentage of students attending hybrid schools dropped as well," he wrote, "indicating a continued shift to traditional learning being offered by K-12 schools."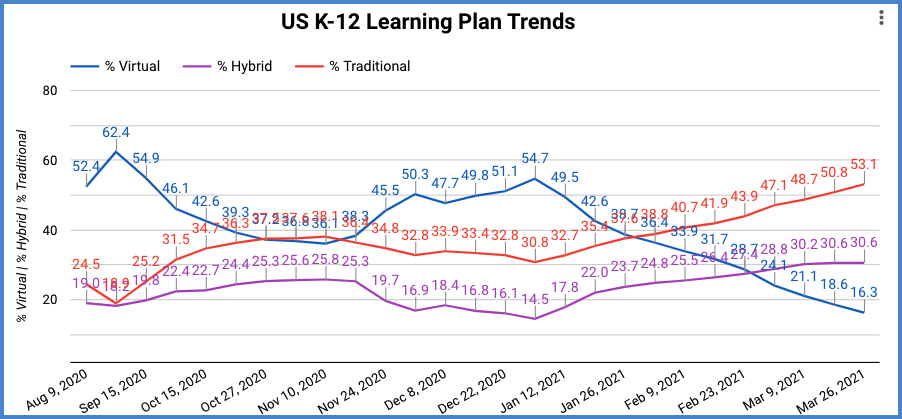 2 Relaxed distancing guidelines helping schools bring back students
Schools' move toward full-time in-person learning, as opposed to hybrid models, may be motivated by the CDC's relaxation of classroom distancing protocols from 6 feet to 3. With the new standards, classrooms that were previously pressed for space may be able to fit more students at once.
Grand Rapids, Michigan, Queen Anne's, Maryland, Yonkers, New York, and other districts referenced the new guidelines as they announced that students would have the option to come back to classrooms for four or five days a week, rather than two or three.
State governments on the West Coast including Washington, Oregon and California — where remote learning persists at the highest rates — issued approval of the new distancing rules.
3 High school reopenings emphasize hybrid learning models
While the number of teenagers attending virtual-only schools continues to drop, many high schools may be transitioning to hybrid learning models rather than returning to the classroom full time.
While the share of high schoolers without access to any in-person learning dropped this week from 23 percent to 19, the number of hybrid learners ticked up from 35 percent to 37. Elementary school and middle schoolers, on the other hand, both saw decreases in hybrid learning.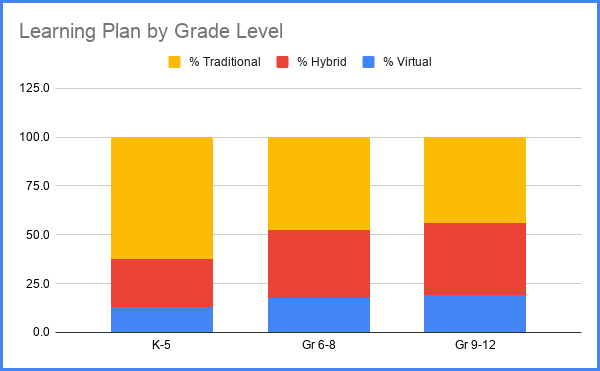 4 Even as schools reopen, many students remain remote
Survey data released last week by the U.S. Department of Education reveal that even as schools increasingly invite students back to classrooms, many families are opting to keep their kids remote.
Over three-quarters of elementary and middle school students have access to at least some classroom learning, according to the survey, but 43 percent of fourth-graders and 48 percent of eighth-graders continue to learn remotely. Health and safety concerns from parents, the numbers indicate, can often linger well after schools open their doors.
5 Many remote learners at rural schools are getting little to no live instruction
The survey also showed that while attending school in-person is much more common in rural areas than suburban and urban locales, a full 28 percent of rural middle schoolers continue to learn remotely.
Of that cohort, more than 1 in 5 are receiving little to no live instruction. Thirteen percent receive no facetime at all with a teacher, and another 8 percent receive under an hour per day.
6 Schools brace for variants and look toward next year
The landscape of school reopening continues to evolve, of course. Here's what else to watch in the days and weeks to come:
Teacher and student absences from in-person learning may increase in response to the new CDC guidelines, some officials predict. The updated protocols reduce the level of social distancing for classrooms, but maintain the 6-foot rule for quarantining after potential exposure. That means for every young person infected with the virus, more peers may have to stay home if they were sitting closer to someone who tested positive. The new standards, and the recent uptick in COVID-19 cases, mean schools may have to contend with increasing student and staff absences.
Support The 74's year-end campaign. Make a tax-exempt donation now.